International travel and attending fairs is an important recruitment channel and is a major investment for many universities. Last week, we shared data with you on how lead generation for prospective students is affected by the quality of the services provided by fair providers in our blog post: Will Your Student Fair Provider Deliver Value This Recruiting Season?
Today, we'll like to share a few hightlights and valuable insights from a presentation at the 2014 NAFSA annual meeting organized by the Brenn-White Group, which included the German firm DAAD, FPPEDUMedia and UC Riverside. We are sharing with you selected slides from UC Riverside's portion of the presentation. You can view or download the entire presentation here.
Slide 1 emphasizes that your travel requires different phases and investments of time before, during and after the travel to optimize the results. All of us know, that it can be challenging to find the time, energy and resources for all these tasks.
Frequent readers of our blog know that we fully acknowledge a gap in many university recruiting departments, and we have shown that the during and after phases are frequently neglected. We wrote on this topic in the blog post, International Student Recruiting: When Travel Fails.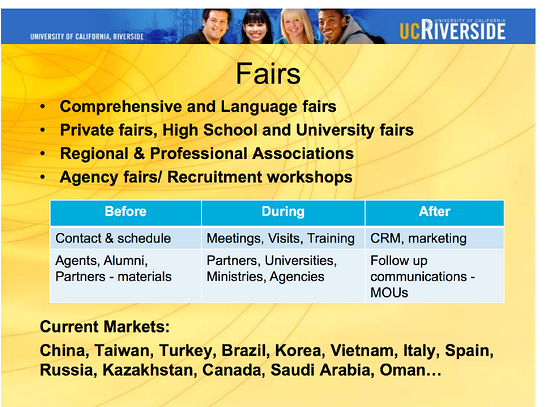 The emphasis on the appropriate CRM infrastructure is critical. Slide 2 shows the fairly comprehensive list of goals and stakeholders involved. We don't think that every trip will include all elements, but in our experience too few trip preparations include a sufficient number. We understand the reasons-- time pressure and resource constraints prevent the appropriate planning and post-trip follow up.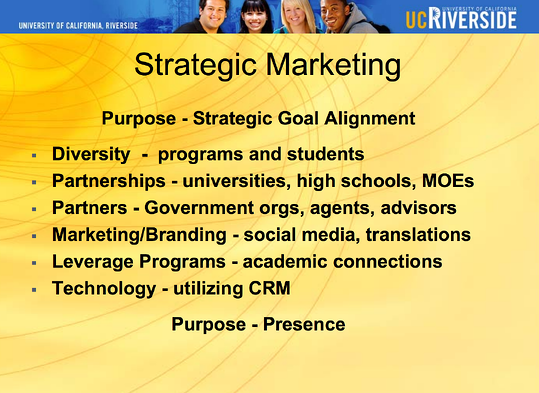 For overseas student recruitment travel to have the greatest success, careful attention must be paid to the interaction with students, parents and other key decision-makers before, during and after travel. While this can be challenging to do while maintaining other responsibilities, it is essential in your efforts to optimize travel and student fair investments.