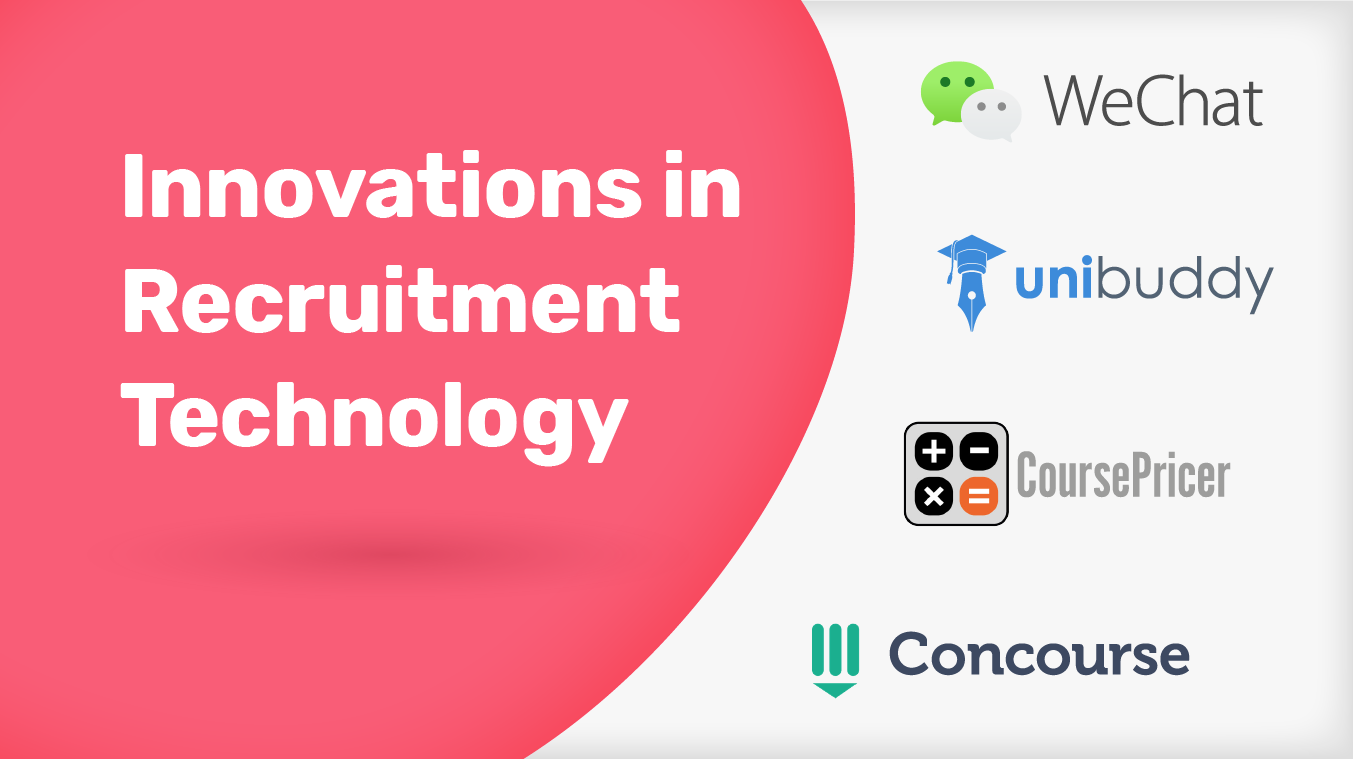 Have you heard all the buzz about all the latest tech solutions in international recruitment? Honestly, we'd be shocked if you hadn't – the buzz seems to be everywhere.
This week we're taking a look at emerging trends in recruitment technologies (starting with a quick look at critical changes to the WeChat platform). PIE News recently released the nominees for the PIEoneer of the Year award for Digital Innovation in technology and we wanted to call attention to a couple of our favorite nominees – as well as a couple of other recent innovations.
As you look critically at each of the tools we are considering this week, you'll want to ask, "How well would my internal team adopt this technology? How would my target audience respond?" All tech solutions must work in concert with your institution's unique marketing strategy and key messages and then there's the human factor.
If your messaging and your processes are not well developed – that's where you start. We can help (info@intead.com).
It's important to note: we're not in the business of promoting or selling any of these tools. We are simply keeping our ear to the ground and listening for emerging trends in the market. And right now, a number of interesting technology solutions seem to be springing up!
Let's see what they have to offer...
Social Media in China
This is a major transition to keep an eye on. The WeChat Official Accounts Admin Platform is changing. This means that your institution will soon be able to set up an Official, Verified WeChat Account without being located on mainland China -- AND you'll be able to communicate on that account with Mainland Chinese WeChat users!
Right? We had the same reaction.
Clearly, this presents tremendous possibilities for US institutions to easily communicate directly with prospective Chinese students on the platform they use most. Your institution will have greater control of your account than you previously could. But, this doesn't lessen all of the complexities of marketing to your Chinese audience.
As always, culturally sensitive and engaging content is essential. If you build it, they will not come...unless you draw them there. Have a native speaker (or two) translate your content and use your marketing personas to share content that is directly relevant to your Chinese audience. They won't respond well to the same content you use on your Western social media channels. And they won't fill out inquiry forms as readily as Indian prospective student do. There are important nuances to this channel.
You'll need a system for both content creation and inquiry management. Questions about working with WeChat? Talk to us: info@intead.com.
Messaging Tools
Check out a tool called Unibuddy – a PIEoneer nominee emerging out of the UK. (Are you headed to the PIEoneer Awards on September 7? Should be quite the event!)
The Unibuddy platform makes student communications approachable, fun and engaging! We like this concept.
The Unibuddy system allows your prospective students to view simple profiles (name, country of origin, degree program and short bio) of current students from around the world and send a direct message or inquiry. This communication platform allows the University to centralize prospective student communications and track performance.
Much improved from the helter-skelter approach of a Skype call here and a Facebook chat there and a What's App message over there. Believe me, we've been there. You have too.
In looking at universities using the system though, we do suggest that you remind your students to be careful with their hand signals in profile photos – they mean different things around the world! A single gesture can be offensive in one place and positive in another.
Pricing Tools
For helping prospective students determine the end-cost of attending a language program, check out CoursePricer for Agents by International Education Connect, Ltd – also a PIEoneer nominee out of the UK.
When we are evaluating an academic institution website, often we are struck by how difficult it is to find international student tuition and living costs. The information is buried, with your prospective student moving on to the next institution website they are evaluating, probably with a better user experience.
The CoursePricer tool can be embedded on the websites of your trusted education agency partners (as well as your institutional site) to quickly help prospective students find the information they need about cost and financial assistance at your unique institution for any given program.
This tool reduces the legwork of back and forth about cost between your team, agents and prospective students, simplifies the process and most of all, lets them move quickly to the information they need. The faster, more efficient, and more convenient your process – the more likely you are to convert.
Best-Fit Matching Tools
Concourse is a new entrant to the field and seems to have some very knowledgeable and smart people at the helm. This is a new approach to international high school student counseling, helping to bridge the high school guidance counselor and the university admissions officer.
The collection and presentation of data to all counselors using the system aims to provide a better than Naviance experience. And we all know Naviance has needed a full makeover for a long time.
The Concourse platform provides free and neutral guidance on a Linked In like platform with student profiles and institution matching functionality. This one is worth watching and could become a highly valuable alternative to the many, and often ineffective, lead generation platforms that make promises but rarely deliver. Concourse emphasizes a "best-fit student" approach with a counselor's sensibility.
Staying Ahead of the Pack
Want more recruiting intel on a regular basis beyond our weekly Recruiting Intelligence blog? Of course you do! Check out our new subscription service: Intead Plus. Our members stay ahead of the pack.