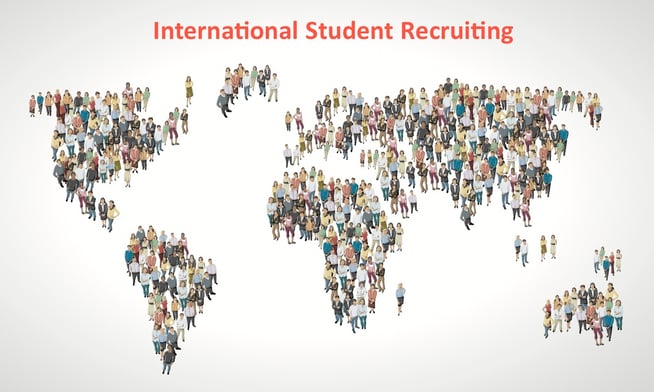 What a summer it has been! No one could have imagined the dramatic and troubling international events that are now having an impact on our international student recruiting plans.
Turkey: A coup attempt and university closings

UK: Brexit (need we say more?)

Vietnam: Regulatory changes to how agencies operate

Canada & US: Regulatory changes to conditional admissions requirements

Brazil: Significant currency fluctuations
And that's not all! Our point: International students' motivations and plans to study in one location or another are certainly changing. Domestically, fewer US students will be choosing the for profit college option (ITT we're looking at you).
Bottom line: We have a whole host of international student recruiting trends to write about this fall and beyond.
Our goal now, and always, is to keep you informed and competitive as you make some tough decisions about where the most valuable student recruiting sources are. You have a limited recruitment budget, let's help you spend it wisely. [read on...]
With all of the recent political and economic change, we are thinking our NAFSA presentation with FPPEDUMedia last May in Denver was a bit prescient. We specifically addressed political and economic turmoil and how we, as international student recruiters can manage it. You can find the slides here.
In short, turbulence in any given country can present opportunities to those willing to stay the course. When others (competitors) flee an area because they are risk averse, those with nerves of steel and a smart, data-driven marketing approach, can find a welcome recruiting environment.
What we know is that we are all in this together. We know, because we asked all of you at the beginning of the summer what is most on your mind and what is making you fret. We thought you might want to know what your peers had to say about the challenges of global enrollment marketing.
We know the challenges of your job can make you feel a bit alone. Take heart! Our survey told us that most of you are struggling with the same things: limited resources of time, staff and budget, nurturing your leads from application to admission, and social media management.
However, a greater number of you identified lead generation and agent network management as your top two pain points–and with good reason. It's difficult to get the attention of students half way across the world, when their attention is so divided by institutions similar to yours. And equally as difficult is managing your network of recruiting agents, who are so busy traveling and talking to your prospective students, that they might not be as responsive as you might like.
We have tips on how to manage all of that and we want to share them with you. On the agent network management front, if you have yet to download our agent management e-book (more than 2,000 of your colleagues already have and the reviews have been awesome), take a look HERE.
Our mission over the next year is to try to cover student recruiting trends and more, to help you overcome the things that are holding you back in your student recruiting efforts. And we mix that research and perspective with as much entertainment value as possible. That's how we roll here at Intead: Data nerds with a flare for engaging communication. (Well, that's what we aspire to be at least, #eyerollemoji).
We hope you were able to rest, relax and prepare for the academic year ahead this summer and that you soaked up all that Olympic glory from Brazil–an amazing example of how the entire globe can draw energy and inspiration from the combined strengths of individuals from around the world.
Are there other examples of international collaboration focused on advancing global issues and personal achievement? Hmmmm, let's think about that for just a second…Oh right, academia!
We look forward to another year of working with all of you to find innovative solutions to our global marketing challenges. Please let us know if the research and perspective you find right here in our blog is useful along the way.