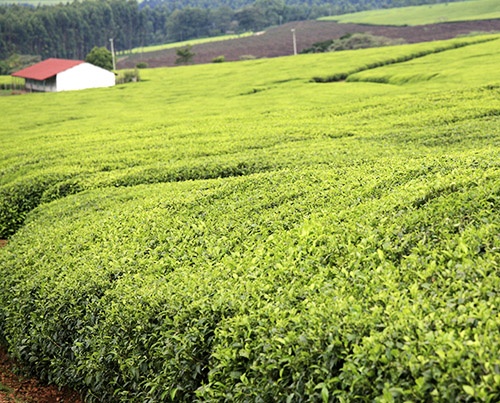 Over the past two weeks we have shared data and tips on how to stay relevant in the international student recruiting market in Africa. Starting with a broad overview of this market, our first blog post of this series Africa's Competitive Edge (Part I) showed the positive trends and opportunities for recruiting in African countries. Nigeria (Part II) took a closer look at one specific market, and the trends of students studying abroad and how to market to them in this country. In this Part III post, we will explore the international student recruiting landscape and prospects in Kenya.
Touted as the Silicon Valley of Africa, Kenya is one country that has been a focus in recruiting since it graced IIE's list of top 20 places of origin in the early 2000s. However, steadily since 2003, there has been a decline in the number of Kenyan students studying abroad. Between the 2013/14 and the 2014/15 school years, the number of students coming to the U.S. from Kenya has dropped 4%. Restrictions for students have become tighter and competition from within Africa is becoming fiercer. Still Kenya is the number two sending country of students to the U.S. (3,072) behind Nigeria (9,494).
Kenya is hoping to hold on to the slight economic boost they received at the end of 2015 from their growing agriculture sector. Hopefully, this kind of growth will empower more Kenyans to study abroad. Though the U.S. still beats the UK and Australia in the number of Kenyan students they are able to recruit, universities in the U.S. may still struggle to provide affordable options for Kenyan students, especially as the number of advanced study options in other African countries continues to grow.
Bottom Line: Schools outside of the African continent will need to use local connections and targeted digital marketing to attract Kenyan students to specific academic programs. Emily has some tips on how to do that and which programs might be most attractive in this valuable market. And she'll tell you why that beautful picture above represents great job opportunities for the right graduates...
Like Nigeria, Kenya is seeing some improvement in their education at home. Kenyans, with financial means, are sending their kids to private schools in larger numbers to give them an education that can put them on a level playing field with other university students.
As reported in the ICEF Monitor in June of last year, enrollment in Kenyan universities rose 28% from 2013 to 2014. But, the education climate in Kenya is rocky. Hopes were high in 2013 after the signing of the 2012 University Bill (find link to the Bill in this ICEF Monitor Post), which promised to mend the management of universities.
Despite the rising number of students, the government chose to cut funding for higher education by 6% in the 2015/2016 fiscal year. Even with the cuts, the number of students prepared for institutions of higher learning isn't expected to slow down. ICEF Monitor published on this topic again just yesterday (great publishers must think alike!) and noted that "Kenya will have one of the world's fastest-growing populations of 18-to-22-year-olds through 2024."
In 2015 the World Education News & Review (WENR) attributed decreasing numbers of Kenyan students studying abroad to tightened visa policies in the West, as well as the expense of Western schools. Still, UNESCO data shows that Kenyan students favor the U.S. over the UK and Australia. All the while, cheaper options closer to home are drawing more and more students as the number of college-aged young people increases.
Student Mobility Hurdles
The number of universities in African countries as a whole is increasing rapidly. Last year, while the USD increased, the Kenyan Shilling was depreciating. These kind of economic factors can certainly discourage the flow of students off the continent.
Recently, the World Bank and the IMF downgraded their predictions for Kenya's economic growth. Along with the depreciating Shilling, negative views of the Kenyan government along with the volatile weather of El Nino made it a difficult year for Kenya. A glimmer of hope came at the end of the year, when Kenya's economy saw a 5.8% increase, reflecting robust activity in the agriculture and construction sectors. Kenya is hoping to bring this growth with them into 2016.
Academic Programs of Value Here
Technology and business are typically in high demand as career opportunities grow here in Kenya. Also worthy of note are the agricultural and water sciences fields. Much of Kenya's economy is built on coffee and tea production. Note the beautiful photo above of a Unilever tea plantation in Kericho, Rift Valley in Kenya. The plantation is currently (as in TODAY) advertising for engineers, construction specialists, HR professionals, administrators, and even staff for their "Tea Breeder Plant Improvement Centre." If your institution can prepare Kenyan youth to perform in these areas, you have something of value to offer here.
Are you thinking about your email marketing subject lines? We are.
According to WENR, the number of graduate level students has not been decreasing as much as undergraduate. They attribute this to better research opportunities at Western universities. Again, these statistical trends should be guiding your marketing focus and expenditures in this market.
The Kenyan student population is quite active on the Internet. In fact, Kenya's presence on the Internet has been a bit of an anomaly to researchers who generally find that Internet usage directly correlates with income per capita. The Pew Research Center's "Emerging Nations Embrace Internet, Mobile Technology" report (2013) indicates that, even with Kenya's low GDP per capita, they beat out countries like Nigeria and the Philippines in their usage of the Internet. (Red dots indicate African countries).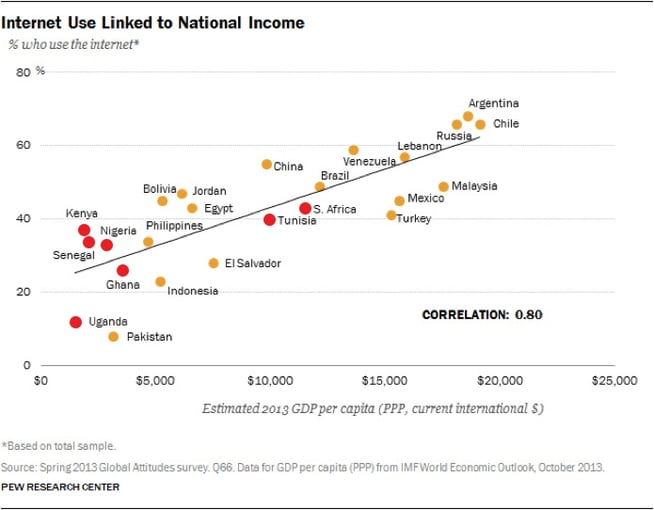 Maybe more importantly, 76% of the interviewees in the Pew Research Center's data said they used social networking sites while on the Internet (all the usual suspects: Facebook, Twitter, Google+). While students from Kenya might often require scholarships to fulfill their tertiary dreams, you will certainly be able to market to them online and on social media to share the exciting opportunities awaiting them at your university.
Though Kenya's economic stability is uncertain, what is certain is the aspiration of Kenyan students (and their parents) to find and achieve a quality education at the university level. And the parents are willing to make financial commitments to make that happen.
Though there has been a downward trend in students coming from Kenya to U.S., there is a strong desire for education as the growing student population seeks great academic options. Where the competition amongst universities is lower, opportunity awaits. We don't know about you, but we see opportunity here.