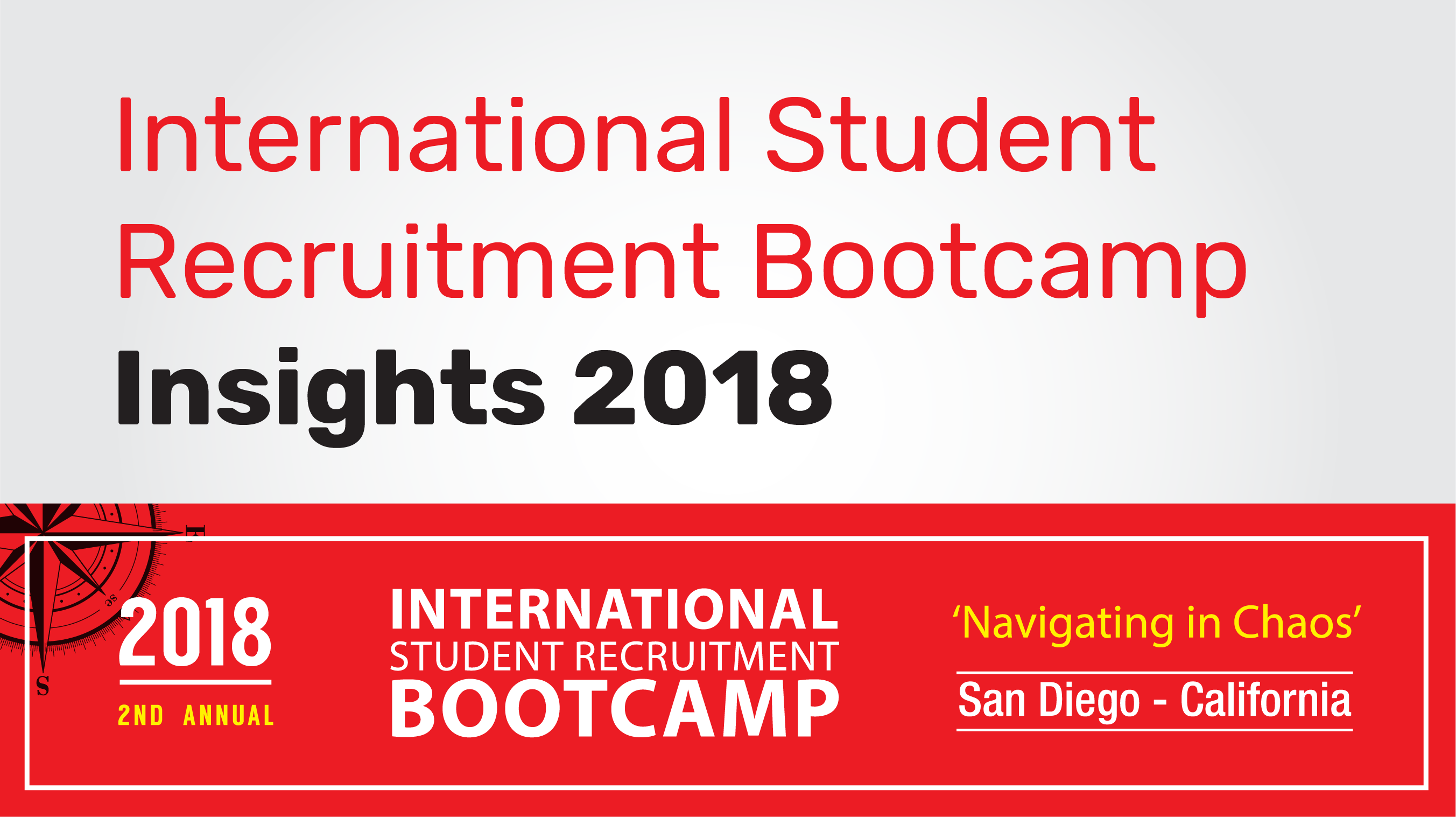 Hello everyone! This week, as we're sitting here in Boston in the middle of the third nor'easter of March, we want to share some insights from our International Student Recruitment Bootcamp held just 4 weeks ago (in a sunnier and warmer place).
We recognize that creating a global marketing plan to move your institution forward is no easy task. That's why we got into this work in the first place. We enjoy helping you do the research, find the insights and work through the challenge. Our data and our experienced team are ahead of the curve in what has become a turbulent market place.
We believe that sharing insights from major conferences and events like this helps to push our industry forward, and we hope that you will read them with an open mind and take back to your institution anything that resonates with you. Remember, we're always here if you have any questions or are looking for support to build a stronger recruitment system.
Below, we share a valuable set of insights and concrete tactics from our Bootcamp since so many of our readers were unable to join us. We covered all of this stuff in depth during the Bootcamp and provided some individualized and group attention to answer all the questions that arise.
At the end of this post, we share a link for you to stay in the loop for next year's Bootcamp. Maybe you and your marketing director can fit that into next year's budget and really move your recruiting program dramatically forward.
Read on for really useful tips...
Task One: Country Selection
Use our "Country Comparison" cheat sheet (don't have it yet? Download it here) and your existing enrollment and digital engagement data from your institution to evaluate the countries with the most likelihood for success. Consider your geographic and campus environment and academic programs. Consider competitor institutions and how you will convey your differentiators.
Limit the number of countries you will invest in. Depending on your size, the bulk of your investment might go into 2 to 5 countries. More than that and you are diluting your efforts unless you have a large team/budget. One approach we discussed at the Bootcamp: focus on a few markets with a history of success for you along with one new market that you are evaluating for future growth.
Be smart about your country selection to produce real results that will help you advocate for additional funding for your efforts. Bite off what you can chew.
Task 2: Channel Selection – Agents and Fairs
Limit the number of education agents and fairs that you employ. More is not better in these cases. Too many people are traveling without securing real results for their institution. Too many institutions are signing contracts with too many agents without securing real results for their institution. Don't be one of them.
Analyze your leads to know which channels are truly producing results (enrolled students who show up and do well at your institution). Spend your limited recruitment funds on just those that are at the top of your analysis and dump the others. If you save some funds that way, put them into the "evaluating for future growth" country – do a fair or build an agent relationship there.
If you are the SIO with a travel team working for you, develop a standardized fair and agent analysis process. Hold your team accountable for each trip. Your budget is too valuable to let this go.
Task 3: Technology Implementation
If you have a CRM in place already, be sure you are capturing your leads and the capture process allows you to analyze results by lead source: lead generator, agent, digital marketing (social media advertising, etc.), partnership, event, referral. Take a step back and set up (or re-evaluate) your lead scoring system. Which leads get the full attention of your recruitment/admissions staff? Do you have an effective email nurturing process with creative content offers that truly engage prospects?
We are seeing many institutions implement Slate as their CRM. Others are turning to Marketo. Some are stuck with Recruiter and making the best of it. There are good systems out there, but the one thing that will make any system work in your favor is the human adoption aspect. If your team uses the system well and religiously, you will see results. If not, even the best system is not going to perform for you.
Knowing where your leads come from and which leads convert is critical to leveraging what works and dropping the rest. If you do not have a CRM, it's time to consider pushing internally to start that process. Here's the link to our CRM guide to help you get started. Not surprisingly, we focus on the human element in selecting a CRM more than the features.
Task 4: Creating Your Marketing Content
Consider the issues raised in your Audience Segmentation work (see prior blog post here) and your Persona development (we can help you with this). Use your thinking on "Country Selection" and "Agents & Fairs" (above) and confirm or create content that speaks to the target markets and the pipelines you intend to use. Think about the content dissemination channels that are going to be most effective for your target audiences (we can help here as well).
Figure out which channels are producing for you by lead source. As you develop content, your personas should always be by your side. All of this content work is pushing your primary messaging and your strongest differentiators.
This content stuff takes time. Over the next 6-18 months, you will build an effective content library for each target country and each academic program. It will improve as you track the analytics. That is the wonder and the glory of digital marketing – it's all trackable.
You and your team will consider the content on your website, in shareable pdfs, in video form, on social media channels. You will consider different messaging per country and per dissemination channel. And you will consider the messenger. When is the message coming from Admissions? When is it coming from a Dean? From your institution's President? From a trusted Agent or Alum?
It gets more complicated and more valuable as you build content specific to each academic program and point in the recruitment funnel. This is how you target each market segment with the most valuable (clickable) content to draw inquiries and nurture leads.
All of this, takes time. Start small and build. But get started now. And, don't be afraid to reach out to us with any questions or for strategic guidance.
Task 5: Consider Bootcamp 2019
Stay in the Know about next year's International Student Recruitment Bootcamp. Sign up here and we will make sure you are among the insiders who are the first to hear about the great speakers we are lining up, dates and location! We hope you'll join us.