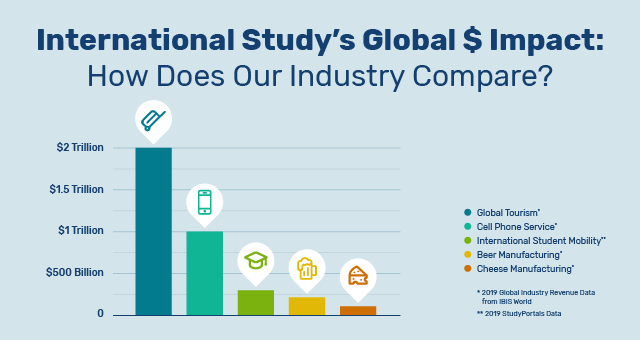 We report on student mobility trends in all of our research. Where are they going? What influences their decisions? How do we reach them with really great information to help them make informed decisions? These are the questions we ask and answer as marketers and communicators.
IIE data is always useful as a historical view of what happened over the past few years. What we also look for is data that is more immediate. What is happening right now. Better yet, how does what is happening right now affect what will be happening next year and beyond. The attempt to produce crystal ball predictions that have a bit more grounded intelligence and bit less unpredictable magic.
One of IIE's figures that is helpful from a policy level and industry advocacy point of view is the size of the market. Education is an export for most countries and here in the US, IIE has helped us value that at roughly $36B. That is the value of international students coming to the US and spending their money on tuition, housing, food, transportation, clothing and of course, the BIG decision between Beats headphones or Jaybird wireless earbuds.
But we wonder how does this $36B relate to the GLOBAL student mobility market?
Read on to find out.
StudyPortals recently released a report on the global impact of international students seeking tertiary education, the first report of its kind to look at student mobility on a worldwide scale. The study focused on the data from 2016 and found that international study—with its 5.1 million mobile students—was a $300 billion industry.
Before we all pat ourselves on the back (and there should be some back-patting), what exactly did the report analyze, and how do we fit this number into the larger financial context of global industries?
What exactly was the study?
According to the StudyPortals report, the goal is to foster "welcoming national policies and responsive institutional strategies to attract and retain global talent." In addition to presenting its findings, its analysis addresses university policymakers on three topics:
Estimates of the global economic impact of international students
Trends and patterns of international student mobility
Leadership perspectives of university vice-chancellors/rectors/presidents
What is meant by global impact?
The study analyzed the direct and indirect economic impact international students have on their destination countries. Direct economic impact can be quantified in tuition amounts, room and board, book costs, etc. As for indirect impact, the author of the study, Rahul Choudaha, PhD, executive vice president of global engagement and research at StudyPortals and one of the speakers at our 2017 International Student Recruitment Bootcamp, told PIE News, "[I]t is very important to recognise how the trickle-down effect adds to international students' contribution beyond what they are contributing directly to their universities."
Still, let's focus on the current number, which sounds impressive, but where exactly is the money going, and how does it stack up with other industries?
Distribution of the Economic Impact
Here is a sampling of countries studied in the report. Noticeably missing from their own charts are figures on the specific impact of international study in South America, Africa, and Asia.
| | | |
| --- | --- | --- |
| Nation | Percentage of Mobile Students Received | Economic Impact of International Students |
| United States | 19.1% | $57.3 billion |
| United Kingdom | 8.5% | $25.5 billion |
| Australia | 6.6% | $19.8 billion |
| Canada | 3.7% | $11.2 billion |
| France | 4.8% | $6.7 billion |
| Germany | 4.8% | $6.7 billion |
| Netherlands | 1.8% | $5.3 billion |

Clearly, StudyPortals' analysis calculated things differently than IIE does since their US figure of $57B is significantly higher than the IIE's figure of $36B. But all this had us wondering, is $300B an impressive number when it comes to a global industry?
You be the judge. Here are some numbers for your comparison.
Where does our work rank as a global industry?
| | |
| --- | --- |
| Automobile sales | $4 trillion |
| Tourism | $2 trillion |
| Cell phone service | $1 trillion |
| Fast food restaurants | $856 billion |
| Internet service providers | $687 billion |
| Investment banking and brokerage | $313 billion |
| Biotechnology | $301 billion |
| Beer Manufacturing | $216 billion |
| Book publishing | $112 billion |
| Cheese manufacturing | $109 billion |
2019 Total Revenue Data from IBIS World
There you have it. This report on the global impact of international students has a lot of information to unpack—especially when it comes to trends and patterns and advice to university policymakers—and we're sure it will make an appearance in our blog again.
But, until then, take pride in the knowledge that you are part of a $300 billion a year industry—roughly tied with biotechnology, one-third larger than beer, and three times the size of the global cheese market! And, while we aren't as delicious as cheese, we are far ahead of it as an industry, which sounds pretty gouda to us. (sorry for that).