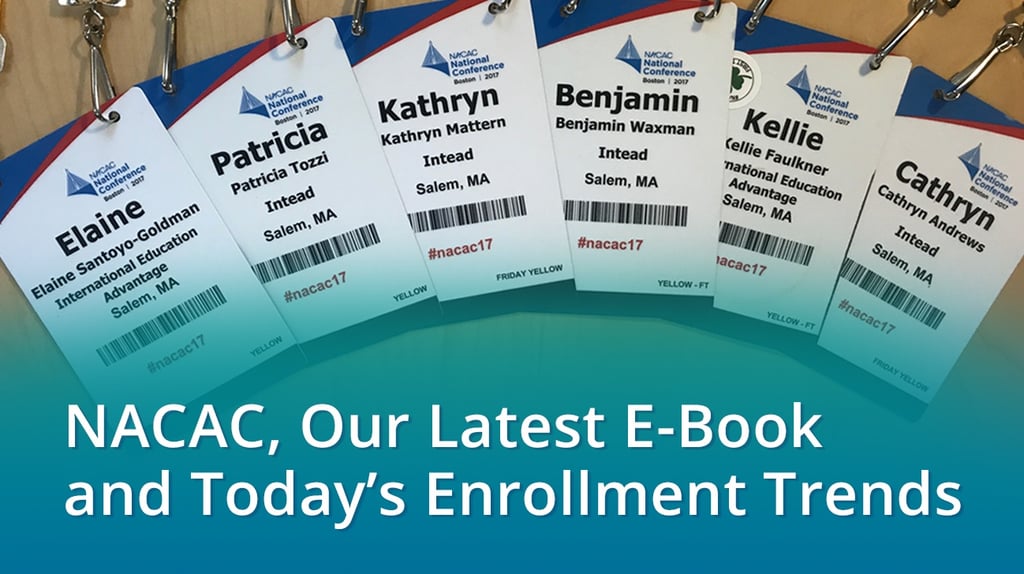 Last week, Intead presented at the NACAC conference—what an exciting whirlwind! We met so many wonderful experts in the field of recruitment and were able to share our insights with many of your colleagues during our session on international recruitment, hosted with our friends Sundar Kumarasamy (Northeastern University) and Steven Bloom (ACE). We are so thrilled that so many of you made it out to our early morning session!
If you were not able to attend, as our loyal readers, we would like to extend the invitation to register to receive our latest e-book, Quality.Cost.Convenience: Beating the competition for today's "non-traditional" students before it is released to the public. Read on to secure your copy.
Since the conference, we have been thinking a lot about today's political environment (isn't everyone?) and the impact it is having on recent enrollment trends. While we were in Boston, we had so many great conversations about the latest 2017 enrollment data, marketing strategies to combat dips in enrollment and what the future holds. So, this week, we are taking a brief look at research around enrollment trends in the U.S. and U.K., post-Brexit and U.S. presidential election.
Please read on for key data and industry insights (and to register for the new e-book ;-)
As you know, the U.K. and U.S. are often comparable destination countries for students looking to study abroad in an English speaking country. Right now, an air of uncertainty clouds the political climates of both nations. For many prospective international students, this makes two of the traditional top choice countries a tougher sell. Students are looking at Canada, Australia and Germany in greater numbers. But the U.K. and U.S. brands have not lost their market dominance. Just a bit of the shine. It is interesting that both countries are experiencing this enrollment scenaria at the same time.
Earlier this year, Dr. Rahul Choudaha of DrEducation, reviewed international enrollment data at higher education institutions in both countries and released his conclusions. The comparisons show some promise in the Indian market for US institutions, particularly in the areas of engineering and computer science (no huge surprise there, right?). Similarly, IIE data from 2017 enrollments suggests that the enrollment dips may not be as immediate as we anticipated. There are clear action steps to be taken to encourage growth.
Comparing Enrollment Trends
The insights from Dr. Choudaha's review highlights four main points:
American higher education institutions are more dependent on China and India as compared to British institutions.
The U.S. and U.K. have witnessed contrasting trends with at least four places of origin—India, Saudi Arabia, Nigeria and Hong Kong.
The growth rate for Chinese students in the US far outstrips than in the U.K.
Ten times as many Indian students are studying in the U.S. as in the U.K.
The chart below identifies some fascinating disparities between U.S. and U.K. enrollment trends from 2010 - 2016. Simply scan the % change columns for both countries - especially the bottom row showing total change.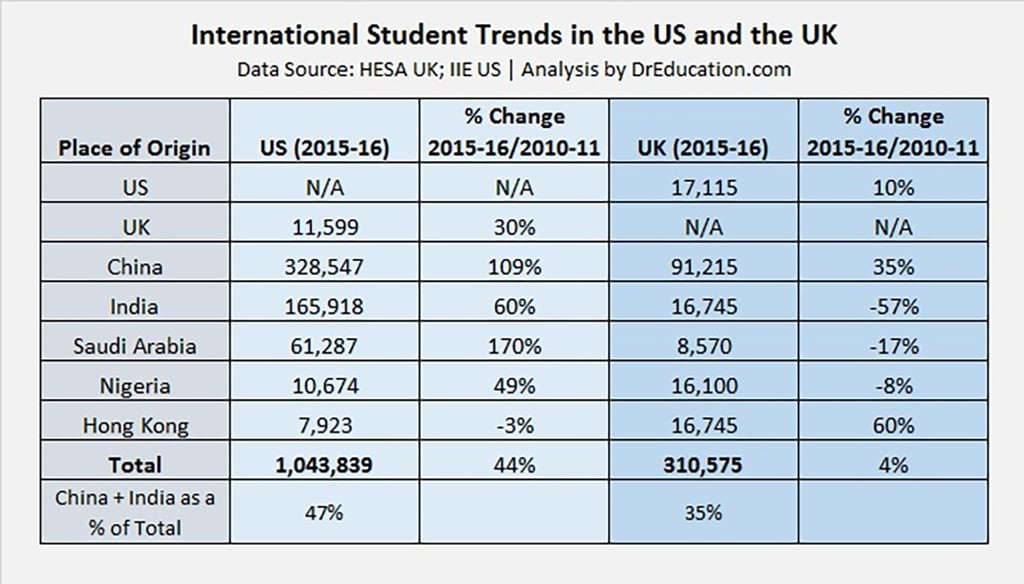 As we are all experiencing on a day-to-day basis, the U.S. and the U.K. are both facing a tougher global environment for attracting international students. After Brexit, post-graduation opportunities in the U.K. will be restricted. This may mean that many prospective master's students will take a second look at other opportunities before heading to the U.K. for their second degree.
In the U.K., Chinese and Indian students account for over one-third of the total international student enrollment. Since 2014, the overall enrollment of Chinese students has grown slower than in the U.S., and has been accompanied by a consistent decline in the number of Indian students enrolling in higher education programs in the U.K.
However, things aren't much easier here in the U.S.—as we all know too well. Although we have not yet witnessed the dramatic doomsday declines many predicted, IIE has reported an overall 2% drop in undergraduate enrollment for Fall 2017, while 46% of responding institutions reported a drop in graduate enrollment. Even in the 2015-16 year, we were seeing China, South Korea and Saudi Arabia growing at a slower rate than previous years.
To put this in context, past IIE data shows that roughly 33% of U.S. universities show a decline in international student enrollment in any given year. For that figure to rise to 46% is significant. Further, a 2% drop in overall U.S. undergrad enrollment seems relatively small, right? Compare that to year over year increases for 7% to 10% for the past few years in the U.S. Now a 2% drop seems a bit more troublesome.
Combatting Perceptions of U.S. Higher Education
Uncertainty around shifting immigration policies is an obvious difficulty for students thinking about studying in the U.S., but the competing issue, which looms large in the minds of many prospective international students and their families, is quite simple—will I be safe and welcome? Data from IIE has shown particular concern over physical safety (80%) and being welcome (31%) among students from India, while students from the Middle East were primarily concerned with Visa difficulties (46%) and being welcome in the U.S. (41%).
Outside of the very real nature of visa challenges, many of the battles we are fighting in getting international students to enroll in U.S. institutions are combatting perceptions. This is why we are constantly encouraging you to reinforce the message that your institution and your local area are welcoming and embrace international students and the diversity that they bring to campus. While there may be a drumbeat of unwelcoming messages coming out of Washington, D.C. (travel bans, DACA, etc.), spreading positive messages helps to reinforce the value of U.S. higher education and the spirit of your institution. Always remember to spread the idea that #youarewelcomehere.
How do you spread positive messages on your campus and around your institution? Tell us in the comments below!
Oh, and don't forget to be among the first to register to receive our latest e-book! Just as international students have been trending up significantly for the past decade, non-traditional students are increasingly important to your enrollment mix. Not news, you say? Wait until you check out our analysis and case studies! You'll hear much more about that from us very soon. Someone on your staff will be very glad you shared this e-book with them.