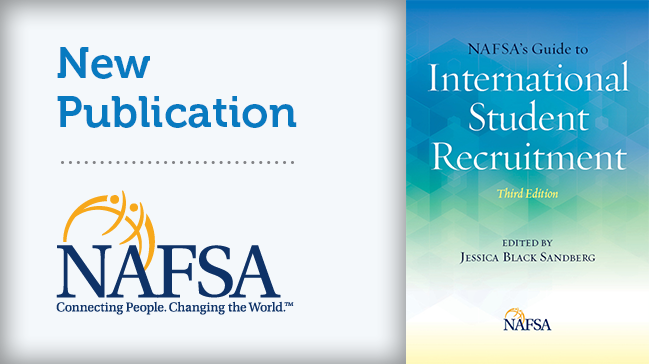 Each week we strive to bring unique insights in the field of international student recruitment directly to your inbox. This week we are excited to announce the release of a key industry publication.
This month, NAFSA has released the 3rd Edition of the best-selling book, NAFSA's Guide to International Student Recruitment. This cutting-edge work brings together insights from key leaders in the field and covers topics ranging from overcoming human resource constraints, to effective use of strategic marketing and recruitment travel, to measuring return on investment in international recruitment.
Editor Jessica B. Sandberg, Director of International Admissions at Temple University, whose editorial skill and leadership brought together the insights of major industry experts into one cohesive publication, contributes her own essential insights in Chapter 12: Recruiting International Students at U.S. High Schools.
Read on to purchase your copy from NAFSA.
During the NAFSA Annual Conference in Los Angeles on Wednesday, May 31 at 10 am, Jessica and David Di Maria, EdD, Associate Provost for International Programs at Montana State University and author of Chapter 4: Developing Human Resource Capacity for International Recruitment, will be presenting "A Survey of Essential Publications for International Recruitment and Admissions" (See NAFSA Conference Schedule HERE). The session will be followed by a book signing session where many of the authors will be present (we'll be there).
We invite you to come out and join us! — and check out Chapter 8: Effective Marketing Practices for International Student Recruitment by Intead authors Ben Waxman and Cathryn Andrews. All the digital marketing and international student recruitment perspective you could ever want in one publication. How awesome is that?!
Visit the NAFSA website to order your copy.
While we are on the subject of student recruiting and helpful publications, the results of our 2016 Know Your Neighborhood: Economic and Political Pressures on International Students Report will be released next week. The report is based on the results of the FPPEDUMedia and Intead 2016 survey to 1.2 Million international students. To be sure you receive your free copy, sign up HERE.
See you at Nafsa in LA! We'll have a number of great presentations for you. More on that next week.