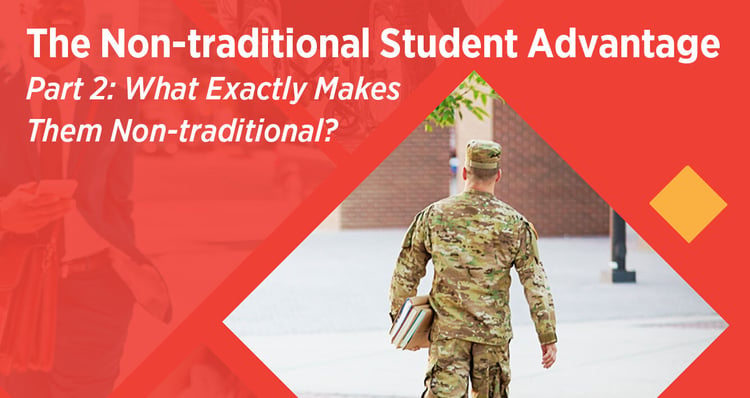 For a while, there were fairly common rules. First you graduate high school around age 18. Then go to university. Four years later you graduate with a degree and an employable set of skills. Got it.
But times have changed. And university tuitions don't stop rising. And that's exactly what's happening right now. Traditional students are heading for the enrollment cliff making way for a more non-traditional set of students. And that means new rules.
Last week we started this 5-part blog series on reaching and enrolling non-traditional students. Find part 1 here.
Today's students are vastly different from those of decades ago, but colleges are still structured as if 18- to 21-year-old, full-time students are in the majority. ~ The Lumina Foundation Report on Today's Students
Let's look at the basics. Typically, a traditional university student is:
18-24 years old

Enrolled full time

Lives on campus

Financially dependent



---
Intead's ebook is a timely resource appropriate for the seasoned administrator as well as educators just beginning to tackle the challenges of digital marketing today. Bringing together expert advice from experienced administrative colleagues and successful marketing strategies from work with Intead's institutional partners, this book stimulates the reader to address the recruitment of non-traditional students from a holistic context that pays attention to student learning methods, delivery of academic content, academic success services, and other areas of student support non-traditional students need to achieve their goals. ~ Jon Stauff, Assistant Vice President for International Affairs at South Dakota State University
---
Per the National Center for Education Statistics (NCES), of the 15+ million students enrolled at US Colleges and universities in 2021, nearly 65% were between ages of 18 – 24. Of course, age only tells us so much. A student can be both 18 and non-traditional.
By NCES standards, a non-traditional student is someone who meets one or more of the following criteria :
Outside the traditional 18-24 age range

Financially independent

Has one or more dependents

Is a single parent or caregiver

Does not have a high school diploma

Delayed enrollment into postsecondary education

Works full time

Enrolled part-time
Other bodies of research define the term more broadly, also including students who are either married or are veterans.
And yes, we hear you. There's more than a few of you who are bristling at our use of the term "non-traditional." Truth is, traditionally "traditional" students are no longer the overwhelming majority. And that matters. Which is why understanding the growing and highly important non-traditional audience has become a priority for enrollment teams. In fact, it should be a priority across all of your departmental teams, from nutrition services, to housing, registrar, IT, and career services. (Please tell us that Academic Affairs, Student Services, Career Services and Development are considered a given.)
We can ditch the non-traditional label in due time.
You may see where this is going and why it is important to you as an enrollment professional. The demographic cliff has arrived and non-traditional students are one option for your institution's continued success. Take a few minutes and we will help you clarify the path forward.
Read on to learn more about reaching specific non-traditional student market niches and the process of engaging them…
From a marketing point of view, non-traditional students' criteria for choosing a higher education institution differs from that of the traditional student. A number of factors are at play here: job dislocation, requirements to enhance skills, more frequent job changes and career transitions, and a myriad of other personal and financial influences.
According to NCES, enrollment of students ages 25+ is projected to grow by over 11% in the coming decade. That's in line with the anticipated 10% growth for the 18-24 crowd – a stat that feels a bit at odds with all the talk of the coming enrollment cliff. Perhaps these stats on "Today's Student" by the Lumina Foundation help tell the story:
64% of college students work, 40% work full time

49% of college students are financially independent from their parents

24% of college students have children or other dependents

57% of students live independently (away from their parents or campus housing)

6% of college students serve or have served in the US military
Our interpretation: The non-traditional student is all but mainstream and certainly not monolithic. And importantly to you, their timing is impeccable because you SO need them yesterday.
Get To the Point
Although recruiting and educating these students is not a new concept for you, the traditional vs non-traditional scale is obviously evening out. Successful institutions reevaluate the types of support services, classes, and learning environments being offered to non-traditional students. Simply providing online or hybrid class options will no longer attract nor sate the needs of this market. These students are discerning. They simply do not have the time, money, or energy to fool around with this stuff. They will evaluate your offering and move on if you don't have what they want.
Grabbing Attention
Trying to capture the attention of students in a market as large and diverse as the non-traditional cohort is not easy – especially when online learning options break down geographic barriers. Many recruiting and marketing challenges also come from the sheer number of subsegments that exist in the non-traditional pool. A 26-year-old mid-level manager with young children is evaluating options differently than a 26-year-old veteran with a high school diploma.
As a thought experiment, consider ease of use for a range of non-traditional students:
Your Campus Environment
Do you have adequate parking for commuting students?

Is there a gym on campus or other communal space?

What kind of dining options are available for students without meal plans?
Student Services
Is there evening childcare on campus for students with children?

Are extended evening or early morning office hours provided for students working full-time?

Does your institution offer helpful, flexible, and appropriate financial aid options?
Learning Options
Are classes offered on weeknights or weekends?

Can students choose online or hybrid learning options? Synchronous or asynchronous?

Do your professors understand the unique challenges of non-traditional students?

Are your TAs trained and available to support non-traditional students and help them succeed?
From a recruitment messaging standpoint, all of these considerations can speak volumes to your target audiences, as in: We See You!!!
Let them know that you get them and you'll do all you can to meet their needs. It's not easy returning to the classroom after time away. And it's not easy meeting all your life's obligations while juggling a full course load. That surface level observation is fine, but carry it through to truly become a service organization that non-traditional students will rave about to their peers and colleagues. You know what will happen next!
Want our non-traditional student recruitment ebook now? Click HERE. Two versions available with 9 case studies. The complete version available to Intead Plus subscribers provides a sample marketing plan, student personas, and more.
The Intead team evaluates and works through these kinds of enrollment marketing and admissions challenges every day. If you need a marketing partner to help reach and retain non-traditional students, be in touch. In the meantime, keep watch as this important 5-part series on non-traditional students unfolds. Next week we talk competitive landscape in installment 3. You won't want to miss it.