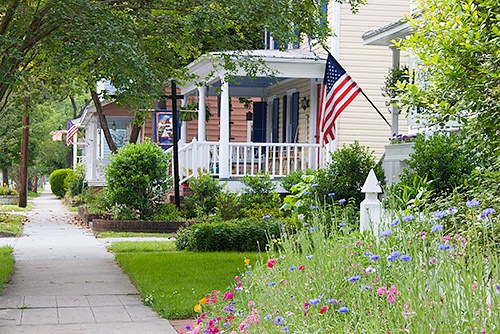 What if recruiting international students was as easy as looking in your own backyard? OK, maybe not literally in your backyard. But, there is certainly a lesser-tapped market that is closer than you might think. (And we found this beautiful photo of a typical American front yard and really wanted to use it ;-)
In 2014, the Institute of International Education reported that 73,019 international students were enrolled in secondary schools in the United States. And of those students, 67% were seeking their secondary diploma. Exchange students, as well as domestically-based international students, are an important target group. They have knowledge of the culture, language and education system in the U.S. and they are easily accessible in the high schools just down the road from you!
Bottom Line: There is plenty of potential for recruiting international students from within the U.S. secondary school system. These students typically have a much easier time adjusting to post-secondary education in the U.S. at a university. But, recruiting them is different than the process your recruiting team might use when attracting domestic students. If you are using your domestic student marketing approach with the international students in your backyard, you are not reaching this target market effectively. Emily can add to your perspective here and share a few tips you might want to pass along to your domestic recruitment team.
In 2013, almost 49,000 international students were studying in U.S. secondary schools. This number has tripled since 2004, and this growth isn't something to ignore.
U.S. high schools are pulling in large numbers of diploma-seeking international students. And, while the number of exchange students has experienced less growth, it still contributes to the large number of international secondary students on American soil.
These students are already experiencing and adapting to U.S. culture and language. They are developing relationships and feeling more comfortable being away from home. What are you doing to address the needs of this segment?
Domestically recruited international students need to be treated as their own audience. As a group, they have a whole host of specialized questions that aren't going to fit into the "normal" recruiting efforts for typical domestic students. And they don't fit into the "normal" recruiting approach used for international students studying in their home countries.
For starters, these international students are far more likely to visit your campus and experience what you have to offer first hand. Is your team ready to welcome them and address their different motivations, concerns, and cultural needs?
Specific Visa Needs
While some of these students may not need a visa, many others do and they might not feel comfortable dealing with the bureaucratic processes that come along with committing to long-term study. Foreign exchange programs often do the legwork for international students to get their visas figured out. But what happens when these students are left to their own devices? It gets really confusing, really quickly.
This set of student needs is different from other international students. Being prepared to offer clear and useful information to high schools can help these students and their parents feel more at ease when they begin the process of transitioning from high school to university. Do you have clear instructions or FAQs designed for this student segment? Do you have that in alternative languages to help the parents understand?
Financial Capability
U.S.-based international students have the means to study here, but that doesn't necessarily mean they can easily cover the expense of higher education institutions in the U.S. The expense can be a deterrent, especially for students coming from European countries where higher education is comparatively less expensive. According to the IIE research we cited earlier, 66% of foreign exchange students in the U.S. are from Europe. If you are targeting a European market at U.S. high schools, it is important to remember that the price difference will be on their minds. But, there is something that drew them to the U.S. in the first place, right? Is your messaging on target here?
Marketing targeted toward other international students misses the mark. These are students who are well traveled, know U.S. culture and know the implications of being away from their family. They tend to be very resilient and independent. They are less reliant on parent input as they make the university decision. Though as marketers, we cannot forget the parent is still typically the one footing the bill. The parents still have an important role in the decision and your marketing needs to address that. Oh, and don't forget that the parents typically have weaker English skills than the prospective student.
Training Domestic Recruiting Staff
This is likely the most important point: In our experience, most domestic recruiting staff working on campus and traveling to high schools and regional college fairs are not well-prepared to meet U.S.-based international students. Training them on visas, financial documentation and other technical requirements is one part of it and is really important. Equally important is helping these recruiters understand the motivations and other cultural issues that are often on the minds of this student segment. Working in international student recruiting, you already know these things. Don't assume your counterparts on the domestic recruiting team have that same depth of knowledge.
A good recruiter wants to know how best to reach each student group with the information that is most relevant to them. This is where success comes from – NOT from treating each applicant group the same way and thinking they all respond to the same information, the same messages.
One way to help your domestic recruiters get a clear picture is to arrange a meeting with some of the international students you have on campus already. Be sure this little group has a number of international students who came from a high school overseas and a number of international students who came from a U.S. high school. A little pizza can help you collect a wealth of marketing insight. And your domestic recruiters will have an eye opening experience that will help them as they encounter this growing market opportunity.
What To Do Next
With so many international students attending U.S. high schools and the high cost of international travel and challenges of global branding, taking a look around your own backyard makes a lot of sense. You just may find significant opportunities to diversify your campus with far less hassle and recruiting cost. So step 1: You know that list of private high schools in your region (and beyond) that you use for domestic recruiting? Their websites are going to tell you what kind of student population you'll find there and give you a sense of the international population. Put an intern on it!....Opportunity awaits.