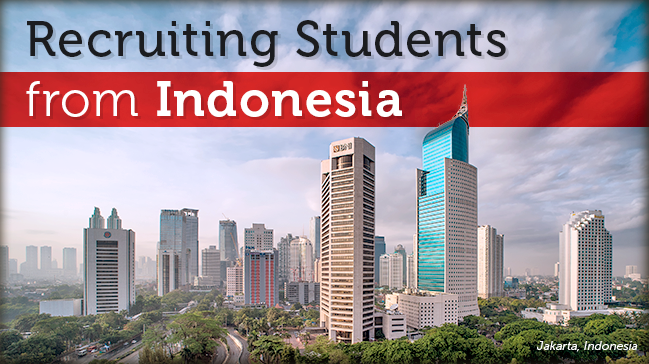 Recruiting Students from Indonesia
As we monitor our changing political landscape and the far reaching impact of U.S. executive orders, we watch for developments in emerging markets and opportunities to diversify your student recruitment. This week, we are exploring the current status of the Indonesian market and looking at highlights from a study on the underlying motivations driving Indonesian students to study in the U.S.
With so many other Asian countries stealing the spotlight, we find that Indonesia doesn't always get the recognition it deserves as a growing market for student recruitment. Securing a place in the top 25 undergraduate recruitment markets, as well as showing significant growth in the number of non-degree seeking students, it is worth a look. Still, as with all Muslim majority recruitment destinations, addressing visa questions and other concerns will prove key to your recruitment success…
Fittingly, we will be discussing these concerns – and strategies for overcoming them – at NAFSA in just a few weeks. We hope that you will attend our sessions (we have 4 presentation times) and take a look at our latest research results. Email us to set up a meeting time in LA: info@intead.com.
In the meantime, we invite you to read on to explore the possibilities in Indonesia as a recruitment destination…
Indonesian Market Overview
Not only is the U.S. still seeing growth in the number of Indonesian students arriving in the U.S., but there is also plenty more potential that isn't being tapped in this country with a young population and a growing middle class.
ICEF Monitor considered Indonesia an emerging market back in fall 2016—with good reason. Indonesia is a young country, with a median age of 28.2 and it is the world's fourth most populated country. It also has one of the world's largest economies, which is currently poised for growth. The middle and affluent classes are expected to expand to twice their 2016 size by the year 2020. That's practically tomorrow, so we better get busy setting up our recruiting plans now.
While Indonesia is on its way to having one of the largest populations of college-aged students, there isn't enough access to educational opportunities within the country—driving more students to look abroad.
Student Mobility
In 2016, Indonesia made the list of the top 25 leading places of origin compiled by Institute of International Education. Sitting at number 19, Indonesia sent 8,727 students to the U.S. in the 2015/2016 school year. This was a 6.6% increase from the 2014/2015 school year.

The majority of these students were studying at the undergraduate level. However, it is important to mention that students coming to the U.S. for Optional Practical Training grew by 25.5% and the non-degree seeking group grew by 14.1%. This is really important data for your recruiters to know as they send emails and travel to meet students. Your job is to help them stay on message with relevant information to the target audience.
Graduate degree seeking students saw less growth, at 2.8%, but institutions focused on recruiting graduate students might turn to the QS World Grad School Tour Applicant Survey 2016 as a source of information for effectively target these students. The study gathered information on several emerging markets from June 2014 to June 2016.
Notable findings from the report include the fact that Indonesian graduate students focus more on the reputation of specific subjects at institutions than on the reputation of institutions themselves, which is great news for institutions with lower overall rankings attempting to build up particular programs to attract more attention from abroad. This finding is common among prospective graduate students in general.
Priorities When Choosing an Institution

SOURCE: QS World Grad School Tour Applicant Survey 2016
The survey also reveals that Indonesian master's applicants are most often concerned with progress in their career path and least interested in fulfilling a requirement to enter a profession.
Indonesians value networking opportunities in a country over cultural interests. This differs from nearby Philippines, which is an interesting point to note. Indonesian students are also slightly more interested in language improvement. Though the countries are geographically close, there is no "one size-fits all" approach to recruiting.
Drivers of Destination Choice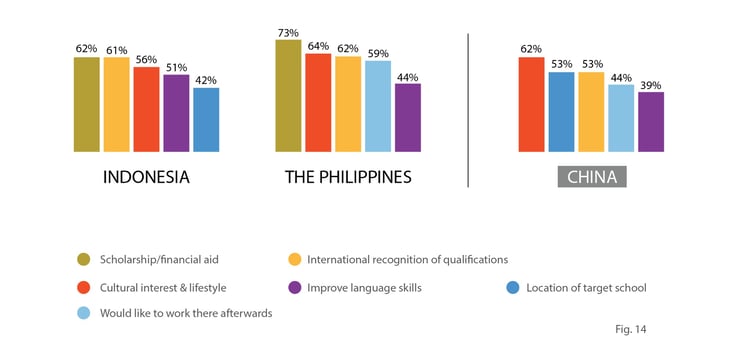 SOURCE: QS World Grad School Tour Applicant Survey 2016
Our own research from a 2015 survey with FPP EDU Media provides further marketing insight into recruiting Indonesian students. See page 27 for helpful insights and recommendations about social media use and other practical tips. We're here to help.