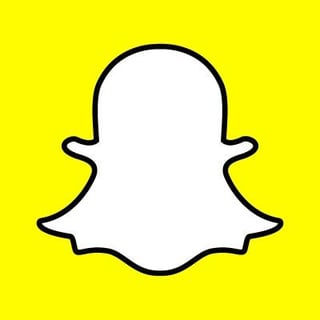 By now we all know that teenagers come with phones permanently in the palms of their hands. They snap, chat and app like it's their job. In previous blog posts, we've discussed mobile messaging usage among young people before, and the numbers are impressive. If you haven't already, it's time to give in to the trend because more and more social messaging apps are popping up all the time. Snapchat, the free picture and message app, although not new to young people, is starting to shape its platform to allow business and universities to reap the benefits of this app.
Pro-tip: We hope you are sharing this post with your social media team. Don't let all these great ideas and resources fade like some 10-second Snap.
Universities are starting to use Snapchat more and more to reach current and potential students alike. But is adding another social media app to your list to manage really worth it? Well, four hundred million pictures, or snaps, are shared every day via Snapchat. Yep, 400 million. And, if you think that sounds surprising, how about this? That number is larger than the number of images shared via both Instagram and Facebook. Estimates even show that the combination of images shared on Instagram (approx. 50 million) and Facebook (approx. 350 million) is about the same as those shared on Snapchat. Thinking maybe it's time to consider using this app to get in touch with students? We do, and we'll tell you why.
Bottom Line: According to Pew Research Center, half of smartphone users between the ages of 18 and 29 use messaging apps. Snapchat is among the most important of these apps for student recruiting. It has around 100 million active daily users and the majority (71%) of these users are below the age of 25. Universities are using it for various purposes and share mostly positive responses. Below we can give some specific examples of universities doing this well. If more direct engagement with your potential students is your goal, Snapchat may be the answer.
You can find more information about messaging apps on our Virtual Communities Messaging Applications worksheet. For now, let's dive into Snapchat and find out why "snapchatting" is a verb that might be on its way into Webster's Dictionary. Well, at least if young people have anything to say about it.
So, what is SnapChat?
Snapchat was the brainchild of several Stanford students. Think of Snapchat as a cross between Whatsapp, Instagram and Youtube. It could be considered a visual messaging system but it is really much more and there are many ways to use it. The app has features like extra filters, emojis, geotags, a video chat, text chatting and even an option to send money. But you'll probably just be using it to send "snaps" and "stories." You can read about the rest of the options here. For an introduction, we'll fill you in the more basic message options.
A "snap" is just a video or photo you send to your followers. Users can also add doodles or different filters to make their "snaps" more fun. The catch is that the shelf life of a snap is always short. Regular "snaps" can be saved; unsaved messages are deleted after 10 seconds. Those we want, we save. Those we don't, disappear. Sounds pretty nice, doesn't it?
Users can also send "stories." These were created as an entertaining way to increase engagement on the app and they are incredibly popular. Stories are basically logs of a user's day. A user can simply share photos and videos to their "story," which ends up being a collection of images and photos of someone's day, or even a specific event—think sports games, events on campus, move-in day and others. Those who follow can take a look any time during a 24-hour window. Once the 24 hours is past, the story is deleted and a new one starts.
The story option can also be used as a collection of photos or videos of individuals in a certain place (like your campus!) and they can use the Snapchat geotags to indicate where they are and what they're doing. You can even set these up yourself for specific events on campus for an additional fee.
Who uses Snapchat?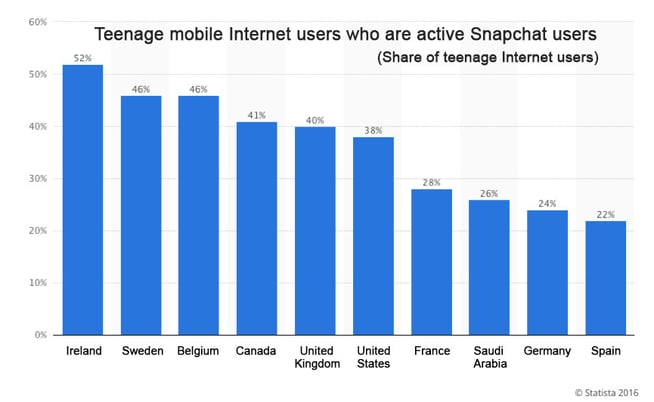 SOURCE: Statista.com
As we mentioned above, Snapchat users are primarily young and they are generally very active on the app. Data from 2014 makes the app even more attractive. Mashable reported 77% of college students used Snapchat at least once a day.
How should universities use it?
In 2015, Librarian Enumerations featured universities that were effectively using Snapchat as a means of communication to students. The article listed some of the ways universities are using the app. Some ideas were more elaborate and others were relatively easy to introduce. Universities like the University of Nebraska-Lincoln are using the app to share activities on campus. Others, like Duke University, use it to show potential students what life is like on campus via the story function. Princeton's Snapchat Saturday is a Facebook album that features photos compiled from their Snapchat accounts.
Advertising prices are pretty steep on Snapchat. They supposedly start at $750,000 for a one-day ad, though CNBC reported earlier this year that prices are potentially falling. Even with the high prices, when Cowen and Company polled U.S. senior ad buyers about where they planned to start advertising in 2016 the majority picked either no new social media venue or Snapchat.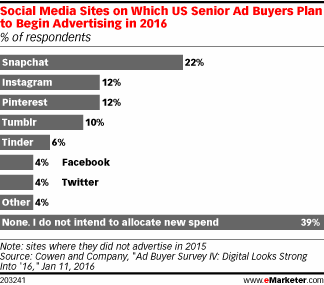 Source: emarketer.com
Institutions can also find exciting ways to market their brand without spending the big bucks. Better yet, institutions can enlist the help of their current students. Campaigns like Colorado State University's #stateofsummer contest allowed students to post their own photos but still link back to their school. Even the University of Michigan, the Snapchat veteran, engages in #selfie contests to keep students buzzing about their campus. Having current students market and promote your university? Sounds like a no-brainer.
Brown University is another great example of an institution using Snapchat to its full potential. Our hats are off to John Murphy, Brown's social media specialist, for implementing and then sharing with the world some excellent examples of creative Snapchat use. Better yet, his creative approach is trackable and effective -- the Holy Grail of digital marketing.
The link above goes to John's summary (totally worth the click) of ways to use Snapchat include printing out or sharing your Snapcode to prospective students—think modern QR code. Through their own Snapchat accounts, they can find and follow you using your Snapcode, and can keep up-to-date with what's going on on campus…even if they're on the other side of the world. He also recommends taking screenshots of Snapchats taken on your campus, or with your geotag, so you can repurpose them for other social media accounts. And finally he talks about on-demand geofilters that can engage Snapchatters coming to your events (think Reunion). All great ideas.
There are countless ways to use Snapchat (for more ideas check out this TIME article). You can choose from Snapchat stories, funny videos or even simple pictures with hashtags.
Now, are you ready?
The statement voiced by Hernando Planells, who is the assistant coach and recruiting coordinator for women's basketball at Duke, might be exactly how you feel. College Express reports that he uses SnapChat for recruiting and told The Chronicle of Higher Education, "Because there's so many different avenues to communicate with them, you're just hoping the one you're using connects with them."
Sure, we get the feeling! Students are hard to keep up with on social media. But, we don't think it has to be a shot in the dark. Active engagement with students and avidly watching their online usage can help you streamline your engagement. Try things out and see what fits with your target group and don't forget to take notes on where other institutions are finding success. Time to get snapping!