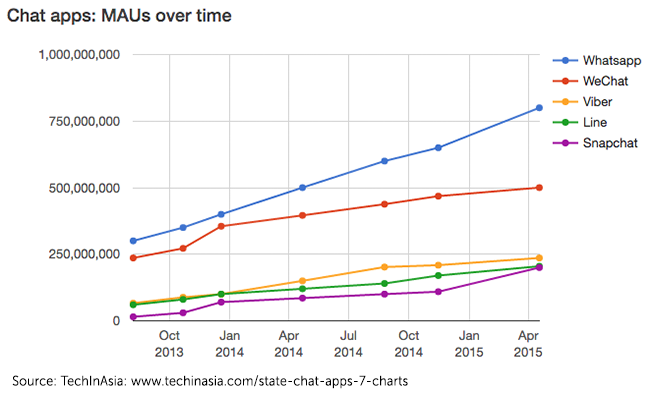 In the international student recruitment landscape, we all know the importance of the Internet, digital marketing and connecting to your target audience (at least, we hope you do!). Part of the awe of the Internet is its ability to connect people from all over the world. And now, with more and more messaging apps, that connection can be fostered in real time.
In last week's blog post, we discussed the importance of using social media as a virtual community. Determining which social media platforms are used in your target countries is important to reaching the students you want to recruit. The same is true for messaging apps, which can be an even quicker way to keep up with correspondence.
In today's blog, Emily will share valuable information about these messaging apps (think WhatsApp, WeChat and others). And for a side-by-side comparison of these apps, download the worksheet below.
By the way—are you going to NAFSA in Denver? We will be presenting our latest research on how current global, economic and political events are impacting students' plans to study abroad—you don't want to miss this! And schedule a time to chat with us while you're there!
A while back we were speaking with an international student recruiter who admitted that, until recently, she rarely checked her Facebook messages. She quickly changed her routine to check her Facebook messages as regularly as her email, after she nearly missed meeting with a student who used Facebook messages almost exclusively to communicate.
This is a true story and it is an example of the way communication on the Internet and mobile devices is headed. Students want responses quicker and on the platforms they are already hanging out on.
Are you using messaging applications to recruit? Being off the messaging grid is so last year. Email isn't gone, but it is fading as a means of connecting. There is still a real role for email marketing but it cannot stand alone as it used to. And it is an important channel for transfering longer communications with attachments.
But real-time messaging, that's where student recruitment campaigns are headed. Messaging applications like WhatsApp, WeChat, Viber and even SnapChat are growing—and they're growing fast. Check out the graph below; it shows the growth of five popular messaging applications from October 2013 to April 2015. MAUs = Monthly Active Users and WhatsApp is on course to 1 billion of them! Yup, 1 billion each month.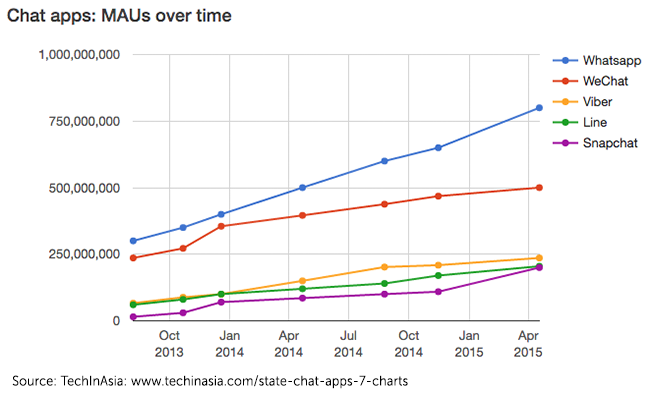 (LINK: https://www.techinasia.com/state-chat-apps-7-charts)
We wrote a double feature (here and here) about WeChat back in 2014. So maybe you jumped on the trend then. We hope so, because while we cited 438 million users in 2014, by November of 2015 the application was boasting around 650 million monthly users.
In August 2015, Pew Research Center shared data about mobile messaging sites. They noted, "49% of smartphone owners ages 18 to 29 use messaging apps, while 41% use apps that automatically delete sent messages" – similar to SnapChat. According to the research, young people enjoy these apps because they are free to use with WiFi and more private than standard social media platforms.
Just like our Virtual Communities Worksheet from last week, this week we're sharing an Online Messenger Worksheet to help you plan your international student communications.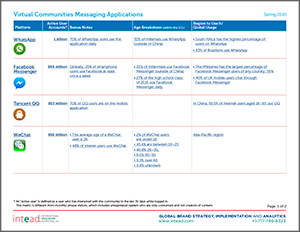 Of course, the same issues come up when choosing messaging applications as they do when choosing social media platforms. It's easy to get excited about all of these popular apps and platforms and forget strategy. First and foremost, you have to have a strategy with these apps, or you'll be wasting time that could be used more productively elsewhere. You can't advertise on every platform and your team doesn't have time to check messages on every messaging app. But, if you've done your homework (or at least browsed the worksheet), you know that you don't have to.
For example: If you are recruiting in Brazil you aren't going to try to promote your WeChat account to potential students unless you want blank stares in return. If you want to get students excited in Brazil, you're going to want to use WhatsApp. But if you're in China, WeChat is the best way to instantly communicate with students.
Knowing where you will find certain global populations teaches you a lot about how to communicate with the students you are recruiting. For example, Viber users can choose to add cute stickers to their messages whereas WhatsApp is much more like your regular SMS texts. Western Europeans seem to like the straightforward approach. In fact, most of my friends here in the Netherlands are so accustomed to using WhatsApp they actually have a phrase for it. "Talk to you later" is often replaced with "I'll app you."
Seriously, these messaging services are ingrained in the lifestyles of the younger generations! Understanding the application your target students are using can help you decide how you want to go about formatting your messages.
As you go about developing your strategies and formulating the right messages to spark interest from your target groups, use the PDF we've pulled together as a guide! We'll app you later
.