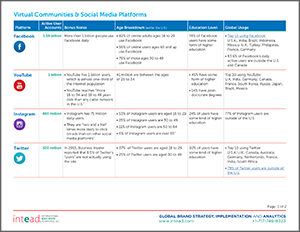 We have another valuable digital marketing tool available to help you with your international student recruitment plans. Some of the statistics might be a little surprising on the surface. And we all know that statistics, on the surface, are not always what they seem.
For instance, did you know that based on Hootsuite user data, 74% of Facebook's user base has some level of higher education while only 24% of Instagram's user base claims that? Think about that for a second or two. How could that possibly be the case?
Our conclusion: Instagram users don't feel the need to report their university level on their profiles. It's just not that kind of platform. So while the statistic remains accurate, the story the data tells requires a bit more thought. Instagram users are not less intelligent. Seriously, some of our best friends are Instagram users. And we think they are quite smart! (Shhhh, we have to say that. They subscribe to this blog 😉).
With today's blog, Emily used a Hootsuite report to develop a comparison of some of the global social media platforms by age of users, education level and global location among other key stats. The information is both thought provoking and helpful as you roll out your student recruitment social media/digital marketing strategy in key regions.
Be sure to tune in next week as well. We will share more information on virtual communities focusing on messaging apps like WeChat, WhatsApp, and even SnapChat.
Meet Us in Denver @NAFSA 2016: Learn from our latest research on how current global economic and political events impact students' plans to study abroad. Schedule a time to chat with us during the conference.
Please read on for the link to our downloadable Virtual Communities Worksheet…

There's a lot of social media information out there and it takes a bit of work to figure out which platform(s) are right for your institution. How do you know where your audience is? And are they a moving target?
Two weeks ago we gave you the lowdown on Instagram. We pointed out the reasons why Instagram could be an avenue for some of your social media marketing campaigns, (hint: Instagram is where a lot of students are). And we provided some information about advertising on Instagram. But that was just one example of the many, many other social media and virtual community platforms that might be useful to you.
Now, to support your digital marketing plans, we have compiled a list of the top social media and virtual community platforms students are using. We've done our homework to help you find where your target international students spend their time online. We've included information about where these communities are most used and who uses them based on geographic location, age and education level.
Download this Virtual Communities Worksheet here.
You will probably see platforms that you already use, others you may not be on yet. The truth is that the solid, go-to platforms are still valuable in terms of traffic. However, some changes in the demographics of the traffic might be more obvious once you start thinking about segmenting.
When you dig a little deeper you see shifts in demographics. Where are your prospective international students spending their time online? Are you there?
Last December, we gave a digital marketing presentation at the AIRC conference and ICEF Workshop in Miami and developed another useful chart offering quick perspective on going global with mobile marketing content (see slides 25-27 on our Slide Share).
There is always the danger of spreading your resources to thin as you try new platforms. To do this marketing effectively, you need your own staff or a hired team to create great content, engage prospects and evaluate the analytics. This is real digital marketing, not haphazard dabbling. We are here to help you figure it out, create a plan, do the work or train your staff.
In next week's blog, we will share more information on virtual communities, focusing on messaging apps like WeChat, WhatsApp, and even SnapChat. Understanding how to capture audiences on these apps can help set you apart from other institutions.
We love the social media and email comments we receive about this blog and the best practices we share. Have we heard from you lately? Why not?
Let us know what student recruiting topics you would like us to cover!