Should Instagram be one of your student recruitment tools?
Here's another question more to the point: Are you prepared to ignore the 50% of high school seniors searching for university options via Instagram?
Sure, go ahead and put your marketing budget into those slick mailers that cost $10+ per piece. You do know that they go straight from the mailbox to the recycle bin, right? Trust us, we have 17 year olds at home and watch it happen each week. Sorry, harsh but true.
In last week's blog post we introduced you to all of the great things Instagram can offer to universities: ease of use, engaging content, targeting younger student groups, providing a glimpse of life on campus. All of these things are great for your digital marketing initiatives. And Instagram is constantly updating and evolving both their phone app and website to make the platform even easier to use.
In addition to those free features Instagram offers its users, the platform recently added advertising options. In this week's post, Emily will introduce us to the how's and why's of advertising to students on Instagram.
QUICK SIDE NOTE: Can We Meet in Denver? We will be at the NAFSA 2016 Annual Conference in May presenting new data about the impacts of current economic and political events around the world on students' plans to study abroad. Use this link to schedule a time to meet with us at NAFSA in Denver. We'd love to learn about your recruiting plans and share our latest research with you in person.
Now, on to Emily's take on Instagram...
Advertising on Instagram boasts some pretty impressive results. Higher Education Marketing reports that the click-through rates for Instagram's advertisements are 2.5 times higher than other social media platform. Hootsuite shared that ad data recall from sponsored posts on the application was 2.9 times higher than Nielsen's norms for online advertising. In the marketing world, that's pretty good.
So far, the research is positive, but with Insta Advertising being so new, statistics are still scarce in this area. This isn't necessarily a bad thing. We see Instagram's untainted advertising scene as a benefit. This is one of the few social media sites that hasn't been cluttered with ads…yet.
By some accounts, it will remain so. That is because Instagram is SERIOUS about "beauty." As a platform, it has been designed to be aesthetically pleasing to its audience. Unlike other sites where ads fill or pop up on the screen, Instagram ads are more fluid and feel more like a part of the page as a whole. Advertising on Instagram allows your ad to seem a little less tiresome or outdated, and more likely to draw the click, as long as its engaging.
Instagram uses cost-per-click (CPC) pricing so you'll only pay when an Instagram user clicks on your ad. The great thing about CPC is that you can choose your own budget. Instagram rates are higher than its parent company, Facebook. But, there is good reason for that. The Internet was buzzing in August of last year as Salesforce reported a 1.5% click-through on the average Instagram advertisement. The number proved higher than Facebook, which was big news. Now, numbers are harder to come by, but many marketing experts see Instagram as an important player in the advertising game. In February of this year, Instagram reached 200,000+ active advertisers. This means they have surpassed Twitter's 130,000 advertisers, as CNBC discussed, and are better able to shape ads and make them effective.
For those who can afford to foot the bill, the ads might be worth it. Instagram has broken some of their own hard and fast rules to make these advertisements more successful. Last September, Fortune reported on Instagram extending their 15 second videos to 30 seconds for advertisements and the previously forbidden links to outside content are now included in ads. In fact, ads are allowed to contain up to five links. This can make advertising a lot more attractive to universities who are willing and able to pay for the added advantages.
What works for advertisements on Instagram is what works for the average Instagrammer. Users want ads that look natural on their feed. Ads that flow with the rest of the content they see are the most eye catching. Instagram ads aren't about big fonts, lots of text or dramatizations. They are about minimal words, well composed photos and well placed branding.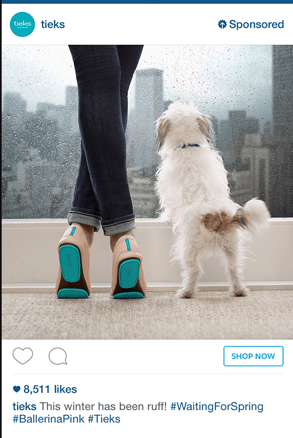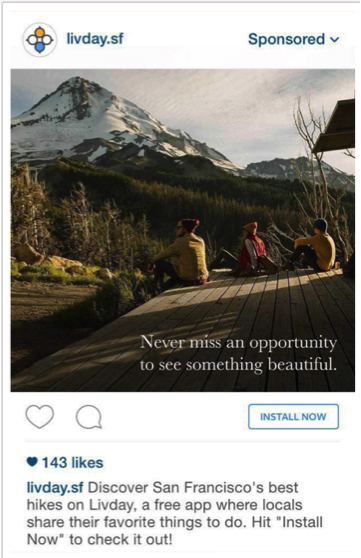 The two ads above are both advertisements that showcase exactly what Instagramers are used to seeing. The first, from the footwear company Tieks, could easily be a post from a friend rather than an advertiser. It is fun, engaging and it fits right in. Can you see how ads like these could be done for your university? We do. All you need is a photo that humanizes your school, making it appear accessible rather than just another large institution. Add some brief engaging text that pulls the viewer in. Add a link to a dynamite landing page with a video or other engaging content.
The second ad, by Livday, a sharing platform for things to do in San Francisco, calls the viewer to action. These are the kinds of ads that engage people, making them wish for more. Your school might not be located next to a beautiful mountain (or maybe it is, lucky you! Yes, we're talking to you McGill), but there are plenty of elements that will spark interest on your campus.
These kinds of ads can feature students at one of your institution's buildings or squares, on the playing field, in a cafe, bowling or shooting pool, researching in the lab...the possibilities are all worth 1,000 words each - just like any good photo. But don't include those 1,000 words. Keep it to incredibly short snipits of text that inspire prospective students to take action, to click.
Regardless of your marketing budget, there are many ways to use Instagram to show student life on your campus. It truly is becoming a marketer's dream. Your target audience is here and everything you do is trackable. Are you drooling yet? Maybe just us.
In a 2012 interview Instagram's co-founder and CEO, Kevin Systrom, told Gizmodo '"I don't like the idea of Instagram as just a photo-sharing service—it is very much a communication tool, a visual communication tool." That is exactly what it is. And, if you use it effectively, you'll will see why it is #instagood.
We have no doubt, you are going to see more student recruiting on this platform in the months and years to come. Let us know: are you there yet?