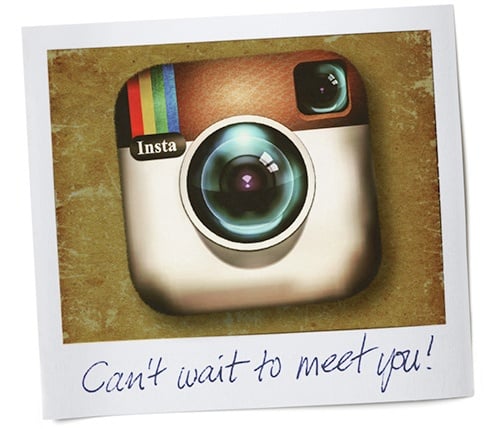 For your top 2016 international student prospects, using Instagram is second nature. These teens and young adults #instadaily like total pros. But, Instagram isn't just an entertainment or social networking application. Not really. Not any more.
In September 2015, Instagram opened its doors to advertising for all businesses, big and small. That same month, Instagram hit another milestone when it beat out Twitter in active monthly users. Instagram's website reports 400 million active monthly users. This is big.
So naturally there are big questions that arise with advertising opening up on Instagram. What is Instagram marketing? Should your university be doing it? Short answer: Yes.
Why? This is where your prospects are spending their time. Your digital marketing needs to adjust to the changing social media landscape. Hard to keep up? Hard to staff it? Of course. Want to beat out your competition? Right, of course, again.
Oh, and this from Higher Education Marketing: 48% of U.S. high school seniors were researching universities via Instagram in 2015. BAM!
No whining about how you can't find a way to do it. Let's get down to how to do it.
This week and next, Emily will share our thoughts and tips on why and how.
Choosing and Using #InstagramWorthy Content
One of the best things about Instagram is that its founders decided the platform should be based on three basic principles: speed, simplicity and beauty. Note: Throughout this post, the links we provide give great examples and some of them have nice, downloadable guides for using Instagram for business. Click and be happy.
Simplicity
Yes, simplicity—meaning Instagram is relatively easy to use. While some things might seem rather foreign to institutions that haven't used simple picture-sharing marketing before, it is less time consuming than creating pages of written copy.
Beauty
Using Instagram is about using high quality, visually appealing photos to tell a story about your brand—without the accompanying word count. HubSpot listed their choices for the 17 best university Instagram accounts back in October of 2015. You'll see some familiar names -- Arizona State, Boston University and West Virginia University -- and some surprises -- Colorado State University (tops the list), Adolfo Ibáñez University and University of Barcelona.
What you tend to see with well-marketed universities on Instagram is that they focus on their students, surroundings and activities. Most importantly, there is nothing generic. The standard, staged group shots aren't going to cut it. This site was made for capturing fleeting moments. In this way, it was made for university life.
The best photos to use are the ones of moments that do not seem staged or planned and ones that truly represent life at your institution. Georgetown University's Instagram account is a nice example of how to use photos to tell stories about student life. The photo below of two students sledding is an excellent example: fun, engaging, gives a glimpse into student life on campus.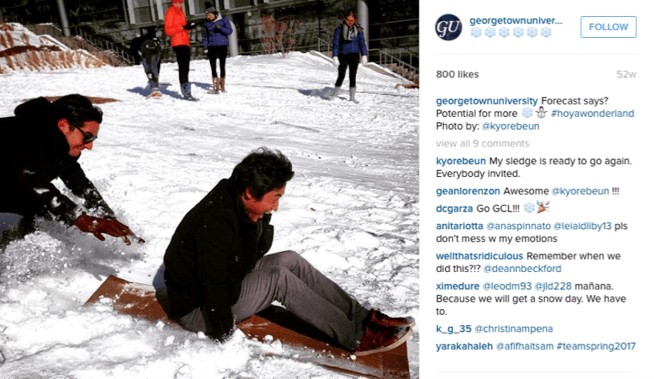 Speed
Of course, it should be said that Instagram is primarily mobile. Considering that the projection for smartphone users in 2017 is 2.6 billion, and that young people are particularly active mobile users, this isn't a bad place to be.
Marketing and social media marketing are all about sharing. That's where mobile is key. Your target market likes, no thrives, on sharing great moments. You can help them do what they want to do. And you build your brand as you do it.
Growth of Mobile Use from Statista.com:
Source: http://www.statista.com/statistics/203734/global-smartphone-penetration-per-capita-since-2005/
However, a strictly mobile platform can be limiting for marketing purposes. That is why new updates to Instagram's website platform are especially important. Instagram has always had a website feature, however it is now more user-friendly.
The new features will notify the user via the website (and phone) whenever your account has received a "like," when new people have followed you or when your current Facebook friends have joined Instagram. These recent improvements make it easier to stay up-to-date on your Instagram account because the alerts are not be confined to one user's phone, but rather accessible online to you and your marketing team.
Connect with Students Where They Spend the Most Time
Close to three-quarters of Instagram users were between the ages of 15 and 35, according to Higher Education Marketing. And now we must repeat the line from our blog introduction: 48% of U.S. high school seniors were researching universities via Instagram in 2015.
Please read that last sentence again. Then share it with the folks who control your budget. They need to understand what you are up against in the battle for brand recognition, domestically and internationally.
For those of us concerned with recruiting internationally maybe the most interesting facts about these users come from a report from CNBC: Over half of the last 100 million users to join Instagram were from outside of the U.S. Most of these instagrammers were from Europe, Brazil, Japan and Indonesia. Overall, Instagram reports that 75% of its users are living outside of the U.S.
In terms of reaching young people, Instagram is an important place to do it. Research also shows that Instagram is important to young people. Research distributed by the internet and tech-savvy venture capitalist firm Kleiner, Perkins, Caufield and Byers reports that teenagers in the U.S. cite Instagram as their most important social media site. Lots of interesting digital marketing data in this deck. See slide 68 below.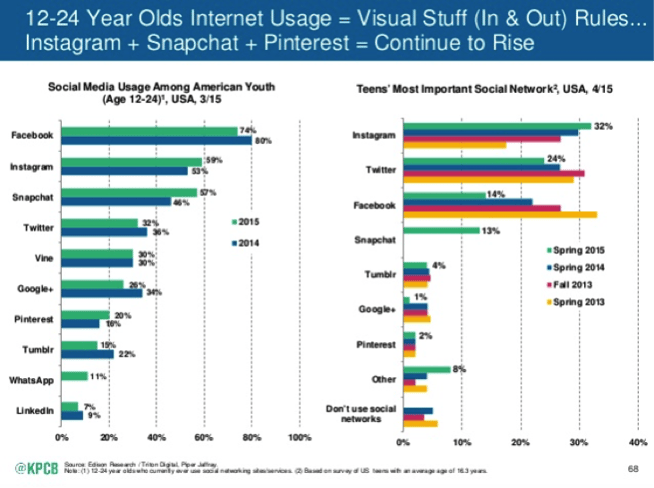 Have we made it clear enough yet? Getting your university on Instagram is meeting your student prospects where they are.
Here are some quick tips for your digital marketing on Instagram via Hootsuite:
Posts that include another handle (or user name) in the caption get 56% more engagement

Posts that include at least one hashtag average 12.6% more engagement

While videos have been introduced to Instagram, photos still get 36% more "likes"

Photos that include people's faces get 38% more "likes"
This kind of interaction is important (more than just an ego-boost for being "liked"). When students "like" photos, you can capture their username, find out more about them from their accounts, where they are from, and you can even directly interact or message them, personalizing the experience.
What else do you need to know? Like any other social networking site, Instagram is about connecting. It is important to engage with your targets on Instagram just like on any other social networking site.
Of course, Instagram has a twist that can make this fun and make your job easier. Instagram is social networking made pretty. Photo contests or submission days are ways to increase the number of photos you have to use on your account and include students in the posts.
Next week we will review advertising options on Instagram, This is an emerging and evolving option that we love to test and explore. Be sure to tune in

!