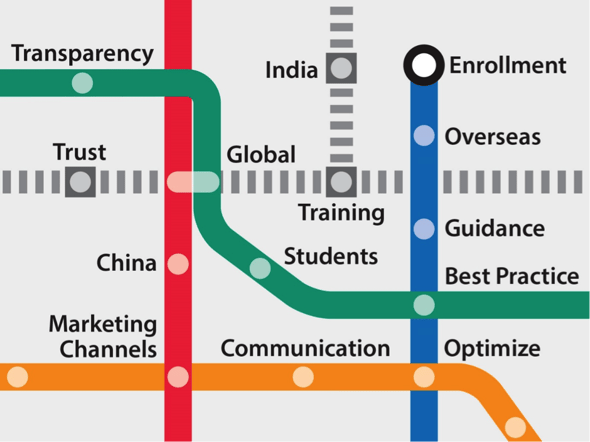 Recruiting agents are increasingly used by our university clients these days. There is far more ease in the move in this direction since NACAC removed a significant barrier. As institutions consider the options, it is important to understand how to use agents well. It would be nice if someone were to write a book about that, don't you think?
Turns out there is a lovely online resource, an e-book that your peers have widely contributed to, reviewed and accepted as a valuable source. You can download it for free right HERE.
As fortune would have it, this e-book was written and produced by Intead (heard of those guys?) and more than 2,000 downloads later, the e-book continues to find its way into the hands of admissions teams researching best practices.
Bottom Line: Agents are a reliable way to outsource your sales processes to distant lands ONLY IF you put real budget dollars behind making those sales representatives well-versed in your university's selling points. Sales reps can't sell a product they don't know well. Meet us at the AIRC and ICEF conferences coming up in December and we can teach you a whole lot more. Our ICEF Pre-conference Global Marketing Workshop for Education Institutions is filling up.
Now for some perspective on what agents do and how to figure out if they are doing it well for you.
What do agents do for students?
Applying to university is hard enough without having to figure out all the requirements, financial and visa information in a second language. Agents play a vital role holding students' hands as they evaluate the application process, work opportunities, visa rules, program and course selection, and scholarship potential.
And agents reassure parents throughout the process. There is tremendous value here. Heck, US parents are increasingly hiring college counseling services for their teenagers to address the same issues (without that pesky visa thing).
Good agents are in high demand and can be selective about which universities they will represent. If you don't have something going for you as an institution, there is no reason for an agent to spend the time getting a contract signed with you. And we are not talking about commissions. We are talking about your institution having a solid academic program and other features that differentiate you from the 4,000 US institutions a student is evaluating.
Don't take it from us, learn from your peers. The agent management e-book on our website is a compendium of best practices taken from some of the best university recruiting programs out there. That link above is still waiting for you.
Measuring agent success
As you consider which agents to work with, you want to look at the AIRC website and consider the ICEF conferences as a way to meet and evaluate them. Here are some key questions you will want to ask your prospective agents:
How many universities did you represent last year?
How many students did you represent last year?
How many applications did you complete for those students? Average # of applications per student?
How many of the students you represented actually enrolled?
How many students you represented graduated from an institution you sent them to 4 years ago?
Assuming you sign a contract with this agent, these same measures can be used to evaluate your ongoing relationship with the agent from one year to the next. You'll just be applying these measures to how the agent performed specifically for you.
You will also want to consider the total cost of maintaining this relationship as compared to the alternative. Consider the cost of staffing an office in this distant city with a person well-versed in your university's unique qualities. With an agent contract, you are avoiding these costs.
Instead, you are paying a commission for each student enrolled. And when looked at in these terms, it may seem all the more appropriate that agents often seek additional marketing fees from their university clients to help them promote through ads, brochure printing and other recruiting activities. A good sales rep needs this kind of support to do his or her job well.
Using the questions above and an accounting of the real costs of managing an agent (including the cost savings) will help you determine how this recruiting channel can work well. The mistake we see again and again is the expectation that signing an agent contract will result in enrolled students. It won't.
Successful agents look like the kind of people students will take seriously as they navigate the application system. Successful agents look like people who know how to run a business that can attract students and guide them effectively. And successful agents have outcome data that documents the value of their services to you, the university admissions team.
If you want to convince these successful agents to work for your institution, you will need to put something more than just a signed contract in their hands. You will need to offer them some travel funding and bring them to your campus so they understand what they are guiding their students to. And you will need to offer them some marketing funds to help them spread the word about your institution in their region - which is invaluable since they really know their local market (though you'll want to review that marketing outreach plan before they implement it). And you will need to stay in touch with them regularly. Visit their offices each year and connect via skype at least monthly.
You would put this kind of process in place if you had stationed your own admissions staff in-country.
The agent recruiting channel has been highly successful for many US institutions (reference the SUNY system, Green River Community College, University of Cincinnati). And behind those successes are a dedicated team of US-based admissions staff and handpicked in-country representatives who work collaboratively, communicate regularly, and are compensated for their hard work.
There is so much more to making the agent channel work for you. We hope you will reach out to us with your questions as you move forward. And we hope to see you at the AIRC and ICEF conferences in December. We are happy to help you figure out which recruiting channels will be most cost effective for your academic offerings.