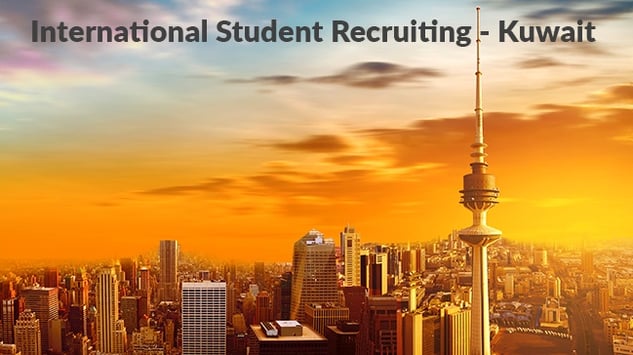 Can you imagine a country where the number of expatriates outnumbers the total number of nationals?
In Kuwait around 69% of the population is made up of expats and English-speaking schools are widespread. There are many opportunities for recruiting here; both international students and Kuwaiti nationals. And with the 6th largest oil reserves in the world, Kuwait is also among the top 5 wealthiest countries in the world by GDP per capita–meaning families have the funds to finance an education abroad.
Bottom Line: Kuwait is a small, oil-rich country with a diverse and interesting population. International education is a norm for the many wealthy families. Students and families in Kuwait are accustomed to international education systems and have financial support.
To account for the expanding expat population, the number of English-speaking schools is impressive. ExpatArrivals lists 11 international schools in this small country, and they are a great place to focus your recruiting efforts (see link below). There is also considerable governmental support for Kuwait nationals to study outside the country. Against this backdrop 9,034 students studied in the United States in the 2014/2015 school year, according to IIE Open Doors Data. In terms of digital marketing channels, WhatsApp and Facebook are where it is at in Kuwait.
Meet Us in Newport & Miami: We are at NAFSA Region XI in Newport, RI today! Our presentation at 1:30PM in the Vanderbilt Room is all about de-mystifying global digital marketing–stop by and say hello! (Slides available next week). We'll also be in Miami this December at the AIRC and ICEF conferences with global digital marketing presentations and workshops. Please be in touch if you'll be at any of these events.
Why look to Kuwait?
Wealth is growing for Kuwaiti families. The CIA World Fact Book reports a $70,200 GDP per capita for 2015. And 69% of these families are immigrants. Talk about having an affinity for mobility! The U.S. is the top travel destination for these students. The number of students from Kuwait studying in the U.S. increased by 24% between the 2013/2014 and 2014/2015 school years. The majority of these students were undergraduates, making this an incredibly interesting market for undergraduate international student recruiters.
The ICEF Monitor also reports that governmental support is making it easier for students to be mobile. Programs like the Civil Service Commission, the Ministry of Higher Education (MOHE), the Kuwait Institute for Scientific Research (KISR), the Kuwait Investment Authority, Kuwait University, and the Public Authority for Applied Education and Training (PAAET) for graduate students, are all helping more students study abroad. Generally, these attractive programs offer full support – tuition, living expenses and materials. Enough to make you want to move your family there...
In tandem with the growth of these governmental programs, the number of students studying English is growing rapidly. The desire to reach a level of English that will allow for scholarship participation helps drive enrollment in Intensive English Programs (IEPs). In fact, the ICEF Monitor reports that Kuwaitis rank 7th in nationalities using IEPs. They further predict that this means increased mobility to the U.S. after these students prepare their language skills for the trip.
How do you reach these students?
Improved access to internet services and mobile broadband connections is powering Kuwaitis' activity on social media. This is great news! Kuwait comes in second place when mobile broadband connections are compared to the national population. So basically, everyone has a smart phone. So how can you use this to your advantage? Take a look at the chart of social media platforms below to learn more about where to focus your efforts.
Percentage of Users by Social Media Platform
Facebook
WhatsApp
Twitter
Instagram
YouTube

75%

84%

41%

43%

43%
Percentage of Users Accessing Mobile Social Media Platforms
Facebook
WhatsApp
Twitter
Instagram
YouTube
Google+
LinkedIn

84%

73%

34%

41%

32%

15%

9%
Information Sourced from TNT's Arab Social Media Report
Take note of the use of WhatsApp in Kuwait. Using WhatsApp to reach out and engage with these international students will be important. Check out our previous blog post for tips on how to effectively connect to international students on WhatsApp and other similar messaging apps. Additionally, ensuring your website is mobile-friendly is essential.
Facebook is also valuable with a high user rate in Kuwait and, of course, it's mature advertising platform that allows for highly targeted marketing.
If you are looking at digital marketing opportunities, you are going to need a bit of market research to identify your best differentiators. And then you will need some great content that speaks to the motivations of this unique student community. That same old marketing content used on the domestic side of the house is really not going to engage students in Kuwait.
As a curious side note: the user rates for YouTube are incredibly low as compared to other countries we've looked at. We're not quite sure why that is since video consumption is typically significant and growing around the world.
Building Partnerships
But what can you do offline to seek out and connect with Kuwaiti students? Partnership programs! As the government strengthens educational systems and develops new plans for the future, now is the perfect time to start creating partnerships that will last well into the evolving higher educational landscape in Kuwait. Early adopters of partnership programs between Kuwaiti and foreign universities will see larger growth in the future.
As we mentioned above, there is a shortlist of international high schools catering to the large expat community in Kuwait. This is worth exploring; see: ExpatArrivals and start building partnerships here as well.
A Growing Market
In Kuwait, growth is happening fast. Making connections now will help your institution build for the future. These highly social students are internationally-minded and looking for opportunities to study abroad–and have the financial means to make it happen. This quickly-growing market should definitely be on your international recruiting radar.
Are you already recruiting international students in Kuwait? Let us know how you've found success in this market! Which are your favorite fair providers there? Are there agents you have found particularly helpful?