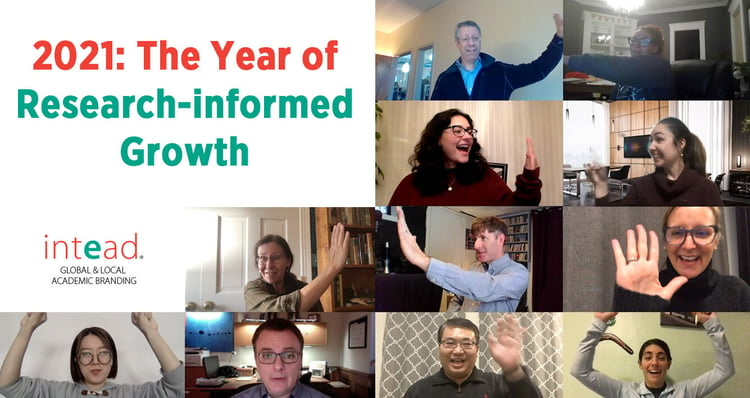 While the holiday season may look a little different this year, our gratitude for this community remains steadfast.
If this year has proven anything, it's what we've known all along, that the education community is resilient. That connection and communication, whether from six feet away or six thousand miles away, via text, email, Slack, Zoom, FaceTime, and even TikTok, is what keeps us moving forward and growing together. Here's to weathering the storm, together, whatever may come our way.
Two more pearls of wisdom validated this year:
Taking care of yourself is relief work.

You are never far from that source of community and energy that helps keep you going.
Turns out the airline safety videos had it right all along: put your own mask on first and then help those around you put on theirs.
We will be taking next week off from the Recruiting Intelligence Blog and hope you'll be taking some well-deserved rest, too.
Read on for a preview of the year ahead (new research, insights and more). Plus, a look at how Ben has been faring alone in the Intead office while the rest of the team works remotely...
A Peek into 2021
On January 6th we'll be back with our annual Top Posts of the Year list highlighting those topics that you all found the most interesting and valuable based on our reader stats.
Another January post you'll want to read: a bit of insight into how the Slate CRM is performing now, more than a decade into its wide academic industry adoption.
We are also eager to share with you a new set of Intead Index comparison tools during the first quarter. These will be available through Intead Plus.
While 2020 may have been the year of scrambling to stay afloat, we are looking ahead to 2021 with optimism and a belief that this will be a year of growth for those that are up to the challenge. We have a long list of topics to delve into in 2021 that will help you and your team recruit, enroll, and retain in smart and more efficient ways. We are doing that research now. You'll be glad you are here. And we certainly are glad you are here.
Here's to a restorative, peaceful, and healthy holiday season and a brighter new year ahead.
Onward, together —
The Intead Team