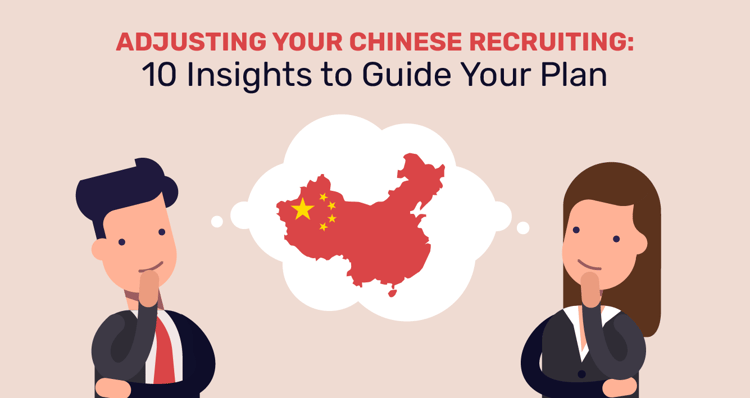 This is going to be a long post with some really valuable insights. We hope you'll grab some coffee and take time to skim through. This is important to you and your bottom line. You'll want to share this with specific colleagues with a few highlights based on where the priorities are at your institution…
A word to the wise: people often remember most how you behave in a crisis.
The world of international student recruitment faces consistent challenges. At times they are huge, recall 9/11, and other times they are as small as the annoying intermittent WiFi access at your student recruitment fair in Istanbul.
The past decade has seen a range of significant challenges to your recruitment marketing plans and those challenges have been due to largely unanticipated causes.
2008 brought us the global financial crisis. How bad was it? For a brief period, banks were too afraid to lend to each other!
2015 brought us a new level of anti-immigrant rhetoric out of the US as the 2016 election cycle ramped up.
Not long after that, the new White House administration delivered the travel ban (aka the Muslim ban) among other changes to visa approvals.
Now the immediate and unexpected challenge of the Coronavirus coupled with an extension of the travel ban to a spate of new countries including Nigeria.
To quote a good friend and colleague, Angel Ahmed, CEO of GNET, "When things get challenging, we don't get frustrated, we get focused."
So, what's an enrollment professional to do when unexpected and significant challenges are disrupting your marketing plans and your results? You've probably already given these challenges a lot of your time and thinking, but we know a second (or third) set of eyes is always helpful. Read on for ten concrete recommendations to focus you, Intead style.
A Bit More on The Factors
Deeply embedded internationalism on campuses is a beautiful thing — it's why we do the work we do.
The recent shocks to the recruitment system are hitting our clients and the industry as a whole. Clearly, anything that disrupts the flow of students from China requires serious attention. With 370,000 Chinese students of the 1M international students studying in the US, many administrators are wide-eyed over the ramifications of recent events. Talk to your Australian enrollment colleagues and you'll find that they are even more stressed, about well, everything, given their 100,000 students unable to return to campus due to the virus-related travel bans. There are some fascinating steps being taken in Australia and in China to try to fix that. See this late breaking story from The Guardian here.
Concerns about the flow of students from China are not new.
The reliance on this single source has always caused recruiting leaders to sweat. And yet, for years, every time the Intead team engages a new client and talks about the need to diversify student enrollment sources, there's always a lot of agreement until the final approval of the marketing plan. At that time, the powers that be, those focused more on the immediate revenue options, seek to invest the marketing budget in China and India.
If there is any silver lining in the current virus crisis, and there really is not anything positive about this, it is the learning that we can all take away from this reality. Crises like this point very clearly at the value of investing in a holistic and diverse marketing approach that offers long-term stability and opportunities for growth. Executing on such a plan means a slower growth timeline which is really hard for senior administrators to accept.
Intead Insight #1: Use this situation as a learning opportunity. Use this example to demonstrate to your team how important broad and sturdy student enrollment plans must be. Point out that your institution has been around for decades, maybe centuries, and the plan is for it to continue for at least that long again. Slow and steady growth beats the roller coaster ride that could result in a catastrophic crash.
Let's Focus
And so, we get to the challenge of today. Our primary target country is suddenly losing its luster. Worse, one of the emerging markets we are all considering carefully, Nigeria, has become a member of the US list of banned countries. Granted, students can still get US visas, but the chatter among prospective students and families in Nigeria is turning negative. Enrollment numbers are likely to take a hit this year.
But for now, all eyes are on the virus. There's a good piece about the virus published in The PIE News that's worth reading.
As Chronicle of Higher Education's Karin Fischer acutely observed in her recent reporting on the coronavirus, "Higher education has a reputation for being slow and deliberative, but in this case, colleges had to respond to a swiftly changing environment."
There are so many audiences to consider as you develop the plan to address these latest challenges to global recruiting. Here's our list of what to consider as you craft your quick (and multifaceted) response. Please let us know what we are missing by adding your comments below. Let's all help each other keep our boats afloat during this storm.
Intead Insight #2: Rely on digital communications to connect with Chinese students
The value of your digital marketing and other virtual connections will be all important for the near term. Promote your availability online, giving prospective students information via webinar and live streams. Connect with your agent network in China and include them in your webinars so students know they have a trusted local resource. Since travel and gathering in general is restricted in China to stem virus transmission, people in China are staying connected and getting information using their phones and laptops. Support that. Make it easy for them to connect to you.
Intead Insight #3: Provide flexibility in your admissions criteria around testing
With TOEFL and IELTS delaying their testing schedules, the scores you require are not going to be available on the schedule you want. Talk to your team now about how you can adjust to this challenging situation. Be innovative and determine how you can evaluate candidates in the near term without those trusted language assessment tools. Can you create an internal team and system to conduct quick hit virtual interviews to confirm a base level of language skills? What other solutions can your team come up with? What other documentation can you accept? The institutions that figure this out and publicize it will benefit. Those that do not will suffer.
Same creative process for the delays to GRE and GMAT testing.
Intead Insight #4: Reach out to your Chinese agent network and offer support
According to a survey conducted by the Beijing Overseas Study Service Association (BOSSA) in the wake of the coronavirus outbreak, almost three-quarters of agents reported a decline in student consultations compared to previous years, calling the situation "unprecedented." While 53% of agencies report resuming consulting online and via telephone, according to the survey, only 3% of agency offices are open for actual visits.
Check in with your agents. Are their offices open? Are they going virtual? Do they have the systems in place to do that well? What are they hearing from students? Keep lines of communication open so that you can stay ahead of developments and potential application delays. Offer them your help during a challenging time. Be creative. Be present for them. Be supportive. They are scrambling.
Intead Insight #5: Reach out to your Chinese alumni
Your alumni in China can be a helpful communications channel reassuring Chinese parents about the status of your current students, being available on recruiting webinars, and maybe even offering support to your Chinese agent network as they struggle to create and rely more heavily on virtual recruiting processes. Do you have a few alumni relationships that can help you promote a message of stability and flexibility in adjusting to the new realities?
Intead Insight #6: Pay attention to your current Chinese students and their success on campus
Let's start with what you already know: your students come first. Ensuring that students feel safe and supported while on campus or stranded at home during this time is your top priority, especially in the storm of racism and xenophobia that the coronavirus outbreak has spawned. Some institutions have already come under fire for their communications -- a reminder that even a quick Instagram post from Health Services must be carefully considered. Be sensitive to the tone and content of your communication surrounding the virus, in both internal and external messaging channels, especially when it comes to self-quarantine policies.
We all talk the talk about acceptance and diversity on campus, but now more than ever, it's time to walk the walk—both for the safety and success of your current students and the international perception of your institution for years to come.
Intead Insight #7: Keep your study abroad students, faculty and parents in the loop
If your institution has decided to cancel spring and summer programs to China (or anywhere else), as many institutions have already done, ensure that you are working to arrange alternate opportunities or a return to campus for affected students. Create a "Latest Information" page or portal to keep everyone involved up-to-date. Pay close attention to the health of students that may already be abroad in China. And remember that study abroad, even in the best of times, can be a stressful experience for parents. Make sure that they are included in your communication strategy. Let them know you are on it and doing all you can to provide safety to their child.
Intead Insight #8: Keep your traveling faculty and global university partners in the loop
While you may already have a handle on student travel, regulating faculty travel can be slightly more complicated, as you may not know exactly when or where your professors travel for research or events. Many institutions have prohibited university-funded travel to China, but ensuring that your travel policies and expectations are communicated clearly to your faculty will be essential for your cross-border academic partnerships. Again, create a "Latest Information" page or portal to keep everyone involved up-to-date. Staying on top of these communications will maintain these important international academic relationships.
Intead Insight #9: Send a clear and brief memo to your administrative leadership
As they keep an eye on their bottom line, keep administrators in the loop on application delays and enrollment concerns. Offer your availability for a more complete briefing on the ramifications of the virus on your department's work and all of the communications you are coordinating. Help them understand the situation and keep them from being surprised in the coming months as enrollment results shift. If they aren't already aware, remind them about NAFSA's upcoming Town Hall meeting (tomorrow, 2/20/20 at 2pm EST) for international educators on responses to the recent travel restrictions. You'll be there, right?
Intead Insight #10: Consider the long-term ripple effects
As we mentioned above, February examinations have already been cancelled nationwide in China, including IELTS, TOEFL, GRE, and GMAT. The Chinese Ministry of Education is also considering postponing their national college entrance exam, the gaokao, usually scheduled for June, in the wake of the virus.
From the BOSSA survey, 35% of agents reported incomplete applications as a result of these postponed standardized tests and 28% reported incomplete applications due to delayed school term starts. Unfortunately, these delays will only continue to produce a ripple effect down the application pipeline, even after the crisis has been stabilized.
This situation is a really big deal and requires long-term thinking to be sure your institution minimizes the negative effects well beyond Fall 2020.
What Does All This Mean for Your Recruitment Marketing Plan?
In the nearer term: In addition to considering the recommendations above,
Stay focused on your messaging strategy for each relevant audience (and there are a lot of them). Celebrate your welcoming, diverse on-campus community in your campaigns and imagery. Fight xenophobia.
Point out your flexibility and your efforts to accommodate students (and others) who are having to change their plans.
Make sure that you and your team are prepared to answer any questions regarding your institution's policies and responses to the virus, as well as any new developments as they arise.
Anticipate the need to adjust with each new development. Build flexibility and quick response capabilities into your plans.
Create a centralized communication source (webpage or the like) where everyone can find the latest information (FAQs that are updated frequently might be helpful here.)
Consider how you will offer flexibility in your application deadlines and intake processes.
In the longer term: Beyond being a crash course in crisis management, the coronavirus outbreak is a not-so-friendly reminder of the fragility of the entire international recruitment system. Dramatic? Maybe. But, 100% true.
We've said it before, and we'll say it again: heavy reliance on a single source market or a single recruitment channel is no longer enough to maintain your international enrollment. Two-thirds of recruitment agencies have already forecasted a decline in Chinese students going abroad in the coming year as a result of the virus, and the crisis isn't over yet.
We know it's a lot to handle, but don't get frustrated. Rally your team, take a breath, make a plan, and get focused so you can execute it.
We're here to help you build a holistic recruitment strategy that will guide and support your institution for the long term. And we can help with your messaging and communications in the near term.
Oh, one last note: We'll talk more about recruiting students from Nigeria in the coming weeks.
Stay focused.