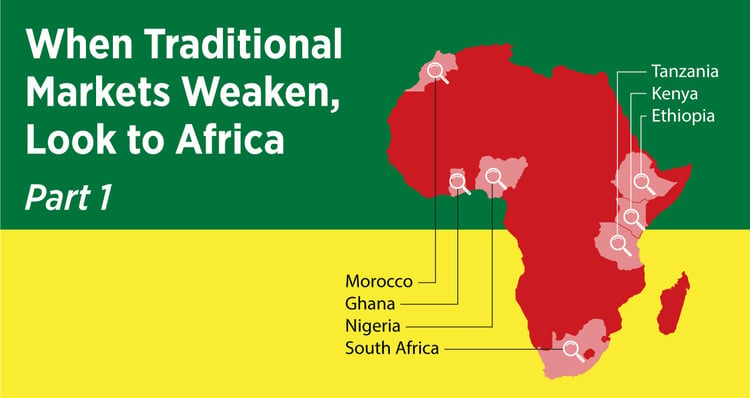 The best markets for international student recruitment have three key things going for them:
a growing youth population,

rising incomes, and

employment opportunities for returning graduates.
The African continent has a number of under-utilized recruitment hubs that boast all three.
The three bullet points above are useful generic perspective applicable to pretty much any institution – higher ed and private high schools. But what about your specific institution?
How do you make headway in the new(ish) student recruitment markets that African countries represent? Will your differentiators resonate there? Which channels will reach your ideal student segments?
Perhaps start with some of our analysis with helpful, still valid insights compiled prior to Covid. You'll appreciate the discussion of recruiting agents, creative partnerships, and other valuable recruiting channels:
To be clear, African countries, as sources of international students will not replace the flow of students coming out of China. So, if your enrollment goals are all about achieving target numbers and not about diversifying your campus, you may hesitate to invest here.
And yet, the thing about hitting your enrollment goals is that you win by building strong relationships and pipelines. Clearly, China and India have the volume and the larger accessible market size, but your institution needs student recruitment opportunities where you can be truly competitive. And diversifying your campus has rewards that speak directly to your institution's broader teaching mission. Seeking less common sources of international students is one way you do all that.
An increasing number of institutions are approaching the Intead team to explore further afield. A welcome and important mindset. While regular readers of our blog know we continue to share perspectives on, and implement recruitment strategies for, traditional student sources (China, India, Vietnam, Brazil, S. Korea). With more institutions seeking new markets, it is a good time to revisit the approach to Africa as a valuable source.
Obviously, the pandemic slowed the inflow of international students from all parts of the globe, and Africa is no exception. But now, as pandemic restrictions ebb and economies recover, smart institutions are bringing Africa back into their awareness as a prime source of engaged, qualified students.
In fact, more than a few African countries have achieved the World Bank's "middle economy" status and are expanding their leadership in sectors such as agriculture, oil and gas, and tech. These industries offer promising careers but tend to demand higher education degrees. Foreign degrees draw attention to job candidate resumes. Many US institutions offer long-established degrees and certifications that African higher education institutions are still developing.
Important to note that there is competition for these students. While the US has a strong draw (the US brand and all that), Russia (before the Ukrainian crisis), France, Germany, China, and some Middle Eastern countries have been courting students from African countries for a while with less expensive degrees than are typically found in the US.
Also interesting to note that over the past 5 years, both the US and China have each invested in the African continent at around $40B annually. Much of the investment has gone toward construction (roads/transportation) and mining.
According to The Brookings Institute, "China's influence goes beyond the trade relationship: It is also the top investor in infrastructure, and now is the first destination of English-speaking African students, outperforming the U.S. and the U.K." (source cited below).
In our 2-part blog post about 7 African nations, we cite a variety of useful sources to demonstrate how varied information sources will add to your country and cultural perspectives. Hopefully, through this post and the next, you will find some new research sites to support your planning. (We love participating in that broader teaching mission as well).
Read on to evaluate some of the strategies that we have found effective for recruiting students from the African continent.
Many African economies have emerging industries which bring ample employment opportunities. Selecting the right academic programs to promote in any country or region is always important.
Your to-do's:
Identify your academic and internship programs that will help African students boost their career prospects.

Highlight your alumni who've achieved the goals to which your prospective students aspire.

In short, go hard on students' bottom line: career outcomes tied to industries that match real opportunities in their home countries.
To give you a head start, we evaluated the demographic, economic, and higher education climate of African countries with the highest historical student sending numbers to identify which have the strongest future potential when it comes to US higher education student recruitment. In this 2-part series, we provide fresh recruitment insights on Ghana, Nigeria, Kenya, Ethiopia, South Africa, Morocco, and Tanzania.
To read interesting July 2021 Brookings testimony to the US Senate Foreign Relations Committee Subcommittee on Africa and Global Health Policy comparing US and other country's investments around the African continent, see this link. Great perspective there.
And to evaluate growing foreign investment in the continent (to understand where the jobs are), see this useful 2022 summary from the United Nations.
Speaking to international student recruiting, we will start today with Ghana, Nigeria, and Kenya.

* Source: WorldBank **Source: WorldBank
Ghana
Ghana Recruitment Insights:
Ghana boasts a successful multi-party democratic system and independent judiciary, and consistently ranks in the top three African countries for freedom of speech and press. While the Ghanian economy took a hit from the pandemic, it has since rebounded to 4.1% growth in 2021.
Despite its favorable political and economic climate, Ghana lacks economic diversity and education opportunities for its growing youth population. Public Ghanian universities are only able to accommodate around 20% of applicants, making study abroad an enticing option for undergraduate and graduate candidates looking to increase their employment prospects.
Ghana's economy is shifting away from agriculture and moving into resource and service industries. The current education system leads to an excess of humanities graduates, and not enough engineers, scientists, and technologists for the manufacturing sector. Those who do graduate often lack the knowledge and skills to make them employable. The result: a in skills gaps and employee shortages in professional, technical, and vocational areas.
Ghana sends one of the largest numbers of students to the US, second only to Nigeria. During the 2020-2021 academic year, 4,229 students from Ghana studied in the US according to IIE.
To build valuable relationships in Ghana, important for your institution to become a registered agency (thank you ICEF Monitor for perspective on that).
Ghana Economic data:
Great perspective on the economy and rising industries: IT, financial services, education, and franchising (

US Dept of Commerce

)

Great perspective on employment opportunities:

JobListGhana

and

GhanaJob
Nigeria
Nigeria Recruitment Insights:
Nigeria has the highest GDP among African nations $432.3B (source: World Bank) and enjoys a rapidly growing economy. To maintain this growth rate, workforce development is a high priority for Nigerian business leaders. Degrees in business, engineering, science, and healthcare are in high demand.
The need for more opportunities for post-secondary education has increased as the middle class in Nigeria increases. This demand for education has stretched Nigeria's higher ed institutions to the max, and they are unable to keep up with the increased number of students. Nigeria sent 12,860 students to the US during the 2020-2021 school year (source: IIE).
Nigerian institutions are looking to develop relationships, and local in-country connections go a long way. With a high number of active internet users, social media is an effective way to reach prospective Nigerian students. Getting alumni involved, especially successful students from Nigeria, will be an important tactic.
Nigeria Economic data:
Great perspective on the economy and rising industries: oil, agriculture, telecommunications, and financial services (

Data Commons

)

Great perspective on employment opportunities:

Jobberman
Kenya
Kenya Recruitment Insights:
The British Council estimates that Kenya will have 5.7 million college-age students by 2024 (source: ICEF Monitor). However, with the lack of government funding for education and concern regarding the quality of the country's education institutions, foreign opportunities for career training have significant appeal for those able to afford it.
Kenya has one of the most diverse economies in Africa. Since coffee and tea production is a major part of Kenya's economy, the fields of agriculture and water sciences are in high demand, along with technology and business. Large farming operations need HR professionals, administrators, construction specialists, and engineers.
Kenya sent 3,502 students to the US in the 2020/2021 academic year (source: IIE). With a high percentage of internet users, Kenya is a great choice for digital marketing. Specific skills training programs and certificates with clear career connections will draw attention. Can your institution demonstrate successful career/job matching for these students?
Kenya Economic data:
Great perspective on the economy and rising industries: IT, agriculture, construction, real estate, and transportation (

Data Commons

)

Great perspective on employment opportunities:

Kenya Job

or

BrighterMonday
Up next: Our insights on student recruitment in Ethiopia, South Africa, Morocco, and Tanzania. We'll explore these markets right here next week. See you then.