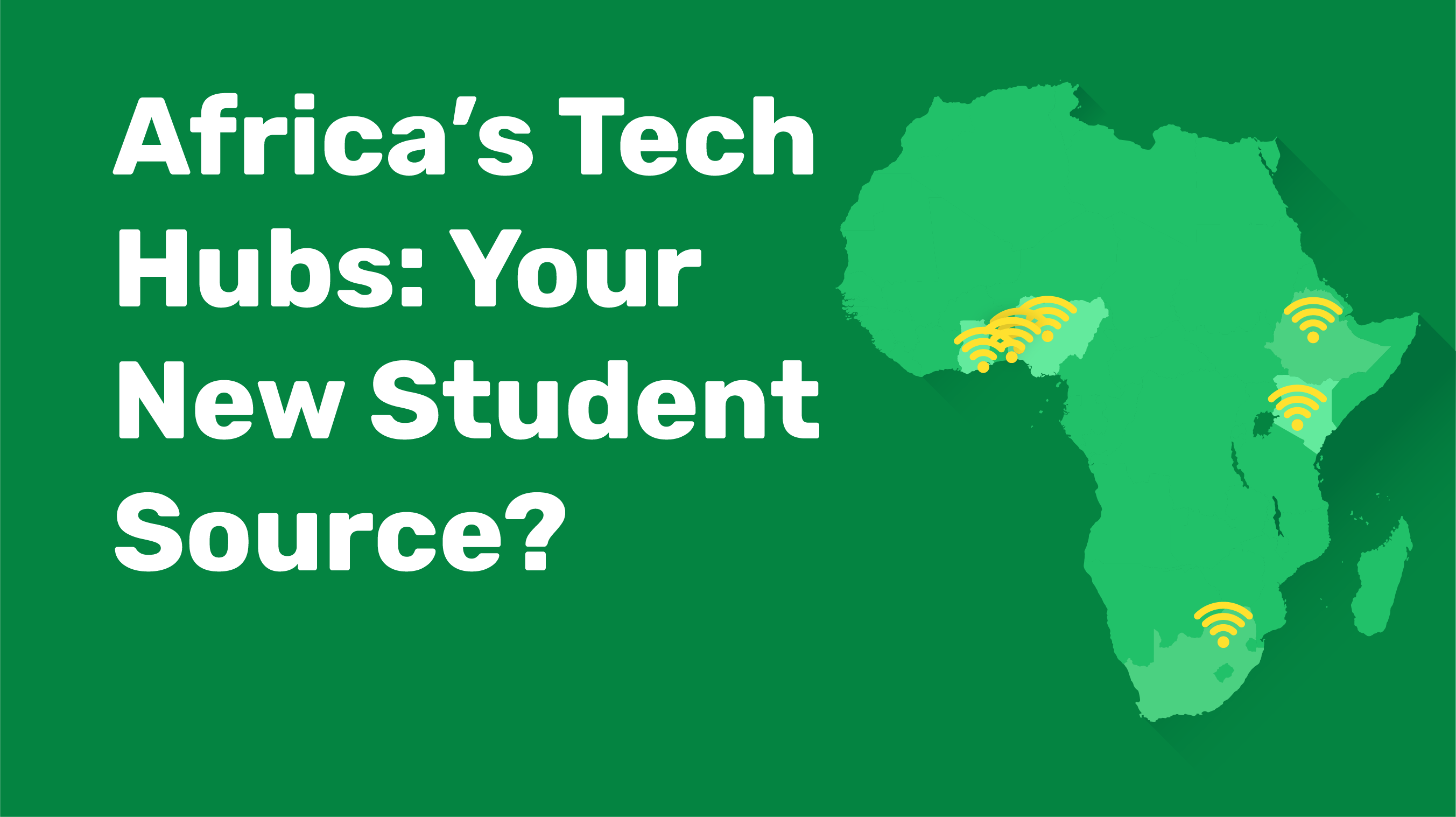 Looking for new ways to connect with students from some of Africa's biggest providers of international students, including Nigeria, Ghana, and Kenya? Trendy "tech hubs" are an interesting new student source to keep an eye on.
Diversification is key to a successful global recruitment strategy. With recruiting challenges and competition rising in China and India, smart money is looking at emerging pockets of talented and motivated students. These locales will not achieve the size of either India or China in terms of total numbers of students sent abroad. But that's not really the point.
When you consider return on investment for institutions with low brand awareness, recruitment sources outside of India and China present real opportunities.
For U.S. institutions looking for talented international students (particularly at the graduate level), Africa's tech hubs may be just the place to forge valuable connections.
We've got your attention now, right? Read on for the valuable information you need to make solid budget allocation decisions.
What is a tech hub?
There are over 300 "tech hubs" in Africa, with Nairobi's iHub among the leaders in the movement. Some of these hubs are akin to American co-working spaces, providing high-speed internet access and networking opportunities to a predominantly young clientele. Others also serve as incubators for burgeoning businesses, connecting innovators with consultants and potential investors. Some have connections with big-name U.S. tech giants, like Microsoft and eBay. All of them play host to talented young adults with a passion for tech.
Why Nigeria, Ghana, and Kenya?
It's true that Africa is not among the largest providers of international students to U.S. institutions. In the latest IIE Open Doors report, the continent's combined total of international students studying in the US was less than the individual national totals of the top four senders (China, India, South Korea, and Saudi Arabia). But this does not mean that you should be overlooking this market. The top three senders of students on the African continent (Nigeria, Kenya, and Ghana) enroll a significant number of students to U.S. universities each year (about 12k, 3k, and 3k, respectively).
These countries represent markets you worthy of your consideration when developing your recruitment and travel plans. With fewer American institutions spending significant time and money on recruitment here, you may have an opportunity to stand out to prospective students.
Important to note that of the more than 35,000 students from African countries choosing to study abroad, roughly 30% of them choose France as their study destination. So there is some competition, but not the typical kind US institutions face. The overall growth rate for the continent in numbers of students sent is about 5%, while the number of Nigerian students choosing to study abroad is growing at closer to 12%.
You are starting to see opportunity here, right? We are.
Want more Intead Blog Intelligence on these countries?
Some ideas to get you thinking…
Intrigued by the idea of upping your recruitment efforts in Nigeria, Ghana, and Kenya? Have a great technical program to promote? Check out the links of tech hubs below. If you spot an intriguing potential partner, reach out and propose a collaboration or conversation. Here's some ideas:
Host an online Q&A session about your institution for the hub's members. Offer up a particularly engaging IT professor and an alum working in Silicon Valley.
Send a box of branded university swag for tech hub members. Your t-shirts=low-cost, roving advertising.
Arrange a visit on your next recruiting trip.
Have your international recruitment agent swing in to chat with interested young coders and bring a professor with strong connections to the tech industry.
The partnership has the potential to be mutually beneficial: allowing you a golden recruitment opportunity, and allowing the hub to provide an additional service to its members.
Student and Agent Fairs Worth Considering
Nigerian Tech Hubs
Ghanan Tech Hubs
Kenyan Tech Hubs
Ethiopian Tech Hub
South African Tech Hub
Pan-African Tech Hub
AfriLabs is a network for over 60 hubs in 25 African countries.
At Intead, we are always thinking about new and exciting ways to connect our clients to great students. Want to brainstorm about this idea or other ways to find pools of prospective students? Drop us a line! We're here to help.