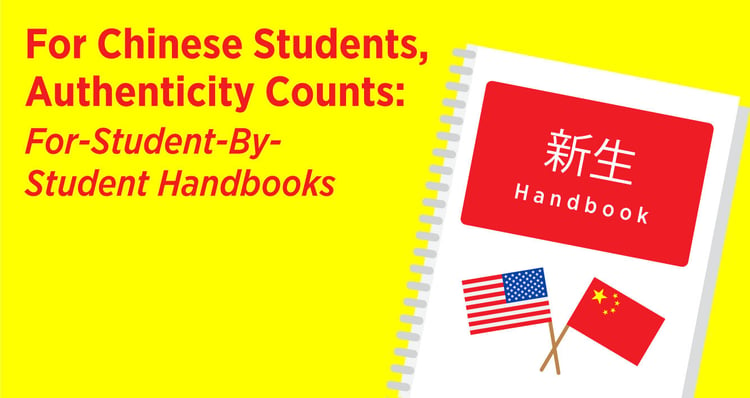 Let's talk about specific tactics for mid- to lower-funnel marketing communications. And specifically, what do Chinese students really want? And how are they making their decisions? For those in our line of work, it's on everyone's minds right now. A lot.
On average, international students are receiving 3-5 admissions letters. What they do next to select their top institution has everything to do with the information they have available to them. This is no time for institutions to let go of the recruitment communications.
With all of the turmoil and enrollment fluctuation with Chinese students in the US, when we publish on this topic we see a significant uptick in our blog and site traffic. What to do about Chinese student enrollment is a popular topic. See our latest relevant insights here:
While recent declines in Chinese enrollment in the US have a range of reasons (slow visa processing, political tensions, Covid response disparities, US violence, economic turmoil), the past decade has also brought increasing global competition for Chinese students. The intensity has only grown in the past few years.
Look, beyond all the headlines about this decline in Chinese student changes of heart, we are willing and able to predict the future. Similar to Warren Buffet's prognostications about the stock market (it will go up, but we don't know exactly when it will go up), we are extremely confident that China as a source of international students will not struggle forever. Over time, it will return in strength. In the meantime, it continues to be a dominant source among all international sources.
The institutions ready to take advantage of global recruiting opportunities will be the winners. That's why when we ran across a handful of new student handbooks written by current US-based Chinese students for prospective Chinese students, we wanted to learn more.
Sure, the handbook idea is nothing new. What really intrigued us was the fact that so many institutions don't actually have this tool in play. Seriously? We all know how meaningful personalized, authentic, and tailored communication is to international students. Going the extra mile takes your recruitment and retention efforts so much further.
Truly, it's the small authentic gestures that count.
So we did a small thing. We took a minute to review the handbooks (they are written in Chinese for incoming Chinese students). It's always interesting to see what current international students think is important for the newbies. And it's important you know, too.
Read on to learn what these handbooks have to say and how they are being used.
We looked at 6 student handbooks produced by on-campus Chinese student associations. Some of these associations operate under the auspices of the university (these tended to be more serious in nature and heavy on popular Chinese proverbs) and some are entirely independent (and notably more creative with jokes and anecdotes). All of the handbooks were published in Chinese. The handbooks we reviewed were associated with these institutions:
Penn State University
Vanderbilt University
The University of Texas at Austin
University of California San Diego
University of Maryland
Stanford University
We wanted to understand what information the Chinese student association prioritized for each institution. What do current students think prospective students ought to know so that they can make smart choices? We found some themes and some interesting twists.
Here we share the priority categories common across the guides: important items to bring, living and transportation information, and food and entertainment.
Useful to note, all of these institutions have official WeChat accounts and have published content specifically for incoming students (or those admitted and still trying to make the decision).
The articles they published pushing these topics have between 200 and 1,000 reads (as of August 2022). Half of them write about and link specifically to their new student handbook and the others do not (why?). Fun fact: Vanderbilt's article about their new student handbook had about 300 reads vs. University of Maryland's article at about 600 reads.
For each institution, their WeChat channels promote new student meet-ups, airport pick-up info, and point to specific brands new students may find useful such as McDonald's, Starbucks, Ikea, etc.
Priority #1: Useful packing checklists and tips
Chinese students are moving thousands of miles from home so can't afford to forget something crucial such as a document or medication. Forgetting one document could prevent them from entering the country, which is why every handbook provides a checklist of important items and documents to bring emphasizing that students check and double-check before they leave. The items are mostly what you would expect: passport, a form of ID, US visa, admission letter, graduation certificate, transcripts, and vaccination records. These handbooks provide a checklist that gives comfort to the students.
Since these students have to fly, they have limited space to pack everything—about two suitcases and a carry-on. The handbooks go into more details on how to pack, how to get extra luggage, and what to bring. There are also highlights about climate so the students know what clothes to pack because of their limited luggage space.
Priority #2: Where You'll Live and How You'll Get Around
Each handbook gives a detailed description of the dorms and apartments around their respective campuses with an emphasis on the surrounding environment including climate, and living conditions. All handbooks gave dorm and apartment descriptions with addresses and room sizes along with photos and layout images. These descriptions also included proximity to classes, on- and off-campus food and entertainment, and major cities. Proximity is important because most of these students don't have cars and are limited to public transportation.
Transportation was given significant space in each of the handbooks. Most of the transportation information included how to get a driver's license test, how to buy a car and car insurance (including website links), and where to find parking (with maps of parking locations and pricing).
Other transport information included bus routes and bike information. Only half of the handbooks had the bus information with the school's bus app linked, while every handbook had details on how to buy a bike, bike share opportunities, and what bike laws to follow.
Priority #3: The Local Food and Entertainment Scene
A majority of handbooks pages were dedicated to local food and entertainment. There was an extensive list of local supermarkets and restaurants with descriptions, reviews, and addresses. It appears that these students want a taste of home because there is a huge emphasis on Asian supermarkets and restaurants with detailed descriptions of what food is available and how authentic it is. American supermarkets and restaurants were also listed mostly based on proximity to the campus with an emphasis on grocery stores and cafes.
Every handbook had its own list of entertainment options based on proximity to the campus and included addresses and descriptions. Popular entertainment spots included movie theaters, museums, amusement parks, bowling alleys, parks, camping locations, and other outdoor activities such as skiing or hiking. According to the handbooks, most students find what they need around campus.
As another form of entertainment, sports were also listed such as where to watch school football and basketball games. On-campus gyms were also heavily mentioned with locations and descriptions of the equipment and classes available. Honorable mentions include lists of sports clubs and teams students could join.
Next Up: Your Priority
We know you know students need this information. It surely occupies a lot of your mind space and space in your brochures (digital and print).
The takeaway here: These for-student by-student handbooks bring a level of authenticity and real-world clarity to support prospective student decision making as they make that final, impactful enrollment choice. You've put all that effort into helping them move from inquiry to applicant to admitted student. This is not the time to take your hands off the steering wheel.
Need help getting started? Be in touch.