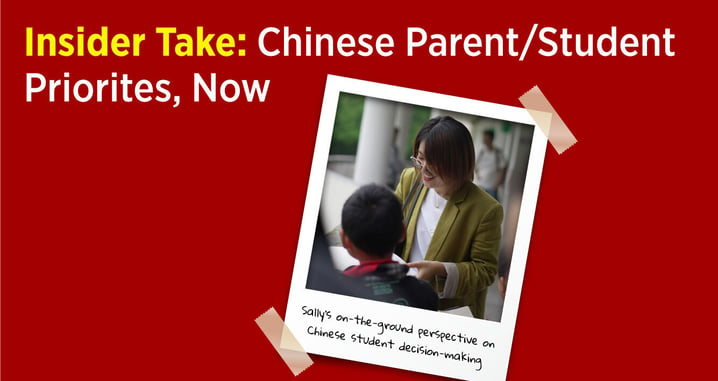 With Chinese student numbers in serious flux in the US, we thought we'd check in with our colleague Sally Zhu who is currently working with international students in Ningbo, China. Our goal: find out what's working in recruitment for institutions across the Pacific.
Sally, a contributing Intead Marketing Data Analyst and US PhD aspirant, grew up in China and acquired her post-secondary degrees in the US, returning to her home country in 2020 where she landed a job with a sino-foreign university. Today she's working as an international student support advisor there. She has a front-row seat to what is on Chinese students' minds.
We know this topic will be part of the hallway and session chatter throughout the NAFSA regional conferences coming up this fall. Intead will be discussing a range of student recruitment and marketing topics at Nafsa Region XI in Manchester, NH in October. If you will be there, be in touch to set up a coffee date with Ben or Iliana. We can also meet folks in California in December when AIRC and ICEF fire up. Look for some big news very soon about the learning opportunities coming up.
A couple of weeks ago, Sally sat down (virtually) with the Intead team to give her boots-on-the-ground account of how Chinese students and parents are evaluating their options today. Read on for some valuable perspective on the student recruitment market everyone is fretting about.
Tell us about your current role in higher ed in Ningbo.
I'm responsible for the school's international student population. This means providing daily well-being support, planning programs to help with international student orientation and integration, overseeing student organizations and clubs, and other student support programs. My role coordinates across departments and seeks everyone's input on international student-related affairs and issues. I have a broad view across the institution and a deep view of student-specific concerns.
What are the differences between working in the US vs China?
I've held jobs in student-focused programs in both countries. I see core differences in governance and management structures and relationships.
US universities have a decentralized governance structure allowing a considerable degree of autonomy in institutional governance and management. The Chinese higher education system, like the majority of other higher education systems in the world, was centralized by the government. Colleges and universities, therefore, need to follow rules and guidance from the education bureaus. Understanding and interpreting policies are essential to daily work.
The administrative structure is also quite different. In the US, I see more "top-down processing," in which the leaders have great ideas or perspectives and staff are responsible for how to make the ideas feasible. The administrative structure I experience in China is more "bottom-up processing." General ideas and thoughts come from team members' day-to-day work and move up the hierarchy.
The relationships between the university (or all levels of education institutions) and the students in China are also worth mentioning. The university often has relatively close relationships with students' parents, with some student behaviors being communicated to their parents if necessary to "improve student performance." It is also acceptable for parents to contact the university to find out about their child's academic performance (though it is generally preferred for parents to primarily seek this information from their student). This kind of interaction between university administration and parents is considered inappropriate in the US.
What are the differences between working in the US vs China?
Are COVID-19 and associated travel restrictions still primary concerns?
Things have not changed much since I shared news from China in my Intead blog post in February 2022. The US is trying to figure out how to live with Covid while China is still trying to learn to live without it. China still has very restrictive policies and prevention policies. For instance, if Covid cases explode in a city, there will be updated quarantine policies for people who've been to the affected areas. Still, the majority of students are learning in person and remote learning remains an option for those who cannot travel into the country. I don't find the experience ideal for students, though.
Students and their parents still have a lot of questions and some hesitation about choosing study abroad and overseas volunteering programs because of Covid. It's a big topic for us especially since many of our Chinese students still have plans to pursue their graduate studies overseas.
Notably, most Chinese students are opting to stay and study in China during all the global fluctuations. As a result, we are seeing several sino-foreign in-country institutions or programs provide seats for Chinese students who have earned overseas offers but prefer to stay in China rather than travel.
How are you recruiting students now?
Normally we would travel to high schools and hold recruiting sessions or take part in large recruitment fairs. We'd invite students from different provinces to attend the events. But during these Covid years we haven't been able to fly to recruitment fairs. So, we do a lot of online recruitment in the form of one-on-one or small group sessions. We introduce our university and allow parents to ask questions in online forums. I prefer in-person sessions that allow you to see facial expressions up close. For now, we are relying heavily on phone calls and some FaceTime-style communication.
What kinds of questions are your prospective parents and students asking now?
Parents are asking a lot about our programs and what makes the most sense for their students in light of the Covid situation. They want to know about the contingency plans we have in place if an outbreak were to occur. They want to know if their students still study abroad? Is that the best option still, or are there other programs that are more reliable at this time?
They also, of course, ask about the academic programs: What will students learn? Who are the professors? And about future career opportunities: What kind of job would their student potentially get? What are the target industries for graduates?
What role do parents play in your outreach?
Chinese parents are highly involved in their student's education. Here, high school students may not have enough time to explore their potential interests and understand college majors. Parents come to recruitment sessions and are very involved in researching options.
Recently, there have been some noticeable changes. Before, parents would go to recruitment events and go back home to discuss their findings and ideas with their child; however, now more children are coming to these sessions with their parents. And for my role in particular, I spend a lot of time introducing the university to families, explaining the learning system to parents, and helping them understand the strength of our institution.
Learning more
With the continued changes in the global student mobility landscape, and the outsized role Chinese students play in US higher ed enrollment planning, it is important to stay informed on what matters to these families. Our 2021 report (featured in IIE's newsletter) Is There a New Chinese Mindset on US Schools has valuable insights that continue to be relevant to enrollment leaders. If you've not yet downloaded this gem, now may be the time to access our practical recruitment recommendations for the shifting Chinese student market.
Be in touch to dive deeper into the unique opportunities and challenges your institution faces with this important market. Hope to see you are one of our events this fall. We're here to help.