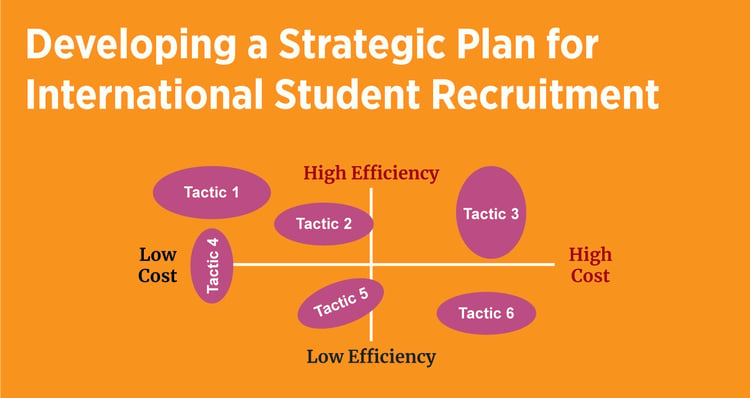 Before we dive into today's post, a quick note on some exciting upcoming opportunities to learn and connect.
In October, Intead will be taking a closer look at international student recruitment with two very different and powerful universities in two webinar events. We hope you can join us – we'll leave time for Q&A!
October 5,

NAFSA All-Region Summit: UMBC and Intead present "0-60 Internationalization" — Register HERE.

October 12,

AIRC hosted Webinar: Technion Israel Institute of Technology and Intead present "Shifting Student Perspectives: Digital Marketing Now" — Free to AIRC members and $45 for non-members. Register

HERE. (If your institution is not an AIRC member, hit us up for a code and we'll see about getting you past the velvet ropes.)
----
Now, about strategic planning for international student enrollment: the more things change, the more they stay the same, right? Not so with our adjustment to the pandemic? Or, maybe the old adage continues to hold true.
Digital is more important than ever to attract your future students. Yet personal touch and support through the application process (think recruiting agents) is critical to get prospective students from awareness to enrolled. All that was old is new again.
Standing the Test of Time
Back in 2015, our colleague Lisa Cynamon Mayers (some of you long-time Intead evangelists will remember the wisdom she shared with all of us) wrote a great post about developing a strategic plan for international student recruitment. She spoke with colleagues at SUNY, Southern New Hampshire University, and Full Sail University to specifically compare/contrast what they were finding cost-effective at the time. A few valuable charts emerged as part of the 2014 AIRC conference presentation enrollment leaders shared at that time.
Much of the strategic perspective is timeless in its value to our work in enrollment management. We can see from this look back what remains true despite the changing political winds, health factors, and visa/travel regulations. We've made a few 2021 observations alongside the insightful points in Lisa's 2015 post below.
How does your strategic enrollment plan look when analyzed along these lines? Read on for our valuable compare/contrast perspective.
What factors need to be considered in developing a strategic plan for international student recruitment? Which stakeholders (internal, external) need to be involved in that process? Though there isn't a one-size-fits-all solution for all institutions to these questions, we'd like to use this post to give you some factors to consider as you develop or augment your international student recruitment strategic plan.
Without a map it is challenging to chart a course of action and measure forward progress. A strategic plan for international student recruitment will allow all stakeholders to understand goals, progress, and challenges in a clear, straightforward manner.
Developing a strategic plan for international student recruitment is different from campus internationalization. While there is certainly overlap between the two, it is important to recognize that the strategic plan addressed in this post refers specifically to recruitment and marketing. The strategic plan serves as a reference guide as an institution begins or expands international student recruitment.
At the AIRC Conference back in 2014, four of our colleagues presented a workshop titled "Advanced Agency Management for US Led Institutions." Thank you to Krista Northrup, Brett Prim, Kirsten Feddersen, and Val Daily for the insights. Each of these experts have stayed in the enrollment management space though they all work for different institutions today. And they all generously continue to support the larger community by sharing their experience and expertise. Our post today refers to several of the ideas presented by this group in 2014 that continue to be a helpful framework for strategic planning today.
Some of the factors that impact a strategic plan include:
Vision (internal support and alignment with priorities)

Resources (budget and staff)

Programs (degree type and degree area)

Capacity (campus and facility size)

Brand recognition (established or new)

Competition (within the US and beyond)

Country Specific Considerations
If you and your colleagues are new in developing a strategic plan, we would strongly encourage you to consider these factors outlined above. For useful perspective, see our recent post addressing Strategy vs. Tactics.
The presenters shared their institutions' 2014 recruitment strategies using a diagram. We find these diagrams extremely helpful. When considering your strategy, the more bubbles you can realistically put into the upper left quadrant, the better you are doing.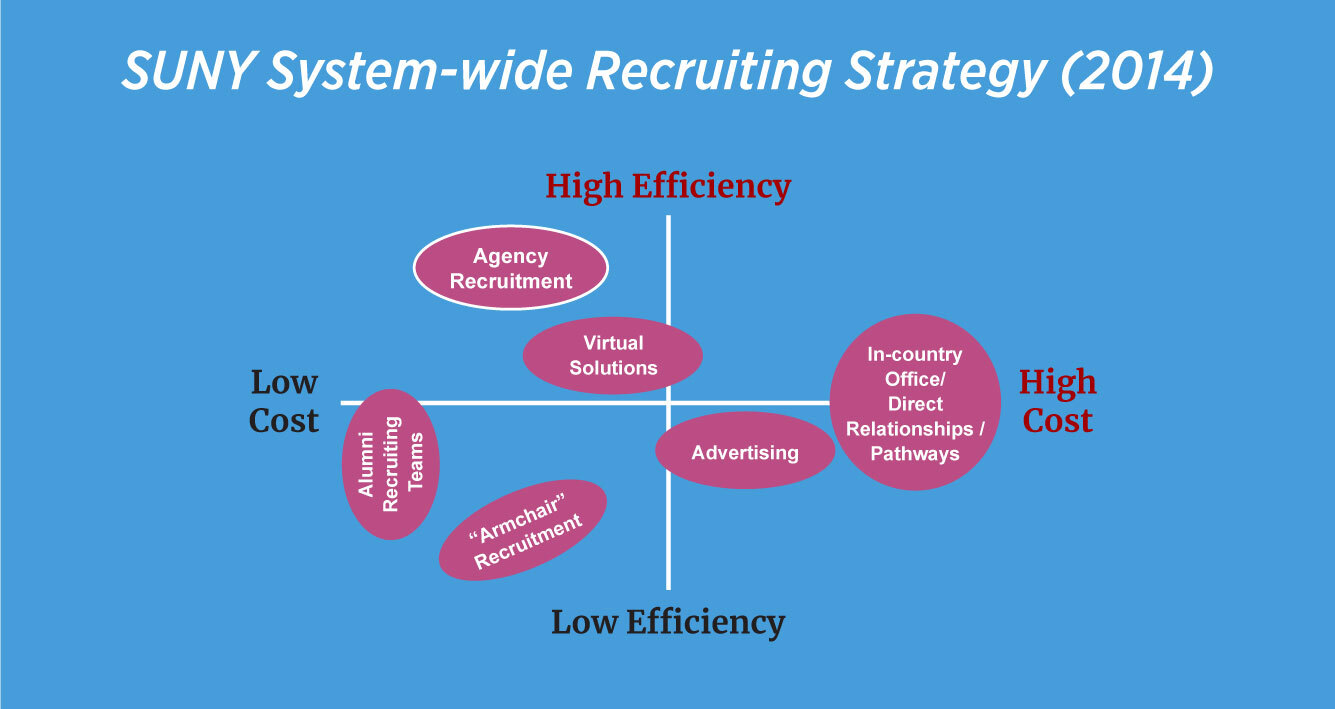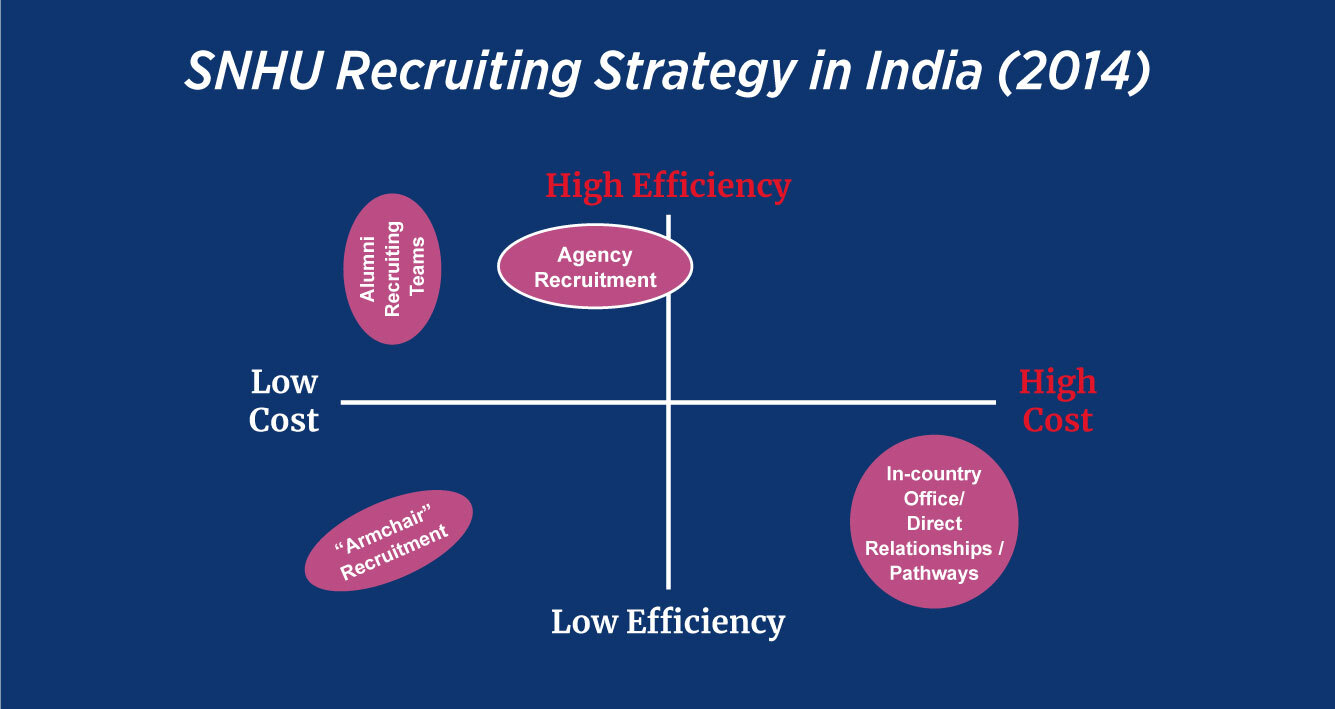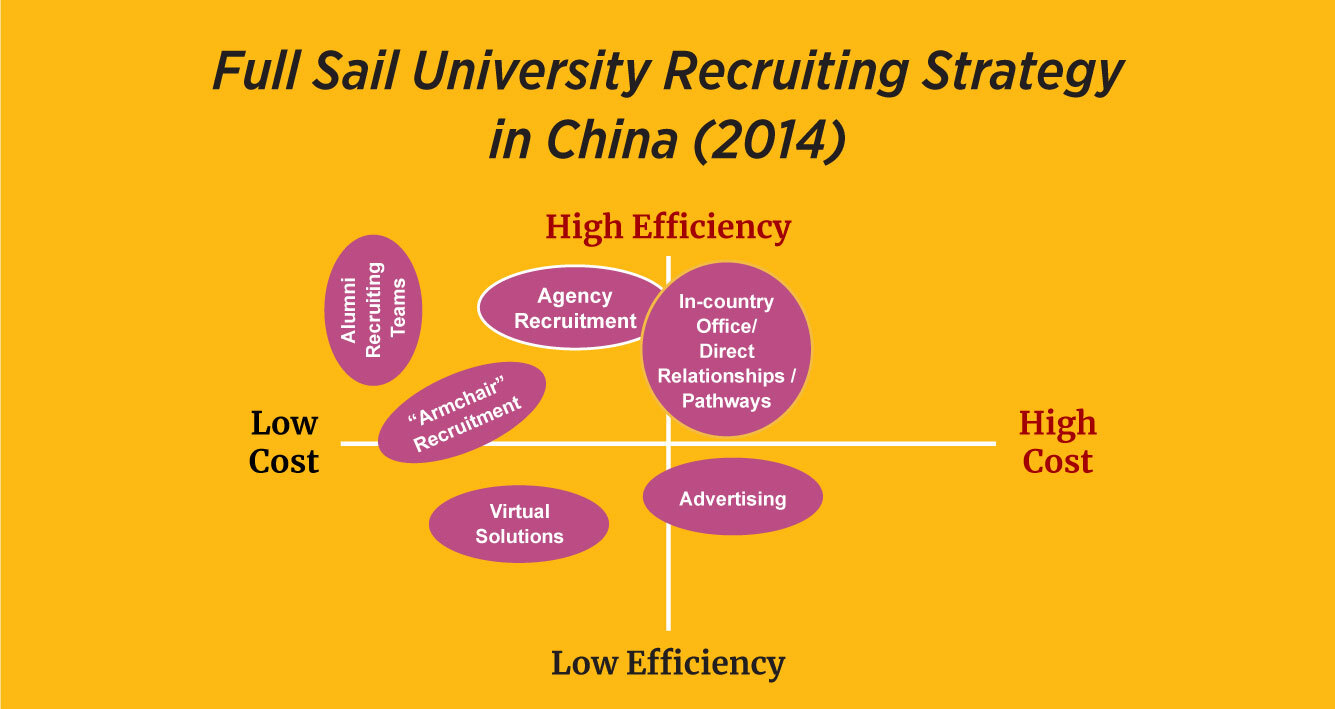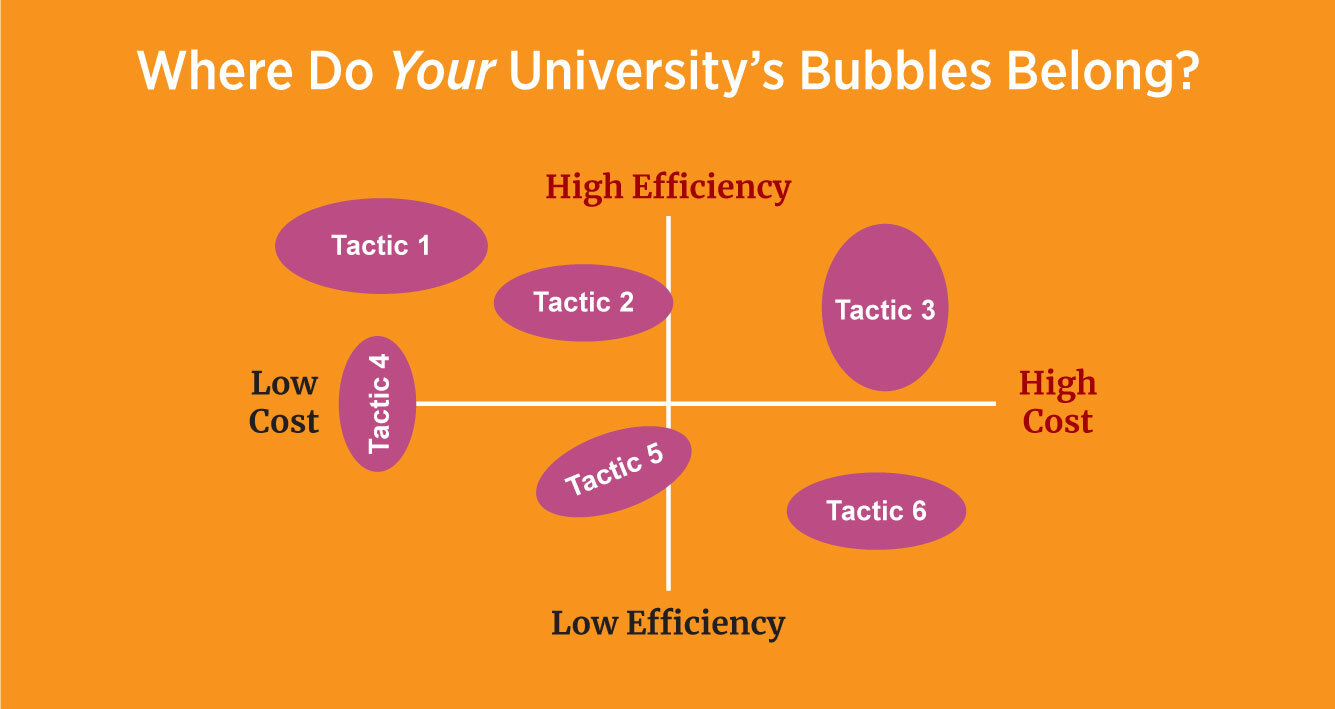 Source: Advanced Agency Management for U.S. Educational Institutions (AIRC Pre-Conference Workshop 2014)
In developing the strategic recruitment plan you should consider:
The goals in developing the plan (increase applicants overall? increase applicants from a specific market? increase yield? Increase diversity of enrollment sources?)
The stakeholders (faculty, admission team/director, institutional leadership, recruiting agent partners)
Your programmatic/recruitment goals alignment with your institution's mission
Use your answers to these prompts to gain the buy-in and support from your entire campus – a requirement for a successful recruitment strategy.
Where to Start
With current (2021) travel limitations, the role of on the ground intelligence gained through valued and trusted recruiting agent relationships becomes more important than ever. If you don't have these trusted relationships in place now, it is never too late to start building them. Valued and trusted relationships do not materialize overnight. AIRC is a great place to start that process.
For more information on developing a holistic approach to international student recruitment, please visit https://www.intead.com/strategy-consulting. Our exceedingly experienced team can take the guess work out of your strategic planning process. While many of the tactics remain the same overall, there are many new factors at play that alter how institutions prioritize the various tactics to develop and manage an effective student enrollment process.
*This post was first published in March 2015 by Lisa Cynamon Mayers. It has been updated and republished for 2021.