Chinese students submit their SAT scores to twice as many colleges than international students from other countries. What does that mean for your yield enrollment marketing and your yield projections? College Board and IIE presented new data at the Intead Global Marketing Workshop held at the SUNY Global Center in NYC last week. You can view the whole presentation here.
Please note that Intead Insights will be on summer break during the months of July and August. Intead will continue to publish the "Recruiting Intelligence" blog on Tuesdays and Thursdays. If you'd like to receive the slides from the 15 Global Marketing decks presented at our workshop, subscribe to that blog HERE. The majority of our attendees were academic leaders charged with scaling international enrollment. The data and implementation options presented gave them a wealth of new ideas to bring back to their campuses.

Elevator Summary
International student mobility expected to increase from 4.3M in 2011 to 8.5M students by 2025

On average, Chinese students submit their SAT scores to 12 universities, Indian students to 8 and Canadians to 5

Check out College Board's web traffic to understand the most attractive US university brands for Indian and Chinese students. Interestingly, 6 of the top 10 most reviewed profiles are the same choices for students from both countries

SAT registrations and student enrollment from China grew by 64% from 2011 to 2013. From India the registrations grew 36%, while Indian student enrollment declined 9% during that 2 year period.
Clay Hensley from College Board and Christine Farrugia from the Institute of International Education presented at our INTEAD Global Marketing Workshop for Academic Leaders last week. They provided a highly informative overview from their rich internal and external data sets. You can see the entire presentation by going to our Slide Share. Below, we discuss three selected insights from their presentation.
Chart 1 (below) displays the average number of SAT scores sent per student by country. The numbers show a remarkable difference with clear implications for your school's yield management after admitting students from different countries. On average, Chinese students submit scores to 12 universities, while a student from the United Arab Emirates, UK or Nigeria will submit less than five. You notice that the difference does not appear income-based.
Chart 2 (below) is a broad observation of the appeal of the US education super brands around the world. College Board showed the top 10 most viewed university profiles by students from India and China. The data is based on visits to their BigFuture website. Six of the top 10 universities are identical across these two countries and include Stanford, Harvard, UCLA, Berkeley, NYU and Cornell. Indian students have a preference for technical programs and so the inclusion of MIT and Cal Tech may not surprise.
A large share of Chinese students also view two Midwestern universities: University of Illinois at Urbana-Champaign and University of Michigan. While the other 4,500 US academic institutions do not have the global name recognition, the entire US university system benefits from the "halo effect" of these academic "super brands."
The reality is, these super brands can only accommodate a very small number of students overall, much less international students. Their attractiveness increases US competitiveness overall as the US becomes the chosen destination and other schools have the opportunity to be considered. As online programs gain further attention, these global super brands will increase their reach and brand position around the world.
The corresponding data for India show a 28% increase in web visitors, and 36% SAT registration growth, while the enrolled students from India declined by 9% during the period from 2011 to 2013.
So the intention and interest to study in the US seems to have continued to grow while the realization of that aspiration lagged. What do you think are the main reasons for that gap? Post a comment below this blog to engage in the discussion.
Much productive work can be done by all of us if Clay and Christine's hopeful outlook is correct for continued growth in student mobility. They quoted a potential group of 8M students studying outside their home country by 2025, up from 4M in 2011.
Chart 1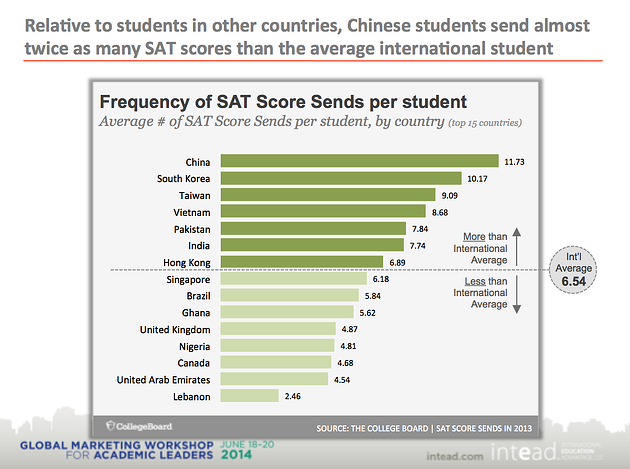 Chart 2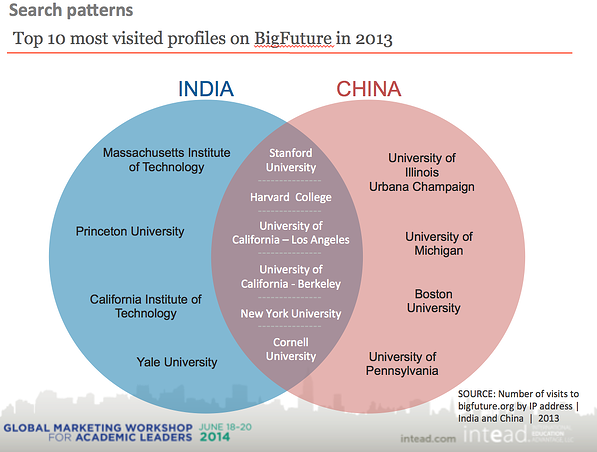 Chart 3