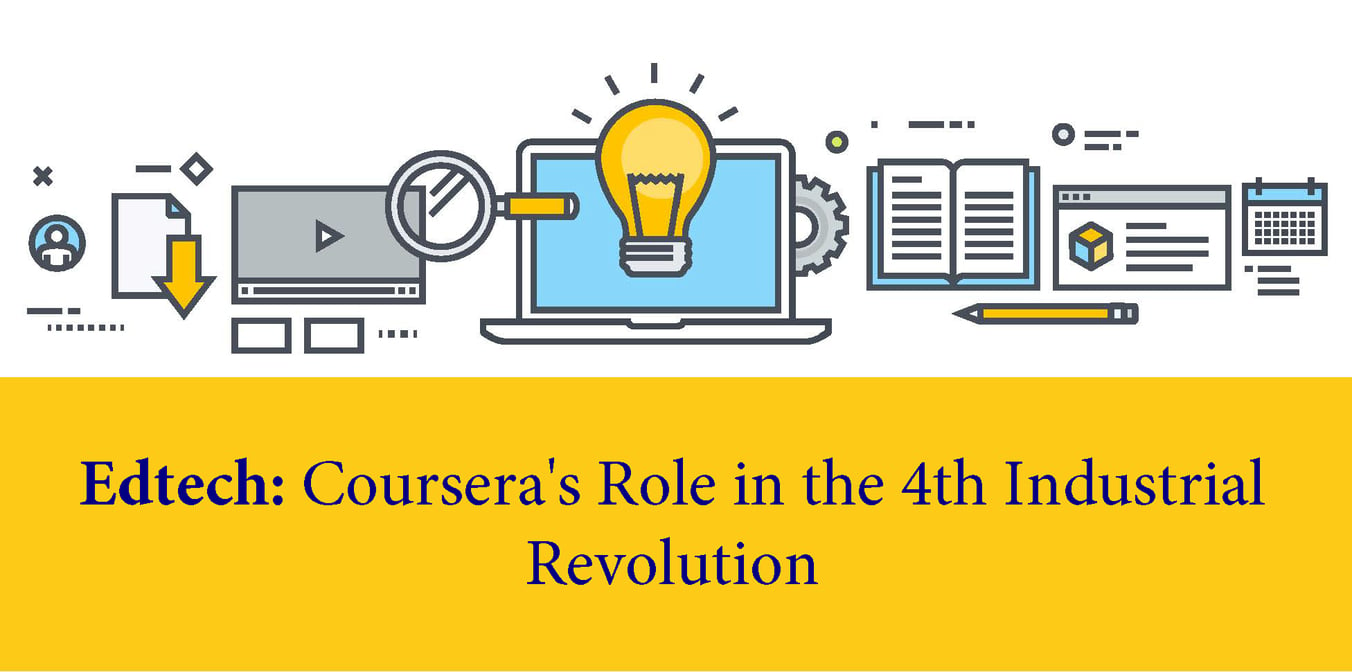 Move over, American Inventor Eli Whitney, we've come a long way since the cotton gin. We are in the midst of the booming Fourth Industrial Revolution.
Just in case it has been a while since you've been in a history classroom, here's a tiny refresher:
First Industrial Revolution—mechanization
Second Industrial Revolution—mass production
Third Industrial Revolution—automation
Fourth Industrial Revolution—cyber systems and networks
If you need to brush up on your history, there's a course for that on Coursera—the newest EdTech unicorn in the revolution.
Valuable Side Note: boosting conversion rates & measuring communications effectiveness. Our NAFSA session is coming up and we'll be discussing how to improve your digital connections with international prospects. Intead and NEU offer up best practices. Check it out our fun 49 second promo...

But why is Coursera such a big deal in this modern revolution? Read on...
The Basics
Coursera is a global online learning platform offering courses, certificates, and degrees—and the company recently secured $103 million in new investments.
And actually, they have 328 history courses, such as The History of Rock from the University of Rochester, The French Revolution from the University of Melbourne, and The Age of Cathedrals from Yale University.
They offer 3,200 courses from more than 150 universities worldwide, and that catalog breadth has contributed to their newest net worth of $1 billion, as recently reported by Forbes. This is something very few EdTech companies have achieved, though for Coursera it seemed a sure thing, as last year they made Forbes' list of Next Billion-Dollar Startups.
Founded by two Stanford University computer science professors, Daphne Koller and Andrew Ng, in 2012, Coursera was a champion for the Massive Open Online Courses (MOOCs). That was also the same year Harvard University and MIT launched edX in order to provide some of their courses and those from other top universities for free. However, Coursera switched its focus to paid course content and grew their user base to over 40 million learners, a number that doubled in the last two years.
MOOCS Used To Be All That, Sort Of...
You will recall that MOOCs have long been reviled and ridiculed by many in the academic community (many of them faculty) as an ineffective learning mode and prone to failure. Fear of change? Inability to see innovation as an opportunity? Perhaps.
If 100,000 people sign up for a free online course and only 1,000 complete it, does that really represent a failure? We don't think so. How many people fit in your average classrooms? Volume matters.
The reality is that the early stage offerings of any disruptive innovation are rarely the thing that actually takes hold and becomes widely accepted. The mistake is to reject and/or misread the potential. The fun (and opportunity) is being involved in the development, morphing and growth.
Part of Coursera's success is due to the platform's low cost. While they do offer short, single certificate courses, they also have complete undergraduate and graduate degrees. Their corresponding tuition charges are approximately 20 percent less than those from institutions that utilize online program managers (OPMs). And the fees are definitely a fraction of the charge for on-campus degrees. According to CNBC, "A master's degree from Coursera runs $15,000 to $25,000, while attending a university in person can run as much as $80,000 for the same degree."
It's All About Results
The proof in the pudding will be the career results and personal success of graduates from one degree program vs. the other (online vs. traditional).
While some online learning platforms—like edX—open up quality college courses to those who may not be able to access them otherwise, Coursera has established an interesting position in "upskilling" or "reskilling" its learners. Many of its users already have a degree in their field and are simply looking to improve their skills and job marketability. Many institutions are investing heavily in the same approach – but in the classroom or with blended models.
And importantly, it isn't just employees and job seekers who are looking to access this content. Many businesses are purchasing courses for the benefit of their staff. This is not new. Employers have long developed curricula alongside community colleges and 4-year institutions to fill specific employee skills gaps.
This Is Important
The pace of change in technology and computer science are pushing employers to look beyond traditional learning environments and institutional approaches to training. By the time a curriculum is developed, the industry has moved on and new skills are already needed. Tech employers on the cutting edge are creating in-house training programs and hiring non-accredited, non-traditional educators to get their people up to speed quickly.
Want just one quick-hit, real world example? See this WSJ article from earlier this week on manufacturer's training factory workers to become coders to up the game for the entire company. Worthy of note – this is NOT Silicon Valley workers we're talking about here – it's Baltimore! This really is important.
And Coursera offerings are meeting a real need.
Adobe is one of the 1,800 employers with a Coursera contract. They paid an estimated $150,000 for their employees to take machine-learning courses.
Governments also see the appeal. The Abu Dhabi School of Government is harnessing Coursera to train 60,000 government employees in artificial intelligence and data science.
This expansion of business is part of why Coursera is expected to go public in the next year or two (Forbes), which may further contribute to their success and open up new opportunities for growth.
In a Coursera blogpost, CEO Jeff Maggioncalda said, "The Fourth Industrial Revolution, marked by advancements in automation and artificial intelligence, is dramatically reshaping our lives, businesses, and jobs. . . . As the future of work and the future of learning converge, there is an enormous opportunity for us to make the world's best education available to hundreds of millions around the world and change the way they learn."
With more growth expected from Coursera, they may change more than just the way people learn. They may change the shape of the industry as well.
As reported in the Chronicle of Higher Education daily briefing, Moody's Investor Service recently commented that universities that adapt quickly to changes in demographics, customer preferences, and new technology will outperform peer institutions that are slower to respond.
Intead's Prediction
Leadership from fewer than 20 US institutions will follow Moody's advice. And fewer than 10 will do it effectively.
Until next time, Vive la révolution! See you at Nafsa in DC!