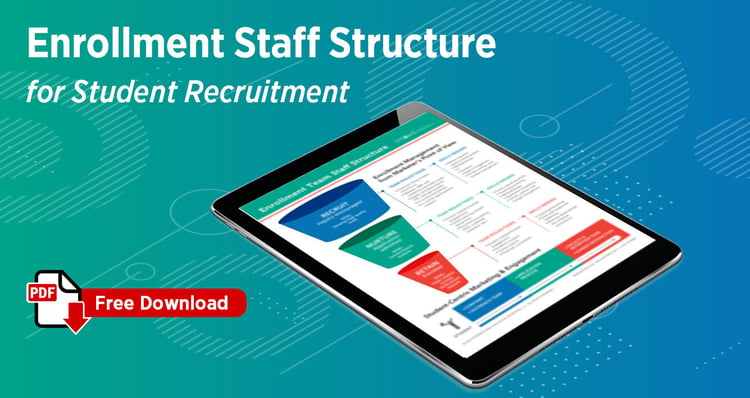 Let's be honest. We're not all people people. And we're not all data nerds. Or content creators. The point: we need a team with varied talents to cover all the tasks required to run a successful enrollment management process.
One of the common areas we explore with our clients (it also comes up during conference discussions frequently): "What is the best staffing structure for student recruitment and enrollment processes?" And we have some basic analysis available to help you get this conversation started in your own shop.
To help your team (read: provost and VP of finance) understand why you need the full complement of skills, we've developed an at-a-glance info sheet that shows the skill sets needed at each phase of the admissions funnel. It's pretty interesting to approach it from this perspective. And it's pretty important that you do.
We'll be presenting our enrollment staffing perspective as part of a session at the AGB (Association of Governing Boards) conference this April in San Diego with Brad Farnsworth, principal of Fox Hollow Advisory and former senior VP at American Council on Education, and Gretchen Bataille, president of GMB Consulting Group who also served in leadership roles at University of North Texas, University of North Carolina system, and at American Council on Education. University trustees and presidents gather every year at AGB to identify best practices for growth.
We'll also be presenting with Karin Fischer, senior writer at Chronicle of Higher Education, and Ahmad Ezzeddine, vice president of academic student affairs and global engagement at Wayne State University, at the AIEA conference in DC in February. If you'd like to meet at either of these events, please drop us a note.
The annoying answer to the question about staffing structure is: "It depends."
That's also a legit answer because institutions fall into different categories. As a simple example, consider an institution seeking an incoming class of 1,000 students vs another seeking 10,000 students. These institutions clearly need different reporting structures to process different volumes of marketing recruiting and inquiry nurturing, much less application processing and student orientation.
Nevertheless, there are common skills needed, from people skills to data crunching skills. And with enrollment offices typically run by an efficient crew (read that as skeleton teams) most staff are expected to wear many (or all) the hats: marketer, analyst, tech guru, travel agent, career counselor, social butterfly, academic genie, social media manager, digital marketer, and even coffee maker.
Sound familiar at your institution? Even if a Venn diagram from the latest psychological assessment shows your team of two (or four) has significant overlap among disparate personality traits, it's impossible to create the kind of student cohort your institution aims for by asking just a few people to do it all.
We see it all the time. And it's tough because no institution has all the resources they need. But the smart ones know how to build the right staff structure and partner relationships that will yield great results.
Our enrollment staff structure info sheet will be available for free to our blog subscribers for a limited time. Or, join Intead Plus and your team can access this and all our other Intead Index student recruitment essentials any time the need arises (annual budgeting, new team member training, etc.).
To get your free "International Enrollment from a Marketer's Point of View," read on.
Here's the download button you are looking for:
Want more? An Intead Plus membership gives you insider access to our extensive library of recruitment intelligence materials, training tools for new recruitment staff, global recruitment planning worksheets, and more. The membership comes with special rates on services from Intead and our industry partners.
And when you need help juggling it all, be in touch. We've got skills to get you through every phase of the enrollment and admissions funnel.