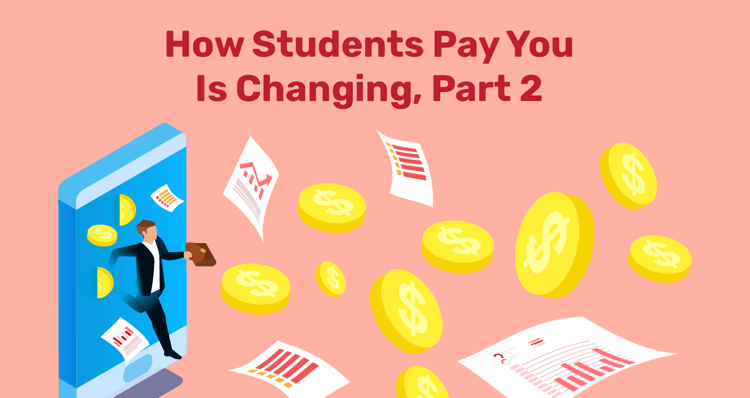 This week we continue our three-part series on #FinTech, where we're exploring how money for college can be found and moved faster, safer, and smarter, alleviating some of the headache for students, their families, and even for administrators. This is part of our focus on all things #EdTech.
Last week, we dove into new student loan options, especially for students from underserved demographics, those looking for socially conscious financing, those who want unique repayment terms, and international students seeking financing. If you didn't get a chance to read it, you can check it out here.
A quick shoutout to NAFSA's latest issue of International Educator. It was in our mailbox this week and it should be available online soon. Great articles on priority topics: student services, student employment opportunities and Intead's and iSchoolConnect's article about artificial intelligence and chatbots. Great stuff well worth the read.
With 3 new Intead student recruiting research reports headed your way, now is a great time to consider an Intead Plus Bookshelf subscription. Don't miss these valuable reports to help you improve your institution's recruitment game:
Student Interactions on Peer-to-Peer Recruiting Platforms
Student Interactions with Chatbots and other Artificial Intelligence Tools
Student Recruiting in Emerging Markets: Africa and Latin America
Or you can learn from us with a personal meeting: we will be discussing our latest research and presenting our student recruitment insights at the upcoming TABS, ICEF and AIRC conferences. Email us to set up a meeting.
Now a look at alternative funding sources. Read on to find out what exists outside of student loans.
Below we consider three different methods of financing:
Microfunding
Income Share Agreements
Scholarship Portals
Microfunding
Crowdfunding is popping up everywhere, from those who need to pay medical bills, families looking to raise funds for adoption, and even famously, the man who managed to raise over $55,000 to make potato salad.
We can all agree that a diploma is worth much more than a bowl of spuds with mayo, which is why it is no surprise that students are turning toward crowdfunding for their tuition, books, and other expenses while in college.
While crowdfunding sites Kickstarter and Indiegogo require that campaigns be of a creative nature and must offer something to share with their backers, many students are getting inventive and offering returns such as a personalized thank you note, an emailed copy of their grades, or an hour of community service done in a donor's honor.
The site GoFundMe doesn't have these boundaries, which is why it hosts over 100,000 personal educational fundraisers a year, totaling more than $70 million annually.
As for education-only focused peer-to-peer funding, several companies have popped up in the US, only to disappear after a disappointing go of it. They are finding traction with students in emerging international markets, though. Such is the case with Skolafund, an all-or-nothing platform similar to KickStarter but for higher ed students and researchers.
Where education-specific efforts have been successful in the US is with alumni. Campus Logic's SponsoredScholar helps students write and use their personal stories as microfundraisers. This allows them to connect with alumni who identify with their struggles and circumstances and then contribute directly to the student's needs.
Income Share Agreements
Income Share Agreements (ISAs) are a contract that a student will pay back their financing through a fixed percentage of their future salary for a set period of time. They made their debut at Yale University in the 1970s but faded from popularity until recently with financers like Lumni or even institutions themselves like Purdue University.
With ISAs, not all degrees are equal, as they have different earning potential. Forbes reported that in the case of Purdue:
An Aeronautic Engineering Technology major graduating in Dec 2020 will payback on a $10,000 ISA at 3.36% income share over 8 years (96 months).
In this example, the total ISA payback is $16,523. Taking a PLUS loan is $17,311, and a private loan is $19,162. Using the same comparison tool, a history major's income share will be 4.31% over 112 months (9.33 years). This results in the PLUS loan being slightly more favorable.
So some students would benefit from an ISA and some would not.
Scholarships
Scholarships are an obvious source of alternative funding, but millions of available dollars go unused because students don't know about them.
A number of different services exist to help students discover scholarships. One example is Raise.me, which works with colleges and universities to offer micro-scholarships to high school students, starting as early as the 9th grade. These funds are based on their grades, volunteer work, the classes they take, and their extracurricular activities.
Scholarship matching portals such as Unigo and ScholarshipPortal save a lot of legwork for students. And the above-mentioned Campus Logic also offers ScholarshipUniverse, a mobile AI platform for searching, selecting, and applying to internal and external scholarships, as well as scholarship management for institutions.
What's the takeaway?
Just like with our student loan post last week, the more you know what your students are facing and how they are being innovative in their approach to financing their educations, the better you will serve them. And if you are able to offer them a funding source that they did not otherwise know about…they might just graduate from your institution and head off into that fabulous career they are seeking.
We're doing all we can to keep you in the know as our industry innovates and changes. Let us know how we are doing in the comments. What other topics would you like to see us report on here?