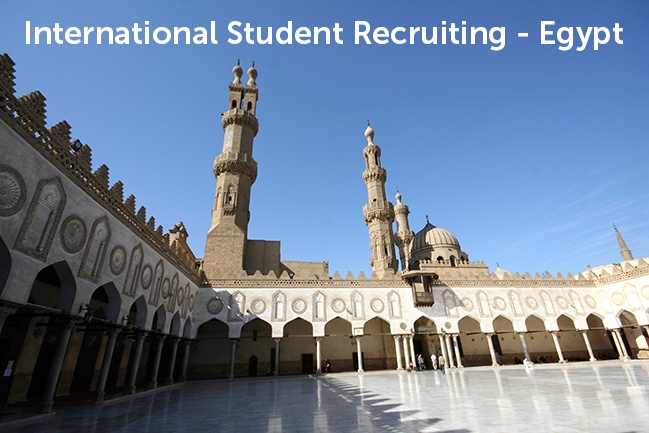 It won't come as a surprise to you that education is important in Egypt, the home of one of the oldest continuous running universities in the world, Al-Azhar University (photo above). But, after the political unrest of the past few years, you might be surprised to know that slowly and steadily Egypt is seeing growth in two essential areas.
Economic growth hasn't been startling but it has been stable. In addition, increasing internet usage is linking young Egyptians to the global community more than ever before. This might be your signal to look past the Egypt of the Arab Spring and start looking toward the future of its young population. Students are interested in finding education abroad, especially if your institution has competitively low tuition rates and provides financial aid or scholarship opportunities to international students. A subset of our readers, for sure, but that is what marketing differentiation is all about. Promote your strengths where there is less competition.
Bottom Line: Interest in study abroad for Egyptian students is high but low government support makes financing these studies an issue. While the number of students from Egypt studying in the U.S. may be modest, the desire and the growth are not. The US saw a 5% increase in Egyptian students between the 2013/14 school year and the 2014/15 school year according to 2015 IIE Open Doors data. Tackling issues of finance will be key, but there won't be a shortage of effort on the part of Egyptian students. Many young Egyptians have a good grasp on the English language and programs that help students hone these skills are essential in the region. And, if economic predictions for the future come true, starting in Egypt now will be a pay off in the future.
Meet Us in Miami or San Diego!
We will be sharing all our global digital marketing experience at workshops and other presentations at the AIRC conference, the ICEF Workshop and our latest effort to share knowledge: The First Annual International Student Recruitment Bootcamp (2016 theme: What Works Where) presented in partnership with CGACC. Let us know if we can schedule a coffee date at any of these venues.
Read on for more insights into recruiting students from Egypt.
Egyptian Demographics
A young population is one factor that landed Egypt on Goldman Sachs' list of countries in line to become the 21st century's largest economies. Egypt also found its way on to the Economist Intelligence Unit's list of countries with potential to see impressive economic growth because of its economic diversity and young, growing population.
Now a light bulb probably went on, right? A young and growing population, take note! Over 50% of the Egyptian population is younger than 25, well within your target audience of undergraduate and graduate students.
Student Interest in Study Abroad
Unfortunately, the political unrest in Egypt has damaged families' immediate economic capacity. Higher education institutions saw a negative impact as well. Egyptian universities have struggled in the aftermath of the Arab Spring. Earlier this year (see related June 2016 Reuter's article) there were reports of police brutality against university students. However, this fall reports seem to point toward a mixed climate. While students are no longer required to specify their religion to their university (Middle East Monitor, October 2016), a member of parliament has called for female students to undergo virginity tests (Independent, October 2016). It is still an unstable environment, making students look for ways to study abroad in safer places.
In October of 2014, the ICEF Monitor reported that two million Egyptian and other Middle Eastern students were enrolled at the university level. After the United Arab Emirates, Egypt is the most popular destination for students in the Arab world. In 2012, 16,217 Egyptian students studied abroad according to UNESCO. This number continues to rise.
Carnegie Endowment shared 2013 research which showed 80% of Egyptian students wanted to emigrate to another country. That's a pretty staggering level of motivation! Lower employment and research opportunities have students like the Egyptian medical undergraduates at Ain Shams University looking elsewhere.
In past years, Egyptian students have looked to other Arab nations to study. However, the United States also tops the list of desired study abroad locations. While financial support might be a concern when recruiting in Egypt, it is also a concern for many Egyptians who are seeking education at domestic universities. In general, education is expensive for young Egyptians and partnership programs linking Egyptian universities to international universities might help alleviate this problem.
Do we have you considering your options?
You might start by talking to any current faculty and graduate students already on your campus who may have family or other connection to Egypt. You may be surprised by where that conversation goes and the opportunities that develop.
| | |
| --- | --- |
| Destination Country | Number of Students |
| United Arab Emirates | 2,948 |
| Saudi Arabia | 2,403 |
| United States | 2,132 |
| France | 1,177 |
| United Kingdom | 1,156 |
| Germany | 879 |
| Qatar | 836 |
| Canada | 831 |
| Italy | 644 |
| Jordan | 455 |
| Malaysia | 432 |
| Japan | 244 |
| Kuwait | 238 |
| Australia | 189 |
| Bahrain | 184 |
| Austria | 174 |
Data Source: UNESCO, 2012

Connecting with Egyptian Students
According to Pew Research, in 2015, 50% of Egyptians owned a smartphone or accessed the internet at least occasionally. Seventy-four percent of internet users access the internet daily. The TNS "Arab Social Media Report" found that the most important social platforms are Facebook and WhatsApp, both of which are often visited through tablets or smartphones.
If you are already using these social media platforms, consider how your digital marketing plans and content for other audiences can be tailored to reach Egyptian students. Provide them with a look at your institution and get them thinking about the possibilities you can offer them. (Take a look at our past blog posts on Facebook and WhatsApp for tips on how to effectively use these platforms to reach students.)
We've mentioned how important education and, in particular English programs, are in Egypt. This shines through in the Pew Research Center's statistics about adult internet (ages 18 and up) users in Egypt. Eighty-four percent of this group speak or read English and eighty-one percent of this group have at least a secondary education. English programs can add the extra expertise young Egyptians need to enter the job market. And if you don't have the capacity to translate your marketing content into Arabic, it is likely you can still reach our target audience. Still, translated content is always better for your brand growth (we say this often...don't get us started).
Egypt is another growing market for international student recruiting–like other countries we've profiled recently (including Kuwait and Iran). Reaching them online where they are already spending their internet hours is a great way to connect with them and share content about your institution. For this group especially, sharing any scholarship-related content is sure to attract attention. Have you already tapped into the Egyptian student market? Let us know what has worked for you!