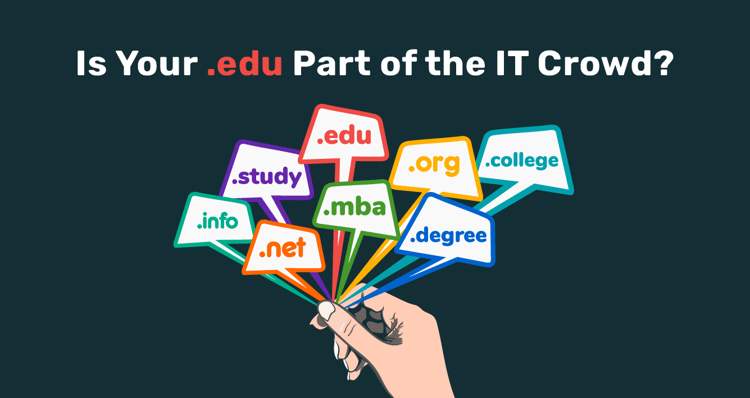 A few years back, the business world faced an onslaught of new domain extensions. Companies formerly satisfied with their .com addresses suddenly had new options to choose from: .info, .biz, and the like. Even .cool made the scene.
While the gold standard for academic sites has always been .edu, alternatives such as .college, .degree, .education, and .university present a new, distinctly 21st century challenge: how can you protect your institution from copycat sites?
More importantly, is it just brand management at stake, or does the availability of these domain names put your students' privacy and online safety at risk?
There seem to be more #EdTech issues emerging every month. We're here to help make some sense of it all. When it comes to protecting your institution's digital footprint in today's ever-changing tech landscape, a bit of research and a thoughtful game plan can save you a great deal of headache. Today, we look at these digital hazards and make some concrete recommendations. Read on.
What makes starting a website so simple is also what makes these alternate domain extensions so alarming: with a low-cost domain, free web design templates, and a few minutes, it's possible to create a copycat site that may trick an discerning student.
To test imitation site creation, Inside Higher Ed recently set up www.berkeley.mba (no longer online), purchasing the domain name and building the template of a convincing institutional website for only $19.99. While they aren't trying to fool anyone – their "Give great pep talks. Make tons of money." MBA tagline slightly gave them away ; -)
See the story here. They also purchased www.harvarduniversity.wtf for about $5 but don't seem to have put up the site as of this posting. Pity.
The point is that these copycat sites are quick and easy to create.
And while copyright infringement laws exist to protect from these types of digital theft, students could receive misleading information, or worse, give away their own personal details through a fraudulent online form before you were even aware of the copycat. Your legal team is likely already evaluating this.
What Are Institutions Doing About It?
One strategy commonly adopted by institutions, as recently reported by Inside Higher Ed, is to purchase these alternate addresses to "prevent third parties from snapping them up."
However, even if each domain costs only $20, these prices can add up, eating into your budget. Some sites, like www.yale.mba have a $30,000 sticker price.
The Cost-Effective Strategy: Trust Your Students
Back when businesses were facing this suffix dilemma, Cyrus Namazi — Senior VP of the Global Domains Division for the Internet Corporation for Assigned Names and Numbers (ICANN)—spoke to Politico back in 2013 sharing, "Our minds have been programmed, for all practical purposes, to end our URLs with a .com. And for that mindset to change, it's going to take some time."
The same is true now with .edu. Most prospective students are URL savvy. They won't click on a .class over a .edu on a web search. And while copycat sites might be passable at first glance, most discerning students will know the difference between these slapdash efforts and your real online presence (because yours is crafted to highlight your strengths and designed with your target market in mind, right? If not, be in touch.)
The Bottom Line:
You can't safeguard against every possible copycat opportunity. Even if you were to buy up all newly allowed domain suffixes, there will always be new ones to keep up with. The best strategy? Stay true to your brand.
As Michael Diamond, academic director of the integrated marketing communications department at the New York University School of Professional Studies, told Inside Higher Ed, the best way to safeguard your brand is "to stick with [your] established .edu websites."
Sometimes the best cure for a 21st century headache is to leave well enough alone… and ensure that your digital brand messaging is on target.