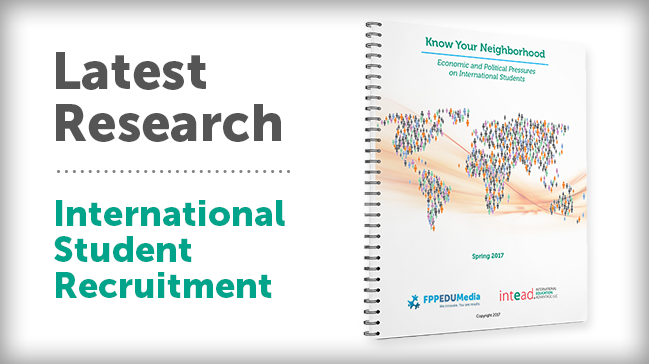 Given the dramatic changes in today's political and economic climate, we know there is one question weighing heavily on your mind—how will this affect my international student recruitment?
Last year, 40,000+ prospective international students told us what they thought, and now we are ready to share their insight with you. Along with some concrete marketing recommendations.
This week, we are excited to announce the release of our latest research, compiling all of the insights gained in our 2016 Know Your Neighborhood survey launched in partnership with FPPEDUMedia.
By now, you may have heard one of our key insights—60% of the 40,000 students said they would be less likely to study in the U.S. under a Trump presidency. News outlets took notice. Our research was cited in The Chronicle of Higher Education, The New York Times and on NPR's Marketplace, among other publications —but have you read about our other findings?
We uncovered valuable insights about the impact of economic factors including currency exchange rates, personal finances, and scholarship availability. What does this information mean for your enrollment marketing strategies? Only one way to find out—read on to explore these factors in detail and download the full report.
40,000+ prospective students—that's a lot of intelligent minds—aren't you curious? We were.
Our Know Your Neighborhood 2017 report is written and designed specifically for enrollment marketing teams. Use our insights into student influencers, motivators, goals, and behaviors to tailor your international enrollment marketing and improve yield.
Join us at NAFSA for our Latest Marketing Tips & Techniques
As we monitor the fluctuations in the global political and economic climate, reliable insights will become even more valuable as you evaluate your target markets and make decisions about how to reach your prospective student audiences. We hope that you will take full advantage of the insights and recommendations provided in our Know Your Neighborhood report, and bring any questions or comments you have out to NAFSA this summer.
Meet with us in LA!
There will be 4 opportunities to learn from the Intead team at Nafsa this year, from student motivations and agent management to CRM implementation and use. Oh, and of course the down to earth digital marketing tips you won't get anywhere else.
This will be our 7th NAFSA Annual Conference—sharing insights and exchanging ideas with thought leaders and industry experts.
We hope we will see you at one of these NAFSA presentations:
1) How to Select a CRM System that Works
Megan Prettyman, Director of International Recruitment & Admissions, Montana State University & Kellie Faulkner, Director Marketing Strategy, Intead
De-mystify the confusing pros and cons of CRMs and you'll be be one step closer to selecting and implementing a CRM that works for you. Session participants will receive a CRM decision-making worksheet.
Wednesday May 31st @ 1:15 pm, Room TBD
2) Our Latest Research:
Brexit & U.S. Executive Order Travel Ban: Implications for International Student Motivations
Julio Ronchetti, President, FPPEDUMedia & Ben Waxman, CEO, Intead
We will present the results of our latest survey in partnership with FPPEDUMedia and their powerful database of 1.6 million prospective international students. This survey will assess the dramatic changes that we are seeing in the global political and economic factors that affect your recruitment landscape. Survey results will highlight current international student sentiments and motivations following Brexit and the travel limitations set in place by the current US Administration. Seriously, don't miss this one. Thursday June 1st @ 2pm, Room TBD
3) Survey of Essential Publications for International Recruitment and Admissions
Jessica Black Sandberg, Director of International Admissions, Temple University & David Di Maria, Associate Provost for International Programs, Montana State University
Intead proudly contributed a chapter on digital marketing to NAFSA's best-selling Guide to International Student Recruitment, which will be highlighted as a resource. Get your copy and meet the authors!
Wednesday May 31st @ 10:00 am, Room TBD
4) Effective Use of Agents and Student Recruitment Communications
AIRC Staff; AIRC Certified Agents; and Kellie Faulkner, Director Marketing Strategy, & Ben Waxman, CEO, Intead
A special AIRC Village presentation about agent use, agent communications and digital marketing at the AIRC booth is being developed. Details still under construction, so we will share more details once we get it all pinned down. The AIRC booth at Nafsa will be a great place to meet certified agents from around the world in one stop and get some great, country-specific recruiting advice. Really valuable to talk with trustworthy old hands if your institution is just getting started with using internatoinal student recruiters. In the Nafsa exhibitor hall.
And what's next? Hold onto your hats!
Intead will have some dramatic announcments to make this year. We are growing, adding staff, and taking on new challenges with gusto. All we can share right now is, watch this space!
We look forward to sharing more insights with you and helping you shape your marketing practices to respond to opportunities in this evolving environment!