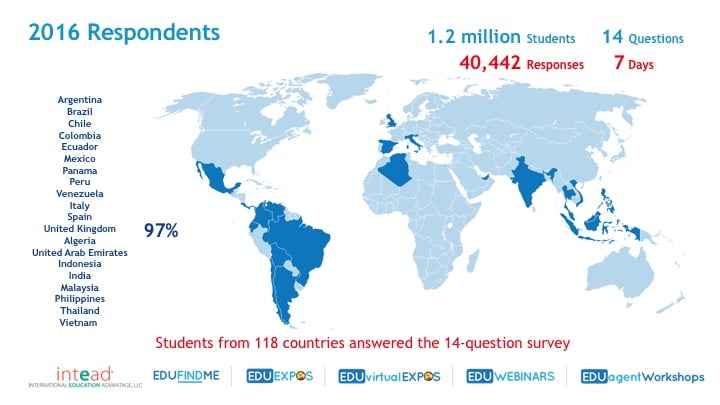 Did you catch our presentation at NAFSA 2016? Our loyal readers, and those who were unable to attend (we missed you!), can now access our slides below!
We, and our partners at FPPEDUMedia, surveyed 1.2 million international students this past March and in just 7 days…we received more than 40,000 responses from students in 118 countries!
The survey was focused on learning about how potential impact of economic and political factors across the globe influence on students' decisions to study abroad. Questions addressed currency exchange rates, safety and even the U.S. presidential election.
Here are some of the key takeaways from our data:
1. A Trump presidency could see a significant decline in international students studying in the US, especially from Mexico and other Latin American countries, compared to a Clinton presidency.
2. Students in Malaysia, Indonesia, Mexico, Venezuela and other countries are feeling the impacts of challenging and fluxuating currency exchange rates and many are inclined to postpone or cancel their study abroad plans because of the financial stress.
3. Lack of scholarships available to international students in many parts of the world is increasing the likelihood of those students cancelling or postponing their study abroad plans without other financial support.
These are just 3 of the many takeaways from the important data we have gathered. Get our Nafsa16 presentation slides here. And hey! There is a great opportunity for you behind that link. Read on...
Before accessing our Nafsa16 slides, you will be asked a few questions about your institution and we are giving you an opportunity to shape our research around your specific needs. We will consider your suggestions as we shape our future publishing. We don't offer this lightly, and we truly hope you will take us up on this offer. Click that link above and influence our future research and the field. Then come back to this post because there's even more great stuff in the next few paragraphs.
You know us. We're not done analyzing all the data we received from our most recent survey. We will be publishing a full report, the second iteration of our Know Your Neighborhood Report, later this year. To stay up-to-date, and ensure you receive our full findings when they are ready, sign up here.
If you are not familiar our first Know Your Neighborhood Report which presents our research from 2015, you can download that report here. More than 1,500 of your colleagues have already taken advantage of our past research and given us terrific feedback.
We welcome your comments and perspectives on the information in our slide decks. Everything we hear from our readers informs our work and gives us ideas for new research projects, new publishing and new conference presentations. So think about it...
---> Really, what would you like to ask over 1 million international students?
By clicking on the Nafsa16 presentation slide download link above, you will have the opportunity to send us your questions. We promise to read every one!