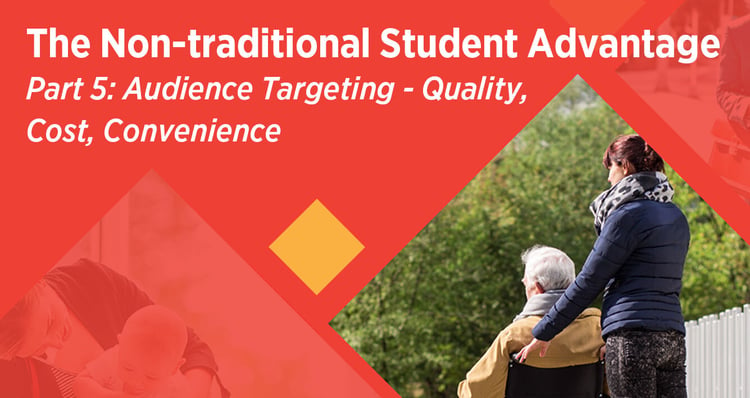 The non-traditional student can be anyone. To have one definition of a non-traditional learner would limit what we're trying to achieve. And trying to reach all of them is essentially like trying to boil the ocean. – Hillary Dostal, former director of global marketing, recruitment, and enrollment initiatives at Northeastern University
A 26-year-old who has just been laid off and seeks to complete a credential program and a 45-year-old stay-at-home mom thinking about a return to the workforce will respond to different messages communicated in different ways. These two prospects will be intrigued by selling points that speak to their own interests. They will prefer messaging written in different tones. They get their information through different channels. At their core, they have different wants, needs, concerns, and aspirations.
Still, both are terrific prospects for your institution.
This is part 5 in our 5-part blog series on reaching and enrolling non-traditional students. Find part 1, part 2, part 3, and part 4.
So, what to do? Get to know your individual audiences. Speak directly to them on their terms. This is how you convey truly compelling messaging. It doesn't require separate marketing initiatives per se, but it does require audience segmentation and very specific targeted messaging and execution.
Importantly, before you dive into the engagement piece, you'll want to be sure that what you have on offer will help these prospective students succeed.
---
This is a very insightful ebook. It underscores the importance of differentiating non-traditional students from traditional students throughout the pipeline–from marketing to student success and engagement. The section on conducting an effective marketing audit is a good conversation starter for strategic development conversations. The real-world insights make the book a unique and valuable resource. ~ Santhana Naidu, Vice President for Marketing and Communications at Rose-Hulman Institute of Technology
---
Done well, market segmentation enables you to create better-targeted content and helps ensure that you are spending your resources on initiatives that are the best fit for your institution. This marketing work is simply the organization of your potential students into groups by demographic, psychological, and behavioral characteristics. Segmentation allows you to decide which group represents the biggest opportunity for your institution. And by opportunity, we mean they will find success and their investment of time and money will pay off for them.
Make that group your target audience and create an offer that will appeal to them specifically.
Ready to learn how? Read on.
Choosing your best target market segments depends on the services you can provide. Your non-traditional program offerings will determine your audience. Which segments can you best serve? Veterans? Business professionals? Career changers? Underserved students? Tie your segmentation decisions to relevant services so that you can be sure to deliver on your marketing promises. Here's how:
Step 1. Look at your lead data. Who's accessing your website? And who's responding to your communications? What do they want to know? Which content areas (pages) capture their attention?
Step 2. Compare this data to your enrolled student data. Look for trends in who you are converting from leads to actual enrollees. Do you notice that students with a certain academic profile seem to lose interest in your institution and do not follow through with an application? When do they lose interest? Are students from certain regions turning down offers of admission? What other trends do you see?
Take this further to an analysis of your current students. Which ones finish your programs and which ones are unable to progress? Is that something about them and their situation? Or is it due to a lack of support services from your institution?
Step 3. Consider your institutional assets. Once you have a good idea of what type of prospect is demonstrating interest in your institution and who is actually following through to enrollment and succeeding academically, think about what may be attracting or deterring students from your programs. Catch recent enrollees early with a survey or quick call to welcome them and ask a few key market research questions. Keep this inquiry simple and focus on insights that will inform your marketing decisions. Attempting a comprehensive market research effort will likely slow you down.
Important caveat: If you don't have any past data to inform your work and this is a brand new venture for your institution, an investment in a larger market research initiative will put you in a stronger position to achieve the growth outcomes that will justify the effort. Our team is ready when you are: info@intead.com.
Step 4. Create student personas. Armed with data and a good sense of your institutional strengths, you are ready to create personas – identifying those characteristics that typify larger groups. Developing personas can help you define your best prospects and tailor your communications. Note: personas should be based on the students you are already enrolling as well as those you would like to see more of.
Step 5. Cluster your leads into your persona groups. Your team will craft marketing messages to your target groups. As your marketing team develops, launches, and tracks campaigns with dynamic ads and downloadable content, your personas will help them stay on message every time.
One of our most popular past blog posts gives you even more direction about audience segmentation. Find it here.
What non-traditional students really, really want
In thinking through your personas, keep your non-traditional students' desires and concerns in mind.
These likely include:
Affordability. Money matters. With rent or mortgages to pay, children or elderly parents so support, as well as other demands on their finances, non-traditional students will be carefully evaluating the price tag of their program of interest. Can they swing this expense? Even if so, what's the return on investment? And what are the financing options?
A new or better job after completion. Many non-traditional students are motivated by a desire for professional advancement. They want to feel confident that their educational investment will reap professional dividends. If you've got great job placement rates, let your prospects know.
Quality. An 18-year-old student out of high school might be impressed by a great campus meal plan, a flashy student center, the intramural basketball league, or Greek life. Non-traditional students may also appreciate some of these features, but they are likely to be more seriously focused on the quality of your programs, your strong employer connections, and the power of your alumni network.
Efficiency. Non-traditional students are more likely to be balancing education with competing family, work, and financial demands that differ from traditional students. They don't have time to waste. They want an application process that's clear and quick. And if there's a faster way to complete the degree, they're all ears. Credits earned for past work experience will be music to those ears!
A program focused on their objectives. Non-traditional students want a program targeted to their goals. What does this mean for you? If your programs require courses outside of the primary focus of the curriculum, think through how to best explain the rationale. Requirements that seem like pointless hoops to jump through may be a turnoff for these students.
Convenience. Make it clear that your institution understands that students have lives and commitments outside of school. Evening, weekend, and online courses can help non-traditional students to imagine how coursework may fit into their work and family lives.
I Want a Better Me
The non-traditional student segment encompasses a diverse group of learners. Yet, they all have one important trait in common. If you listen to these students describe their motives for pursuing their chosen educational path, you'll hear about driving forces as unique as they are. However, many of these motives can be boiled down into a common underlying theme: "I want a better me."
Your non-traditional prospects know that education may be the best path to self-improvement. But unlike a traditional student who may look at college as the next step after high school, non-traditional students are likely to be more critical consumers in evaluating the pros and cons of their educational investment.
That's why taking measures to really understand these students, their motivations, challenges, and mindsets is key. They are a discerning, sometimes elusive group, but they are also a segment that is growing at a time when the traditional group is not.
If you are looking to develop a complete enrollment strategy for recruiting non-traditional students, be in touch.
And grab our non-traditional student recruitment ebook. Click HERE. Two versions available with 9 case studies. The complete version available to Intead Plus subscribers provides a sample marketing plan, student personas, and more.