In our previous blog, we introduced you to student enrollment trends in Japan. In this post we would like to give you a summary on the digital marketing environment which will make it possible for your institution to reach Japanese students more easily.


Technology and a Mixed Culture Country

Japan has always been among the world's most technologically advanced countries. Japan is one of the few countries that has managed to maintain domestic social networks like Mixi and LINE, but, at the same time, the Japanese have embraced international social networks such as Facebook and Twitter.

Japan is the 4th largest Internet population in the world after China, the US and India. The penetration rate of Internet is 79.5% in Japan, meaning that 96 million people use the Internet in their daily lives. Smart phone usage is 52.8% of the population. The increase in smart phone usage is one of the factors that has better connected Japanese people with the Internet. Smart phones are used for texting, and connecting to social media as a communication tool. The following figure shows social media usage.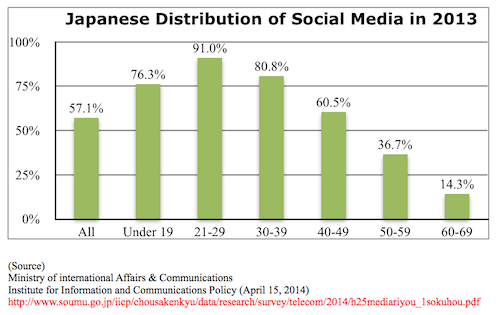 Japanese Social Media

Which social media platforms are popular in Japan? Across all age groups, the breakdown in social media platform usage is: LINE (47.6%). Twitter (41.9%), Facebook (39.9%) and Mixi (19.7%) are continued.

Line
Line launched in 2011 by NHN Japan, the Japanese arm of Naver Corporation based in South Korea. It began as an Internet-based resource to communicate, a response to The Great East Japan Earthquake which damaged telecommunication infrastructures nationwide in March 2011. LINE is a mobile messaging application similar to Whats-App, Viber, Kakao Talk and WeChat. It is more of an instant messaging application than a traditional social network. Users exchange text messages, graphics, video and audio media, and make free calls. It has 400 million registered users in the world, and 50 million of those users are in Japan.

Twitter
Twitter launched its Japanese version in 2008. Japan has 30 million Twitter users, and the number is the world's 3rd largest distribution after the US and Brazil. One of the best about Twitter is the ability it gives its users to remain anonymous online. This privacy is highly valued by the Japanese.

Facebook
The number of Facebook active users reached up to 22 million in Japan. Many Japanese were hesitant to join Facebook due to "the real name registration policy," but Facebook is well known because of the movie "The Social Network" and the increase of smart phones. In addition, people became conscious of being able to easily connect with friends and family after The Great East Japan Earthquake in March 2011. This factor is considered to be the cause of the sharp number increase in Facebook usage.

Mixi
Mixi was founded in 2004, and, at one time, was the biggest social network in Japan. Membership used to be by invitation only; this system was abolished in March 2010. Mixi became the leading social network platform because it is based on a private network with online pseudonyms. Mixi provides users with their own page, where they can blog, share photos, and form communities. The features are similar to MySpace and Facebook.

The platform had 5 million users in 2006, exceeded 10 million users in 2007 and recorded more than 20 million users between 2010 and 2011. But in the most recent time period Mixi saw a decrease in user rates. Interestingly they saw an increase in the number of users accessing Mixi via smart phone. User numbers are decreasing due to frequent functional changes that confused users. In addition, other social media platforms became popular like LINE, Facebook, and Twitter. Mixi has started to strengthen social mobile gaming platforms such as GREE and Mobage.

Users of Google+, LinkedIn, Tumbler, Instagram and Pinterest are increasing among the young generation, and they are used in business situations as well.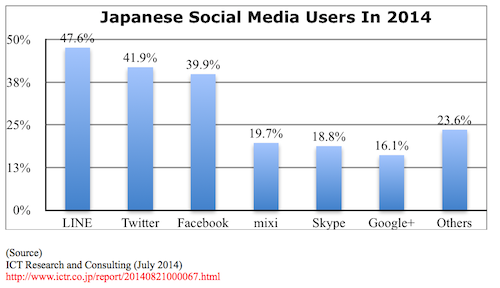 Social Media in the University Environment

Most Japanese universities have their own Facebook page. It's not only for current students but also for prospective students and alumni to receive news and information. Some universities create Facebook pages specifically for prospective students and admitted students to help decrease anxiety over the admission process.

Japanese students presently tend to use social media for job hunting. According to research conducted by Recruit, 43.1% of upper level students use social media to learn about companies. As mentioned above, Facebook and Twitter are the top two most popular communication platforms. Students try to find prospective job opportunities from their university page on Facebook, and make appointments after research. Students often check other students' job hunting posts on Twitter. Companies also use social media to announce job fairs and application requirements. There are more students and companies using social media every year.


Search Engine Market Share

Although Google has continued to lead worldwide as the most used search engine, Yahoo! Japan has a bigger distribution in the Japanese market. Actually Yahoo! Japan has used Google's technology for search engine functionality since 2010, so there is little difference between them. Then, why is Yahoo! Japan more popular than Google? One of the reasons is that Yahoo! Japan has a better layout that appeals to the Japanese user. Once people visit the Yahoo! Japan top page, they can click and check the latest news, classified advertisements, online shopping, auctions, email and so on. Japanese people tend to use the Internet for entertainment. However, in the last period Google's market share has grown.


We will continue to provide you, our loyal readers, with country specific information to aid in your international student recruitment efforts. If you have anything to share about experiences recruiting in Japan, please do so in the comments. Nothing makes us happier than hearing from you!