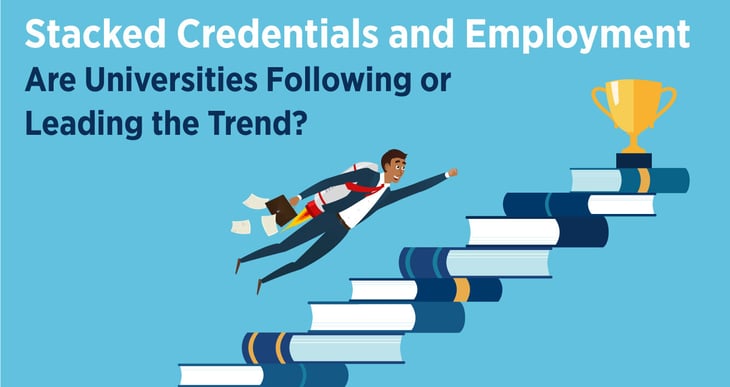 Your enrollment team is furtively evaluating fast-track routes students can take to achieve career growth. How can we promote a new product that clearly has growing demand when its consumer adoption will reduce demand for our primary revenue source?
With rising tuition (a 30-year drumbeat on that one), and fewer traditional aged students in the pipeline, the pressure to produce new revenue is intense. Repackaging what you already produce in new, bite-size chunks makes so much sense to everyone, right?
Credentials in new formats is not new to the scene, but student adoption is growing in large part because employers have woken up to their value. The Intead team did research on graduate level certificates six years ago for one of our top 50 US institution clients and found global employers were still evaluating whether a certificate was as valuable as a full MBA. Employers were not familiar with the new credential and what it would deliver. In 2023, employers in a highly turbulent job market and in need of talent, have decided. Certificates and stackable credentials work just fine. Let's GO!
And you are in a position to do something about it.
Data from a relatively recent RAND Corporation report Stackable Credential Pipelines, Evidence on Programs and Earnings Outcomes gives us concrete evidence of value and the direction things are going.
In brief, RAND Corporation partnered with the Ohio Department of Higher Education to build a better understanding of how stackable credential pipelines have played a role in the education and training of individuals in Ohio, a state that has taken a leadership role in developing these types of initiatives. The report itself focuses on three fields: health care, manufacturing and engineering technology (MET), and information technology (IT). There's a lot of good stuff to glean from the report. We were particularly keen on the ROI data (aka job growth). That is, after all, the name of the game for the vast majority of prospective students these days.
Your traditional revenue stream is taking a hit already. Demand for short-term credentials will continue to grow. If your institution does not develop strength in this educational opportunity, your competitors will (or already have).
It's time to align your internal team around this and convince those holding you back. Time is running out. Read on for 4 key takeaways on what the RAND Corporation report has to say about student ROI tied to shorter-term stackable credentials. (You'll especially appreciate takeaway number 3!!!)
The RAND Corporation report (find it in full here) hones in on stackable credentials. We think the insights here are relevant to the broader conversations so many public and private institutions are having right now. Whether or not the time is right for your institution to add shorter-term options to your programming, well, we can't say (but we really think the answer is a solid YES!). What we will tell you is it shouldn't be out of the question. And, should you need help having that discussion, be in touch. We can help your team develop an entrepreneurial approach and effective marketing plan.
In the meantime, here are a few notes from the report that we think will be of interest.
Takeaway #1: There's more than one way to stack a credential.
Generally speaking, stackable credentials are a sequence of credentials that can bolster an individual's qualifications to help them advance their career to different and potentially higher-paying jobs. These can include degrees, certificates, licenses, and the like. A core feature of stackable credential programs, per the report, is that two or more credentials have shared coursework, so that students are making progress toward multiple credentials simultaneously.
The report details two types of stacking:
Progressive/vertical stacking allows individuals to start with a certificate and go on to stack credentials up to the degree level, or allows individuals to start with a noncredit certificate and go on to stack to any credit-bearing certificate or degree.
Independent/horizontal stacking allows students to stack credentials at the same level, earning either multiple non-credit certificates or multiple credit-bearing certificates.
Takeaway #2: Credentials led to higher long-term earnings, especially in the health care and MET sectors. For IT students, 2+ credentials were needed to up income.
The researchers found that, on average, individuals who earned a postsecondary certificate in Ohio saw a 16% increase in earnings. And individuals who stacked multiple credentials saw a 37% increase in earnings (translation: ≅ $9,000 more annually). Not bad.
The most significant uptick in income was experienced by people who earned health care certificates. These certificate earners saw a 19% increase in earnings after completing one certificate and a 46% increase from stacking. A highly promotable ROI!
MET certificate earners also fared well, gaining 8% from the first certificate and 20% from stacking. Another interest-piquing ROI for career-minded students.
Interesting to note, a singular IT certificate yielded an estimate too small to be statistically significant, so no gains. But, stacking credentials following an IT certificate resulted in a 15% overall increase in earnings for those learners. Apparently, IT employers seek a deeper level of knowledge before they see value.
Looking at the numbers from another way reveals that overall long-term certificates (those requiring one or more years of full-time enrollment) yield higher returns than short-term certificates (those requiring less than one year of full-time enrollment). OTC (Ohio Technical Centers) certificate-earners who went on to stack saw no additional earnings gains beyond those from the initial certificate.
Takeaway #3: Students who went on to earn a degree saw even higher returns.
Here's the enrollment leader's north star for aligning the team around growth opportunities: short-term credentialing is not the death of 2- and 4-year degrees. Quite the opposite. For many students, they are part of the journey toward a degree. For you, a potential gateway to new students.
In fact, certificate earners who went on to earn a degree got a higher ROI. Case in point, in the health care category among those who went on to earn a degree, researchers saw returns of 36% for short-term certificate earners and 88% (!) for long-term certificate earners. Stacking to the degree level versus certificates alone also generated higher returns for MET and IT certificate-earners, though in those fields, additional certificates led to very small or no increases in wages.
Takeaway #4: Women certificate earners accrued larger returns than men.
This is true whether looking at the ROI of a first certificate or multiple, with a 47% overall increase in earnings for women who stack versus a 22% increase for men. The overall return from stacking was also much larger for individuals who earned a certificate under the age of 25 (53%) than for adult learners (31%). Further, the overall returns from stacking were higher for white students (38%) than for black students (30%). Hispanic students saw larger gains from the initial certificate than either white or black students, and similar returns from stacking to white students. Employers have some internal work to do here.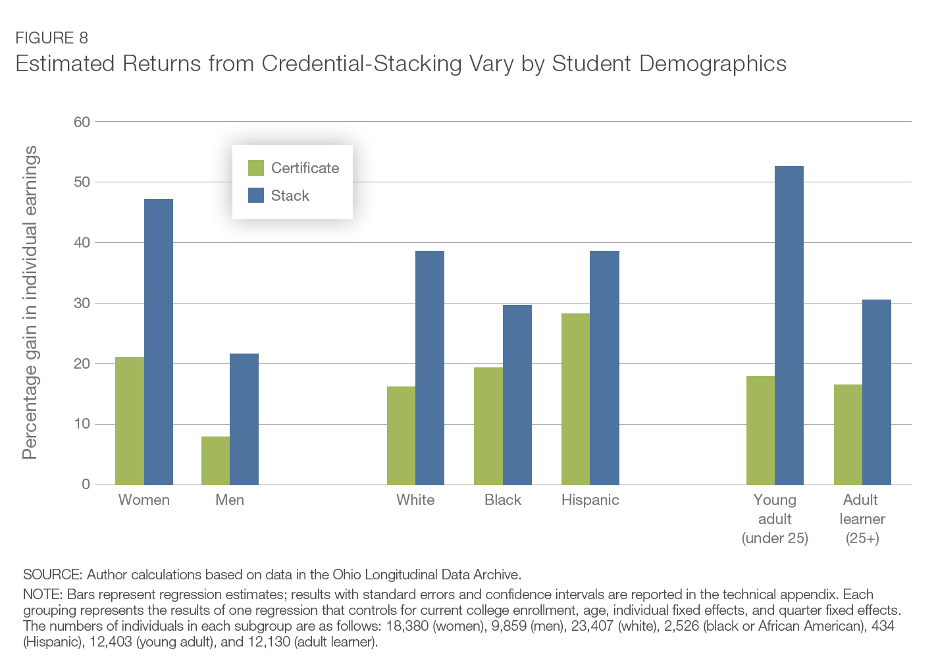 From our vantage point, credential programs have a tremendous upside for students and institutions. And the fast-pace of the information age, and changing employer needs, is only making these types of programs more popular, and more necessary. Where does your institution fit into the discussion? How do you align your leadership and team on this growth opportunity. It's time to figure that out.