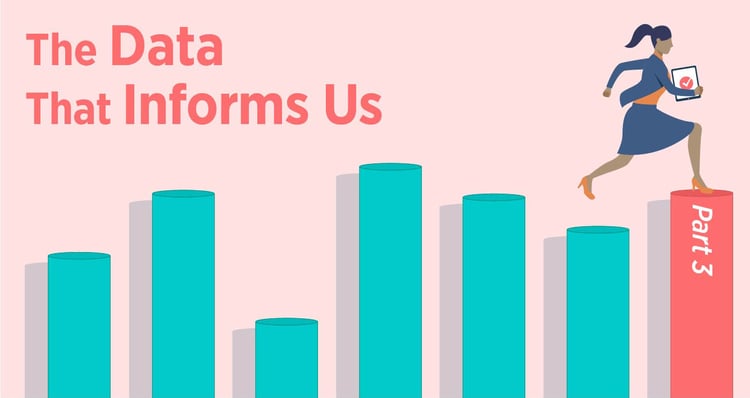 Today we ask, "Right, what about international"?
Honestly, don't even think about skipping this post. Long because: worth it.
With schools now publishing their actual fall 2020 international enrollment numbers, the proof is in the pudding for many.
Recent survey data offered up by Inside Higher Ed tell us fewer institutions are planning to recruit international students this cycle. While they might rightfully point to the market turmoil, travel restrictions and the like, the underlying concern for many, from our point of view, is a lack of confidence in what the institution has to offer.
So, where is the opportunity for international? The good news: student desire springs eternal. Below we consider recent SEVIS data and data on India, Nepal and China that point the way forward.
Speaking of the way forward, ever notice that those who anticipate opportunity and plan for it are in a vastly better position to capitalize? The opposite is also true. Fear of the future and planning for scarcity perpetuate the same.
To put it simply, you can't harvest crops if you don't plant seeds.
And yet, this perspective shared by an SIO of an important US public university in one of our recent email exchanges: Public universities always have their speed set to "caution". When universities deal with a complex or unprecedented situation, they switch gears to "Halt". If they are scared, they engage the public university turbo, a button that reads "Ignore".
This scenario gives the proactive the opportunity to take tremendous leaps forward. So few take this opportunity.
The past two posts in this three-part series largely focused on the data that points to opportunities for domestic student enrollment growth and what to do next. Now, in Part 3, we speak to yet another student segment everyone is scratching their heads about.
Coming next week, more discussion about the latest research on Gen Z and their preferences to help reduce the head scratching about domestic student enrollment plans. Stay tuned for that.
Now, Part 3, what can we offer to international students to overcome the obstacles to enrollment?
The reality: managing international enrollment in the near term is going to be an uphill climb, especially if your institution was slow to develop a robust and flexible remote learning pathway for students throughout the spring and summer. Your plans now (seed planting) will set you up for future harvests as international students continue to seek education and adventure. They won't be stopped, even if they are slowed. Know that we're just a call away if you want help making those plans data driven and successful.
Note: if you're still struggling with the faculty and student processes and fostering engagement, read our earlier post on global turnkey campuses for a clear path to flexible opportunities. Take steps to salvage the spring enrollment numbers within the next few weeks. We have a plan and examples from the 8 universities that innovated and are now reaping the benefits.
Read on as we dive into the latest international student data and what it means for your 2021 enrollment marketing strategy and beyond.
As a quick recap, in Part 1, we discussed the latest enrollment figures from the National Student Clearinghouse Research Center (NSCRC). In Part 2, we offered our strategic recommendations for how to make up those enrollment gaps with data on non-traditional students from the NSCRC. Plus we pointed to organizational skill gap research from McKinsey to help you promote the right programs.
Here's the good news: the value of and desire for a US or other international education options still endures for globally minded students. And yes, the doubts and obstacles have increased. Your mission? Make sure these students can see your bright shining light at the end of this long, winding pandemic tunnel.
According to the recently released Inside Higher Ed survey of 433 admissions leaders, 31% said they would be focusing on international vs. 45% last year. Where will they focus instead? Non-traditional students in all their many forms (including online students). No surprise to our regular blog readers. Those dropping out of the international recruitment scene leave huge opportunities for those that remain.
A Pre-COVID International Student Snapshot
Earlier in September, The Student and Exchange Visitor Program (SEVP) released its annual report, SEVIS By The Numbers, highlighting key student trends from the US Student and Exchange Visitor Information System in 2019. Here's where F-1 and M-1 student records stood in the calendar year 2019:
Total active F-1 and M-1 students: 1,523,758 (-1.7% to last year)
Top continent of origin: Asia (1,137,419 student records, -2.4% to last year)
Top source countries: China (474,497), India (249,221), and South Korea (84,071) – all three saw a decrease in student records from last year.
Regions showing international student growth: South America (+0.03%) Africa (+0.44%), and Australia and the Pacific Islands (+1.10%).
Despite the slight growth in South America, Africa, and Australia and the Pacific Islands, there are a lot of negative signs in front of those 2019 percentages. If you've been following international enrollment trends over the last few years (and all the clickbait headlines), that decline shouldn't come as a major shock. But what will the pandemic mean for these recent international market developments? Further declines?
In the near term, yes. Many institutions are already living through that reality this fall. But there are encouraging signs for the long-term. And this is important: For those institutions lagging behind in systems that can produce new international student enrollment, this phase is the time to make the investment and catch up to competitors. Primarily, think website navigation, content upgrades and digital marketing capability improvements (tracking and CRM lead flow). It is the rare institution, regardless of rank, that has this stuff set up well.
India & Nepal – An Optimistic Outlook
A recent survey of 2,252 high school students from India and Nepal conducted by the IC3 Institute between June and July 2020 found that despite the disruptions caused by the pandemic, 73% of students still plan to attend higher education, with 29% planning to study abroad in the immediate future. We consistently see demonstrated desire within our target populations.
When it came to their reasons for studying abroad, quality of teaching was a top factor affecting students' destination choice, with 81% of students reporting it as "Very Important" to their decision. Other factors rated "Very Important" in students' decisions included:
Affordability: 58%
Opportunities available after studying, including work: 52%
Number of high-ranked universities: 43%
When it came to reasons that students would choose NOT to study in a specific destination, "concern about personal safety and gun violence" was the top factor, with 62% of respondents reporting that it was "Very Important." Other factors rated "Very Important" in considerations to NOT select a specific destination included:
Concern about high crime rates: 57%
Concern about racist attacks: 54%
Unfavorable immigration policy: 53.5%
While IC3 anticipated a decline in US interest given recent developments in safety concerns and anti-immigration rhetoric and policy, the results of their survey showed otherwise — 75% of students still selected the US as their top destination of interest for studying abroad (followed by the UK at 67% and Canada at 64%.)
Another survey of 615 prospective international students from over 10 countries conducted this spring by the World Education Services (WES) produced a similar finding — 67% of their students surveyed reported that the pandemic has had no impact on their interest in studying in the US. Findings of this survey regarding the Indian student market were also consistent with the IC3 survey, with 74% of Indian students reporting that COVID-19 has had no impact on their interest in studying in the US.
What About China?
Early student responses and enrollment signals from the Chinese student market paint a slightly less rosy picture, with 41% of Chinese student respondents of the WES survey reporting that COVID-19 has made them less interested in studying in the US.
However, COVID alone is not to blame. Speaking to USA Today, Theo Kang, the co-founder of Lighthouse Academy, a Beijing-based consulting agency, noted that since April, both Chinese parents and students' concerns around US-based study have centered around "two major factors. One is the current intense China-U.S. relationship, and another is the safety concerns."
These concerns include widespread reports of shootings and the growth of anti-Chinese xenophobia (see the latest efforts to ban WeChat and TikTok from the White House).
Back in March, 76% of institutions surveyed by IIE reported that their Chinese outreach and recruitment had been disrupted by COVID-19. A further 20% reported that they had no plans for alternative recruitment plans for the Chinese market. It's time to make that plan. (Note to digital marketing team: there are new, cost-effective opportunities for paid search marketing on Baidu that were previously unattractive).
What this means for your marketing and messaging:
Set your institution up for future success because you won't have a lull like this in the future. You won't have time to take stock and make your marketing infrastructure work smoothly together. Consider the following:
Be welcoming: concerns about safety and xenophobia are top of mind for international students at the moment. Lead with "You are Welcome Here" messaging and demonstrate it with short video. Highlight public safety and student support services. Make sure parents are included in the conversation, too.
Get specific: focus exclusively on high demand programs that the job market wants.
Quality, branding are key: international perceptions around the caliber of a US education endure. Lean into your institution's brand value right now. Highlight press coverage and awards, as well as the great work of your professors and staff. Give us a call if you need some help articulating that value.
In-country offerings are valuable: from the WES survey back in April, nearly a third of prospective international students stated they would not enroll if classes were online only. While some early enrollment numbers are showing that they did indeed act on that sentiment, that is not true across the board. In fact, The University of Illinois, Urbana-Champaign saw a 9% increase in new freshmen from China this fall, with most participating in online offerings and the university's in-country academic bridge program. Remember those global turnkey campuses? We can help you build relationships with your students who might not be able to reach you with the full academic experience in the near term.
Finally, keep your eyes on the future: in times of uncertainty, build in flexibility so you can pivot as opportunities arise. Ever the optimists, your international students are still excited about an international education, and yes, still in the US. Keep them dreaming (and aware of you). Provide them with the expectation of future on-campus learning and work with them to create a strong contingency plan for remote learning in the uncertain near term.
All of this is doable. Let us know if we can help you implement.
And congrats on getting to the end of that post ; -)