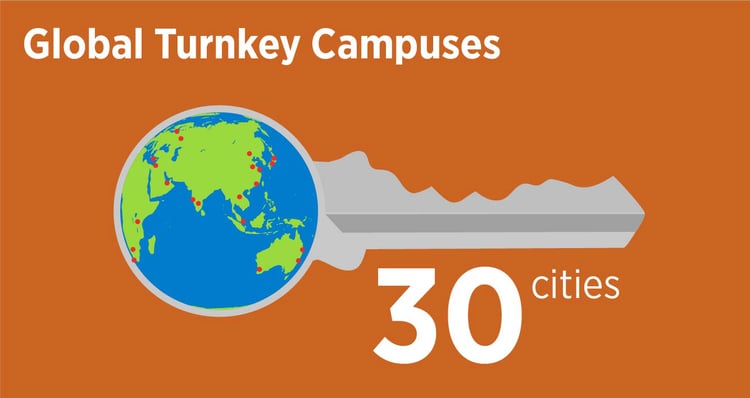 In our conversations with students, we hear a clamoring for certainty.
We're betting you hear it too. Stick with us here, we've got two solid options to present to you. Doing this right will get your current and prospective students singing your praises all over the internet.
The set up: we can see already that the larger mechanisms for fall enrollment – from visa processing to so many other factors – are delayed at best. Intead is talking to a number of institutions that understand our new realities and are taking their student first philosophies to a new level.
In hearing from university presidents about all of the very real administrative machinations that make our new abnormal SO incredibly challenging for institutions, some are saying, "That's not your problem, its ours."
That right there is innovation speaking. That is institutional leaders understanding why they have their jobs in the first place.
The opposite is also happening. Telling your students (domestic or international) to "wait and see" is not putting your students first and it is not a competitive advantage.
Institutions explaining why they cannot meet students' (and families') demands for certainty because of cumbersome internal bureaucracies and systems, well, those institutions will reap what they sow. In this crisis, the nimble (or rich) survive.
Giving students concrete options to move forward right now is where you want to be. Acting now to offer a clear plan for students to maintain their track toward graduation and do more than remote learning programs will cement more of your student relationships for the next four years.
Read on for two specific paths that will serve your international and domestic students in ways that will preserve their graduation timetable and your tuition revenue stream.
Approach #1: Turnkey Campuses in 30 Major Cities Around the World
Intead is working with CIEE to salvage international student enrollment numbers for a range of institutions this fall.
The opportunity: offer your academic program face-to-face on a CIEE campus in Beijing, Shanghai, Mumbai, Hyderabad, Seoul, Toronto and 24 other cities around the world.
Learn more about the options HERE. The super short version is this:
Your Students, Your Courses, CIEE Campus
Your Students, CIEE Courses, CIEE Campus
CIEE has a 70-year history of providing these kinds of programs and has adapted quickly to the new realities we all face. Their campuses offer all the student services and activities, the full academic experience. So, when your students can't get to you (think Chinese students who cannot get to the US but are able to get to Shanghai or Beijing), you can still deliver your program to them.
Maintain enrollment numbers and a tuition revenue stream that so many institutions are in danger of losing. Time is limited to set up a Fall 2020 or Spring 2021 program. Let us know if you would like to evaluate the options together. It is a highly flexible opportunity for the nimble.
Approach #2: Honor Your Students' Independent Streaks
If you missed our post from a couple weeks ago about maintaining revenue streams, and you've not seen the spiking Google Search Trend for gap year programs, then we think you've missed some really important enrollment marketing reading.
In our conversations with students, domestic and international, we are hearing the terms gap year, defer and online internship again and again. These are incredibly common conversations right now. You can give them what they want in a way that will inspire them to be their best selves.
Your existing guidelines for students to create an independent study course supported by faculty are incredibly powerful right now. Let those engineering, artistic, political science, and business minds take on the world and define their own learning for a semester or a year.
Your students will be responsible for the plan and your faculty will evaluate and guide along the way. Give the students the challenge and the autonomy to figure this out. This post offers more suggestions about incorporating regional alumni, industry leaders, employers, other partners, and the social elements that can add value to your students' experiences.
You define the road map. The students choose the road they want to follow and fill the car with gas.
Importantly, do not refer to these options as "distance" or "online" learning. That really does not resonate with your audience. Talk about gap year learning and staying on course to complete their degrees on schedule.
Your Message to Students: We are here to support you and cheer you on.
Our Message to You: There is so much anxiety and disappointment out there. As much as your prospective domestic students want to move forward, their family economic situation is shaky at best and getting worse. And your international students, always the seekers and optimists, have yet to fully grasp how hard it will be to move toward their go abroad dreams.
How you communicate with your current and prospective students can make your institution into the hero it aspires to be. Done right, your students will become cheerleaders for you.
Be in touch. We can help you implement all of this.