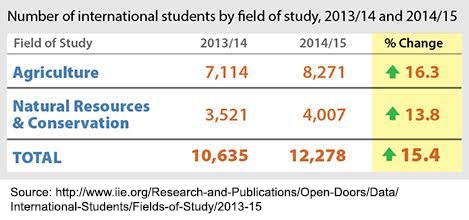 The heart of America seems to be catching the hearts of more prospective international students. A blog we published in 2013 highlighted the fact that Ohio universities have been growing their international student population twice as fast as California or New York universities for the four years prior to the article. (There's some good data there; that blog post is worth a look.)
Since then, many Midwest institutions are stepping up their investment in world class international recruiting efforts that focus on core differentiators: affordable tuition and living costs, great international student services, a perception of a "safer" environment and American students who speak English without an accent (yes, that is a selling point).
So here's the pro tip: universities in the middle of the country interested in attracting international students need to play up the academic programs that make them strong and different and not always go head-to-head with competitors on the coasts where touting business and engineering is always the thing. Consider agribusiness and water/environmental science. Why, you ask? Emily is about to take us through the rationale — and the data tells the story. With so much to consider, I hope you know that we are here to help you figure all this stuff out.
Which Midwestern states are doing the best job of bringing international students to their campuses? Illinois, Ohio, Michigan and Indiana all make the list of top 10 universities pulling international students, according to a CBS News report published in November 2012.
As we mentioned in our 2013 blog post, universities in the Midwest are stepping up their recruiting efforts in big ways. Ohio is leading the pack in growth. Overall, The International Institute of Education (IIE) reports a 10% increase in international student enrollment in the U.S. in 2015. In 2012, Ohio, as a state, had the 8th largest international student population while Ohio State University had the 14th largest international enrollment in the entire country just last year.
But it's not just Ohio. Seven universities in the top 20 are in the middle of the country. If you add Texas and Arizona to the set of "Midwest" institutions, fully half of the top 20 are not on either coast.
The growth trend continues overall for select Midwestern universities.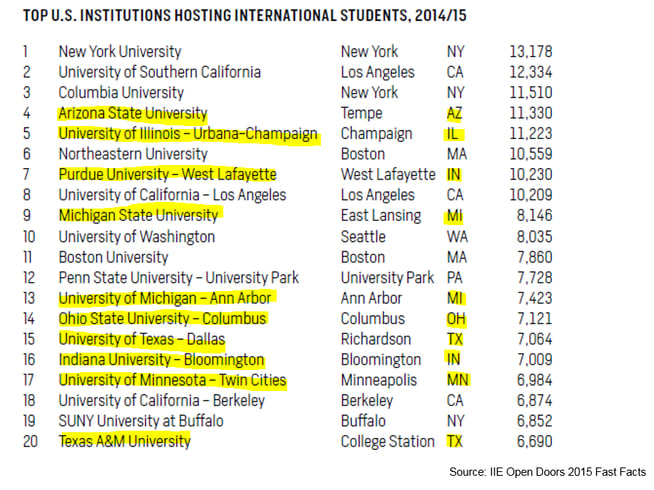 And we love this map from the Integrated Postsecondary Education Data System (IPEDS) from the National Center for Education Statistics. The 25 U.S. institutions with the most international undergraduates in academic year 2013/14: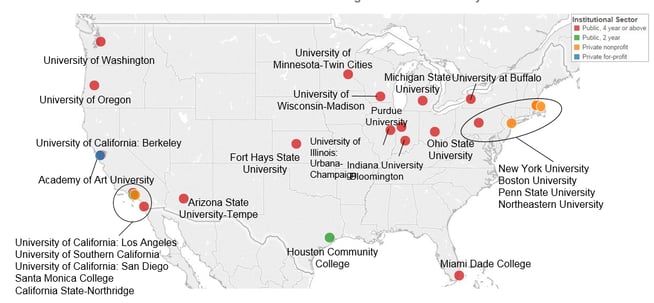 Clearly understanding the source countries and the academic programs that most interest students from those countries is imperative to your recruiting efforts. Seems obvious, but how many institutions take time to really analyze this stuff while considering student mobility trend data?
Diversifying your recruitment sources will help you address the risks inherent to recruiting internationally – the potential for economic, political and other uncontrollable factors to reduce your draw from a single source country or an entire region.
Another shift in thinking that could help the Midwest attract more attention from the international student pool is the growing concern for environmental issues. Governments around the world are focused on issues of climate change and how food and water resources will be managed in the future. Population growth and migration patterns are going to continue to stress world-wide supplies. This area of research and business is creating new and important careers now and will increasingly do so in the years ahead.
Recent research by IIE found that there is growing interest in agriculture programs at the university level. In fact, agriculture was the third fastest growing field of study in 2015. While the total number of international students enrolled in agricultural programs is still far lower than those going into business and engineering, a 15.4% growth rate from the 2013/2014 school year to the 2014/2015 school year puts agriculture on the map.

Source: http://www.iie.org/Research-and-Publications/Open-Doors/Data/International-Students/Fields-of-Study/2013-15
Are our Midwestern universities listening? Got any strong and globally desirable academic programs that big city coastal institutions do not…? Can you differentiate?
There are clear opportunities awaiting those institutions that spend the time studying the data available internally – international student trends within your institution and data available externally – the mountain of data available online from key, highly credible sources.
Let's not forget the international student perspective in all of this.
International students' impressions of the Midwest are the driving factors for enrollment and how you shape those impressions is what marketing is all about.
Brazilian, Bruno Barbosa wrote an article for WES Student Advisor about his experiences at the University of Indianapolis. In particular, he saw six advantages to studying in the Midwest, including:
Having a healthy and balanced lifestyle

Lower cost of living

Feeling safe in your neighborhood

Opportunities to improve your English

Being immersed in American culture

Internship and work opportunities.
Barbosa mentions things like the lack of traffic and plenty of activities that keep him busy. He thinks the slower pace of life makes it easier to keep up with his studies and extracurricular activities, while balancing these commitments with his social life. Safety is key, especially for parents whose children are living and studying so far from home.
Affordability is not all about tuition.
Barbosa mentions how cost of living in Indiana can help the students impacted by poor currency conversions. Many other sources attribute international students' attraction to the Midwest to affordability. CNBC's research on states with low living costs puts Indiana, Michigan, Kansas and Nebraska in the top 10 of lowest cost of living states. That is a far cry from California and New York, two states with the highest population of international students, but also two of the most expensive markets in the country. Cost is definitely a competitive factor.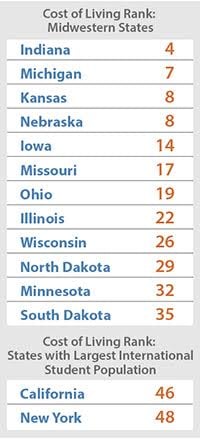 The Midwest is truly making an impression on international students as a friendly, affordable and practical destination for international students. As you hone your international recruiting efforts to focus on your strongest differentiators, you will be in a better position vis-a-vis your competitors.
International students are applying to 8 or more US institutions and receiving between 3 and 6 acceptance letters on average. If you are not making your strongest case to them, why would they choose you over other options?
One last IIE stat and you can get back to work already (we know this is a long post, even for us ;-) ... fully 1/3 of US institutions experienced declining international student enrollment between 2009-2013. That's produced some pain on those campuses. With the total number of international students coming to the US continuing to rise dramatically each year, America's middle states have a lot to offer. Some of their prized institutions are investing effectively to let the rest of the world know about it.
Are you?