We've been reflecting on all we learned at NACAC 2017 and everyone we met in the Exhibitor Hall. It seems that things keep circling back to a marketing strategy that appeals to us—and one that is still developing and is prompting puzzled looks from some of our clients and connections. "How do we incorporate and manage SMS texting in our student recruiting strategy?"
As an initial primer, below we review some of the challenges and rewards of SMS marketing, and we evaluate just a few of the many partners available to help your institution use emerging and trending SMS tools. Trust us, the SMS space is growing.
But this post is just the beginning. Like so many of the emerging technology tools over the past decade, we can't stop there. We'll be publishing an SMS marketing guide and review of vendors in the SMS marketing platform space. You, as our loyal blog subscribers, will be the first to get it! Bonus, right?
Before we give you some initial SMS perspective so you can start doing a great job with this important marketing option, we invite you to meet us at any of our upcoming conference presentations. We will be presenting global digital marketing insights in Princeton, NJ at NAFSA Region X, October 23-25. We will be in Weston, FL at the 9th Annual AIRC Conference, December 6-9 and in Miami Beach, FL at the ICEF Workshop, December 11-13. Reach out to us for a cup of coffee and a conversation! We always love to connect.
Read on for some help developing your SMS student marketing plan.
Why SMS Marketing? A Case Study: St. Mary's University
To get started, our current favorite example of (domestic) SMS marketing in action is from St. Mary's University in Texas. This article from Higher Education Marketing details the results of St. Mary's using SMS to implement a voluntary student opt-in text messaging program for "meaningful messages" and "information you want."
Once prospective students opt in by sharing their cell phone #, they receive texts messages targeted to their position in the enrollment funnel. This program saw great success at the University—30.8% of students in the SMS program submitted an application, compared to just 10.9% of all prospective student leads, and yield among those receiving text messages who paid a deposit was 16% higher than all other prospective student leads (42% compared to 26%).
The big take-away for us is the ability of your admissions team to better predict student enrollment (actual yield). Beyond improving your enrollment numbers (an important outcome in itself), consider being able to predict more accurately the number of students who will show up for housing and classes!
Examples of text messages at different points in the enrollment funnel. Note the consistent use of incentives driving recipients to clickable links.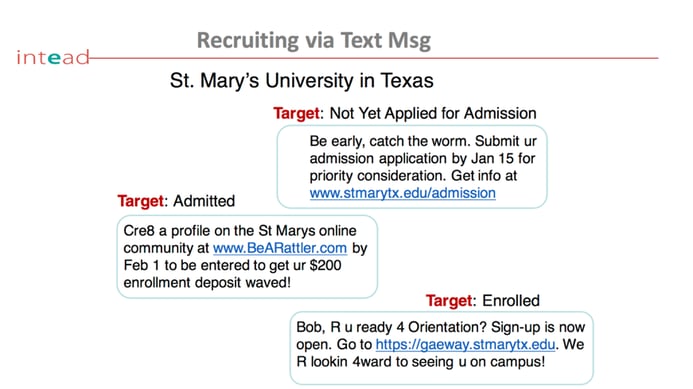 But what about International? Oh, the challenges!
As with everything, it gets more complicated with international marketing. Working with a third-party platform can help you navigate issues of compliance and cost in the international arena. Implementing a system that functions well with your existing CRM can decrease legwork and smooth the process of ongoing coordination and tracking. If only such a comprehensive platform existed.
The services we've seen are trying to develop global marketing opportunities. Different countries/regions have different requirements for opt-in and customer information retention. Then there is the challenge of managing time zones when distributing your messages. Oh, and navigating the many different fee arrangements countries have for receiving texts. All of these factors make international SMS marketing more challenging. From the conversations we've had, we predict real progress in this space over the next 12 months.
As we always reinforce in international marketing, and with SMS marketing it is still critical, you must be able to segment your audience. You do not want to fall into the trap of lumping all of your non-US prospective students into one category called "international." Any SMS marketing platform must allow you to segment your leads.
Targeted messaging that addresses the needs and desires of your specific audience segments will get you much further than a generic note—yes, even in just a short SMS message. You'll want to segment by country of origin and point in the enrollment funnel. Guide your leads through the process with relevant, appealing information. Just like you do in the rest of your marketing strategies.
Working with SMS Marketing Services
There are so many service providers and partners to consider when implementing any portion of your marketing strategy. Many of the SMS marketing services are relatively new to this work and their platforms are still relatively nascent - this is entirely understandable.
We met three SMS service providers at NACAC this year, that we believe may be worthy of your consideration depending on the unique goals of your institution.
TrueDialog API: SMS API that integrates with CRM platforms, effective for both recruitment and retention. We really liked these guys; they appear to know what they are doing and may have the experience to manage international marketing.
Mongoose: SMS Management platform designed to integrate into existing communications plans. Appears to be one of the biggest names in the field right now. Most of their work appears to be domestic at this point.
Student Vox: Focus on recruitment by connecting prospective students to your current students. A different, targeted approach to using SMS.

Most of their work appears to be domestic at this point.
Important Compliance Considerations
SMS marketing has some important compliance issues you need to consider. Before you start, you will want to be aware of:
Opt-In: Prospective students must knowingly opt into your text messaging program, before you send them any messages.
Opt-Out: Always allow prospective students the option to opt-out of receiving SMS messages.
Fees: Ensure that prospective students are aware of any messaging fees, even standard messaging and data rates.
Do you use SMS marketing to recruit students internationally? Domestically? What works for you? Let us know in the comments!