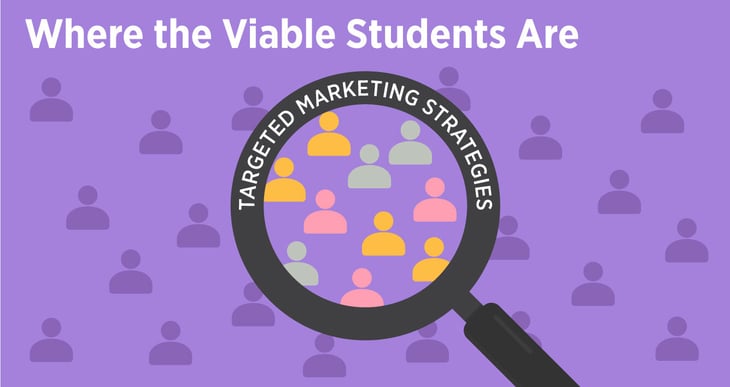 Reading Jon Boeckenstedt's piece "I've Worked in Admissions for 40 Years. It's More Stressful Than Ever," published last month in The Chronicle of Higher Education felt like a familiar conversation. It will help remind you that your admissions stressors are not yours alone; you're in good company. (Jon is vice provost for enrollment management at Oregon State University).
That article was a particularly apt read coming on the heels of the Association of Governing Boards (AGB) annual conference where university trustees and leadership gathered to discuss big industry issues (read Intead's key takeaways from that event here). These individuals were representing the other side of Boeckenstedt's coin.
On the one side is "The Number." Those enrollment targets or revenue figures that are at best daunting, at worst utterly unreasonable to actually meet. And these numbers seem to grow higher each year. On the other side of the coin are leadership's own goals – namely having to do with the very viability of the institution you're serving.
Truth is, there really is no toss-up. The coin lands leadership side up every time.
---
Heading To NAFSA 2023: Our presentation with SIO Paulo Zagalo-Melo (Western Michigan University) and Reporter Karin Fischer (Chronicle of Higher Ed) will be on Wed. May 31 at 9:30am. A reality check with the data that informs our student recruitment decisions. Hope you'll join us. Be in touch to meet with us during Nafsa: info@intead.com.
---
So, the churn continues. Your target numbers rise. You must be able to think quickly, act nimbly, and produce the enrollment results. This is where a good partner comes in (yes, shameless plug, but it's so true).
The way we see it, there are three pools of students that represent growth opportunities right now:
International students

Adult learners

Underprepared students
Read on for our quick perspective on these 3 pools and the unique approach needed for each to first, choose your campus, and second, to succeed there.
The traditional student market is slowing for U.S. institutions. If you want to hit "The Number," your recruitment strategy must incorporate strengthening market segments. If you want to read Jon's article, you can find it here.
Our take:
1. International Students
Global student mobility by some estimates will grow from roughly 6M today to 10M+ by 2030. Even if that is too optimistic, we are confident the figure will grow dramatically over the next 5+ years. Will you be in a position to tap this market?
Evaluate your international recruiting options. Sit down with your provost and review this chart and explanation. It will give your provost perspective on the various levers your institution can pull to achieve international recruiting goals. The Intead team has been asked to present this info at four different academic conferences in the last year.
Important to do the research to figure out which regions of the world, which countries, are going to be the best options for your institution (best opportunity for success at the lowest cost to entry). Audience segmentation is key.
2. Adult Learners
The numbers in the US (and globally) are going up as folks upskill. The new norm is that 20 somethings will have multiple jobs and even careers. That requires acquiring new skills, though not necessarily full degrees (see below). Our e-book on Recruiting Non-Traditional Students is your friend (9 relevant case studies from your peer institutions). The extended version contains a sample marketing plan and student personas (available to Intead Plus subscribers).
The adult learner population is broad, though ripe with prospects if you know who to target and how. The latest figures from National Student Clearinghouse tell us as of July 2021 there are 40.4M Some College, No Credential (SCNC) students in the U.S. This is up from 39M the year prior. It'll be up again next year. Reaching these and other adult learners requires very specific audience segmentation. They are young working professionals, working parents, military, SCNC students, among others. And, they require different approaches, different messaging, and different support services to help them succeed. The one constant: they see their role as student as secondary to their primary role, whatever that may be.

3. Underprepared Students
This group is out there and needs some convincing and financial support to take on more education beyond high school. But they are there. And they are worth considering. Serving this category is in line with most institutions' mission while presenting revenue challenges. Working with a CFO mindset and figuring out how various financing plans can serve both the mission and the enrollment growth (and revenue) goals will be key to success. Enrollment messaging here must address the personal hurdles this pool of students experience. Encouragement and real support systems to help them see and realize the opportunity will be required.
Broader Perspective
Each of these student pools needs different marketing strategies, messaging, and support services to enroll them and deliver student success outcomes. Is your institution designed to serve them and grow? (Hint: it requires an appetite for innovation and investment.)
You'll need the right team in place, and ask the right questions. Oh, and follow the data. Jon's blog is a great place for that.
Be in touch for a chat with the Intead team.