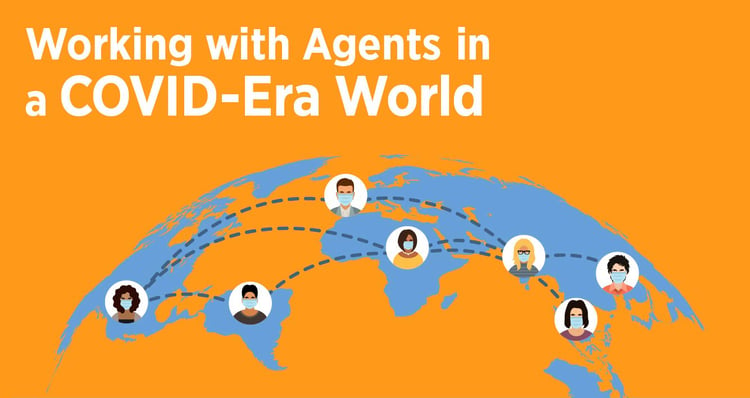 You didn't think we'd forget about student recruitment agents in our COVID blog coverage, did you?
A word to the wise: many of those institutions that have weathered the COVID-19 storm best made strategic investments in enrollment marketing during past downturns while competitors snoozed.
We know that agents are top of mind for many of our readers. Our post on how much to pay commission-based student recruiters was #1 in our top blog hits of last year and continues to inform those seeking perspective and justification. Our agent management eBook has been well read (downloaded) for years (thank you, AIRC!).
Recent surveys of education agencies around the world paint a clear picture. Agents have been hit by the pandemic. Hard.
From the Federation of Education and Language Consultant Associations (Felca): 46% of agents surveyed in a recent study reported a 90% drop in business between February and August of this year. Nearly a quarter reported a 100% drop.
Our university partners around the world are feeling this pain as well. The international student recruitment pathway that produced so many great applications has become a trickle or stopped completely.
Some leading agencies predict agent use will soar post-COVID as some institutions double down on their in-country strategy and others begin honing their agent channels to make up for lost opportunities in traditional international recruitment travel and student fairs. Take that with a grain of salt. The near-term future is still exceedingly ambiguous. Physical gathering (conferences and fairs) remain a desired state, not reality. International travel, well, when was the last time you took out your passport?
Though we aren't seeing the rebound we all want just yet, there are several indicators in the agent market that suggest the way forward. Agents have long been a reliable and valuable source of students (all caveats about vetting your agent network still apply. Thank you again, AIRC and ICEF!).
Read on for a look at the pandemic's impact on agents and what it means for your institution's international recruitment strategy going forward.
First of all, be sure you are registering for AIRC's Annual Conference (virtual this year: Nov 30 – Dec 11). This is the premier gathering for those interested in building and maintaining a strong, global agent network -- a great learning and sharing opportunity. Beyond the agent perspective and connections, the folks who attend this conference are some of the most globally knowledgeable anywhere and the international student recruiting information flow is hugely valuable.
Intead will be presenting sessions on:
Digital Campaigns that Diversify Your Draw
Dec 1 from 2:30-3:30pm (Eastern)
Discussing quick-hit digital marketing campaigns with colleagues George Kacenga, Executive Director of Undergraduate Admissions, Purdue University Northwest and Deborah Gavlik, Director of International Education, Sinclair Community College. Real results and benchmarks will be shared.
The New Fight for Onshore International Students
Dec 2 from 11:00 am - 12:00 pm (Eastern)
Discussing increasing competition for international transfer students already in country and the role of recruiting agencies with colleagues Jing Luan, Provost, San Mateo Colleges of Silicon Valley and Andrew Chen, CEO, WholeRen LLC.
The State of the Agent-Institution Relationship
"With enrolment numbers in a downward turn across the globe, agents are the first casualty of an unseen enemy, left with the responsibility of engaging students and keeping a pipeline of applications going," said M Square Media (MSM), a Canada-based agent services company in a recent article for The Pie.
MSM's latest survey of 395 education agents from 30 different cities around the world, produced a similar finding to those Felca numbers, with 85% of respondents reporting a loss of income since the pandemic started.
However, there is some good news as it relates to how agents perceive higher education institutions' responses to the pandemic: 90% of agents said that they are satisfied with how higher education institutions have responded.
Don't pat yourselves on the back quite yet, though. Respondents in the survey did suggest several areas for improvement in their agent-institution relationships (we'll get to those in a minute). And from anecdotal accounts of what we've been seeing elsewhere in the market, many agents were left out in the cold during the border-closures and program shutdowns of this spring and summer.
Case in point: a cautionary email from Turkey's Association of Study Abroad Counsellors, YEDAB, that arrived in our inboxes a few weeks ago.
According to YEDAB, some students and parents who were unable to secure refunds or receive communication from language schools and accommodations that stopped operations during the pandemic have issued serious complaints and begun to take legal actions against their agents. Serious stuff that underscores a Working with Agents 101 fundamental: communication is key.
While constant communication with agents has always been imperative (both for quality assurance and to ensure that your agents are effective, informed representatives of your institution), the ever-changing environment of COVID-19 has made that link even more imperative to preserve your student, parent, (and agent) relationships. You can see how you measure up to your peer institutions in those relationships in our Agent-University partnerships eBook (also referenced above in this post). Very valuable benchmarks there.
Resilience and Looking Ahead
Despite the obstacles and financial losses posed by the pandemic, agencies have continued to plow ahead. In the Felca survey, 72% of agents reported that they have continued to establish new partnerships this year despite the pandemic. A third even reported increased marketing spend this year.
Unsurprisingly, a need for more communication again came through in survey numbers: over half (52%) of agents said that they had increased their communications with clients throughout the pandemic, including an increased use of video conferencing tools, messaging apps, and social media channels.
Don't expect this increased reliance on virtual and digital channels to recede once COVID has passed.
While we mourn the loss of many of the valuable agencies that have not weathered the storm, those that have survived are worth looking at if you've not already established a relationship. The demand for high-quality agencies will rise quickly and with fewer of them available…you see where we are going with this, right?
What all this means for your international student recruiting strategy…
Focus on your institution's agent policies and relationships. Act now to build or re-build your valuable agent relationships. With more confusion, risk, and many agents desperately seeking business, buyer beware is now more important than ever. On the flip side, ensure that your agents are getting the support they need from your institution or risk being called out in a YEDAB email (or worse).
Remember: it's not just about quantity. In these uncertain times, it's tempting to prioritize enrollment growth (or triage) at all costs. Ensure that your focus on the number of students your agents are sending does not detract from your usual quality control and monitoring of agent professional standards. This conversation internally is SO hard with faculty pulling one way and senior administrators often pulling another—brand reputation or revenue generation? So hard to balance. It can be done with strategic marketing investments. On the cheap, that balance is impossible.
Establish robust agent feedback loops. In the best-case scenario, your agent network is your supplementary eyes and ears on the ground in your international markets. In the COVID-scenario, they are likely your only eyes and ears on the ground for quite some time. The content of that student/parent feedback—their confusion, questions, and concerns— is invaluable in improving the student experience and fostering student success both now and in the future. To get that feedback loop started, here are the top pandemic response suggestions from agents to institutions from the MSM survey that we mentioned earlier:

Liaise directly with immigration bodies and governments to ensure that visas and student plans are not disrupted
Lessen admission requirements
Adjust tuition cost and payment schedule
Offer financial scholarships or discounts
Are these things already on your radar? Of course. Is student (via agent) feedback important as you craft and prioritize your policies around these things? Absolutely. Can you do these things without sacrificing brand reputation and stirring faculty ire? Challenging but doable.
Unfortunately, COVID isn't the first major international enrollment crisis we've faced, and it won't be the last. Fortunately, agents are moving ahead, resilient and with new, higher standards of virtual communication. And if you need guidance establishing student-parent-agent communication best-practices and strategizing around building a powerful agency network in this new reality, get in touch.