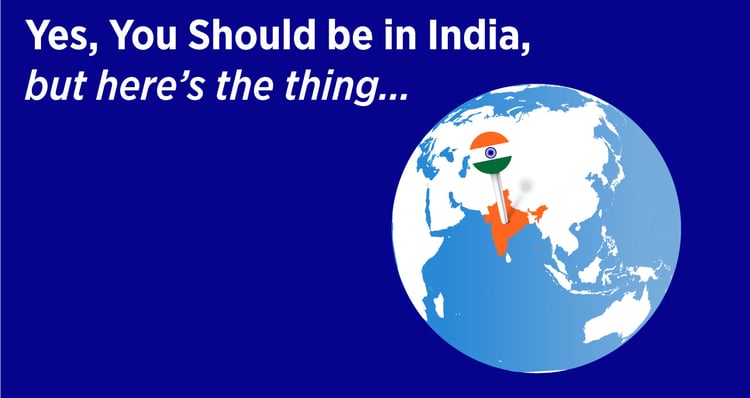 Forget Wordle. Here's a real problem for you to solve: If India, which recently unseated China as the world's most populous nation, has over 1.4 billion people and 17.5% are aged 15 – 24 (that's ~240M students), will its roughly 1,100 universities have enough seats for all its university-eligible students?
The short answer: no.
Clearly, India's education leaders have some planning to do.
Take a step back and consider: India is enjoying a big year. They just landed on the moon. Hosted the G20 summit. Are top-dog population-wise. And its fast-growing economy is as strong as ever. A Pew Research Center survey this year even shows a full 68% of Indians feel their country is growing in global influence. All really good news for India.
But the devil is always in the details with rising nations and the truth is, there are too many young Indians who can't get the higher education they want. At least not now and not at home.
---
Opportunities to Meet In Person
The Intead team is gearing up for some amazing presentations and we hope you can join us.
PIE News Live in Boston, Nov 13-15, 2023
AIRC Annual Conference – we'll be offering our full day digital marketing workshop here in Phoenix, Dec 6-9, 2023
ICEF North America Workshop in Miami, Dec 11-13, 2023
Let us know if you'll come share a cup of coffee and a conversation about all things global and digital (info@intead.com)
---
The Indian government is fully aware of this growth and for the first time its University Grants Commission has taken strides to welcome foreign universities into the country. (Note: only institutions in the top 500 global rankings need apply.) Deakin University and University of Wollongong, both of Australia, are the first to be granted approval. You can bet others (and we've had interesting conversations with a few) are doing the financial analysis and considering the blueprints for academic collaborations of their own.
One key caveat of the regulations, India is not recognizing online degrees from foreign institutions. India's leadership wants in-person set-ups. As the former vice-chancellor of New Delhi's National University of Educational Planning and Administration puts it, "Online education goes against the expected gains of internationalization." Plus, the government would like to increase on-campus higher education access in-country while also attracting foreign students to India. Makes sense on multiple levels.
You know what else makes sense? US institutions vying for Indian students' attention. And yes, of course you are already recruiting in this key region and have seen an uptick in actual enrollments. US visa approvals of Indian applications have hit record numbers since the pandemic.
Trust us, there's so much more we think you should consider doing to tap this market effectively. Let us tell you why. Read on…
The most recent data from the Institute for International Education's Open Doors report tells us that in 2021-22 over 199,00 Indian university students were studying (or on OPT) in the US. China had 290,086 that same year, down from a peak of 372,532 in 2019-20. For comparison, the third-ranking sending country South Korea had 40,755 in 2021-22. India and China are top places of origin by a long shot. And, this just in from our friend @KarinFischer, India finally took the top slot from China for US international student enrollment. India topped 320,000 students in the US in fall 2023 compared to China's 254K.
To point out the obvious, success here comes down to where you find an enormous pool of prospects and the size of the middle class.
Letting these families know what you have to offer continues to be so very important. And in our evaluation, it's increasingly important.
For years (15 years or so), India has played second fiddle to China in these student mobility numbers. That will soon change because China will be sending less. Also, because India will be sending more. In fact, the number of international students coming from India into US institutions has roughly doubled in the last decade. And the sheer size of the young Indian population means there's more than enough demand to keep that trend growing.
Recall, India does not have enough university level seats to accommodate all of the young people rising up through the education system.
You'll want to be clear about what it is you have on offer (the academic programs (yes, STEM strength is critical), campus community, and career connections). Define those differentiators that will help you compete and be relevant to your target audience.
To help get you thinking and ideating, we offer two concrete suggestions.
Take your institution to India
Don't roll your eyes too fast here. There are many ways to evaluate India's new education policies. Over the next few years, we anticipate more opportunities for foreign universities to partner with in-country institutions. Basically, we are suggesting your strategy team evaluate taking baby steps toward helping India meet the growing higher education demand.
There will be bureaucratic headaches. The road will not be any kind of straight path. But consider, one analysis suggests the country needs 1,500 more universities by 2030 to cater to increasing demand for higher education. That right there suggests that the credibility your institution offers may be highly desired for a newly founded institute trying to gain validation in-country. The idea of your institution having an outpost in India is less far-fetched than that initial eye roll might indicate.
Action Steps: Keep an eye on how Australia's Wollongong and Deakin universities get it done. This year, both are establishing operations either in partnerships or on a stand-alone basis in India. Each initiative is significant and will be in India's Gujarat International Finance Tec City (aka GIFT City). You'll want to confirm that your university is ranked in the top 500 globally, either overall or for specific subjects.
Expand your reach
India is going to make higher education more accessible to its citizens one way or another. And it may well court its fair share of international students, too. But it has a long way to go before it can seat every student. The numbers are too significant. So, while building a campus in India is understandably out of reach for most US institutions, there are other ways to help India's university-bound students attain the higher education they so desire. The solution is even simple.
Action Steps: Get personal, cast a wider net, and make it easy. Right now, and increasingly in the years ahead, many students who want to go to university can't. There's nowhere to go. It's up to you to find these students and find ways to make your university known and attainable.
Continue your investments in relationship building.

And up your travel budget. Go to education fairs. Get to know Indian students, parents, high schools, and education consultants. Relationships are key to succeeding in this competitive market. Double down now.

Create low-cost programs with lower-rank requirements.

If you can create a program that is affordable enough and flexible enough, you will find a steady stream of interested Indian students. A larger share of Indian students will have lower incomes and be interested in undergraduate degrees as compared to historical student mobility out of India.

Make your admission process easy.

Simplify the admission process for Indian students (and international students in general) by providing clear guidelines and dedicated admissions counselors who can assist with the applications and documentation, including strong, personalized visa support. These students have so many questions. Be the resource that helps them answer those questions.

Promote career paths.

Highlight the OPT, and especially STEM OPT programs that will allow these students to segue into a career after graduation. Use your alumni to demonstrate the successful opportunities you offer. Note the rising interest in Project Management STEM degrees (still STEM, but less math). Do you have one? Do you have a range of them for different industries?

Leverage your Indian alumni network.

Alumni are so often underutilized, yet they can be a huge help during the recruitment process. Beyond testimonials for marketing, connecting alumni with high-interest prospects to help them validate their interest in your institution is well-founded. Help them host a simple, no-frills gathering at a local coffee shop and drive 5-10 prospective students to the mini-event. Do five of these during the recruitment cycle and five more during the yield cycle.
We know just how competitive the market is for India's students. We also know the increasing value of this market. Do you have the resources to find best-fit students for your institution? Let us help guide you to a strategy that works and then make it happen. India's students are ready. Are you? Be in touch.