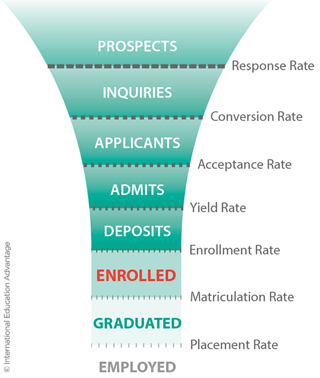 We're back from that wild ride that is NAFSA! Thank you for all those who met with us and participated in our presentation and the insightful discussion that followed. Our slides will be available to you via this blog soon. Today, we want to talk about the value of your student leads and how easily they might be lost.
Here at Intead we regularly hire international students on OPT and CPT among other internship programs. Over the years, we have had amazing talent in our offices from China, Brazil, Japan, Mexico, Colombia, The Netherlands, Pakistan, Spain, France, and more. They give us incredible insight into the international student experience while producing great work. They help us help you.
Some of them are interested in continuing to work in the U.S. Others are eager to take their skills back home to launch their new career path. We find their vibrancy and growth inspiring.
Today, I'd like to share a brief story that might just push you to re-evaluate your front line recruiting processes.
Bottom line: Every lead you acquire from every source is important. Those students making the effort to reach out to you are about the highest quality leads you can get. Be sure your front line staff understand the value of your leads and are capturing contact information consistently. Seems obvious, right? Well...
Given the effort and money you put into generating leads, losing the high value leads is enough to make you tear your hair out. Our recent experience with 5 universities here in Boston, one of our country's education Mecca's, shines a light on the importance of your front line staff and how often they may be slipping. Please read on.
One of our wonderful international students has a real desire to stay in the U.S. and continue her career here at Intead. We couldn't be more pleased and so we sponsored an H1-B visa application. Unfortunately, that application was not selected during the initial lottery. The result? She will continue her education here in the U.S. so that she can receive a new I-20 and continue to get valuable on the job training with us as she gets another degree with more advanced digital marketing skills.
So the question arises, what kind of degree or certificate can this graduate student undertake that provides CPT now that she has already used her 12 months of OPT? This is Boston, so there must be a program here somewhere, right?
We were determined to help her figure this out. The rules can be complicated, as our loyal readers well know. And with English as a second language, navigating this maze is even more difficult. For those unfamiliar with the challenges, the NAFSA list serves (national or regional) are fantastic sources of expertise and guidance.
Over a few days this past spring, we got on the phone together and called pretty much every Boston area graduate program to see what they could do to help this eager international student continue her studies and extend her work experience. I'm betting you know the players pretty well.
The experience was eye-opening. Want to know how many front line staff took her name and email address so their institution would be able to provide information, nurture this lead and ultimately help her achieve her goals? None.
That's right. With every call to the international student admissions office or international student services office, we were referred to a graduate program office or some other office, often with a bit of an annoyed tone. Seriously unbelievable.
The annoyed tone was one thing. A real put-off. And as a practical matter, the lack of interest in capturing our contact information for future follow up was shocking. To state the obvious: are they not in the business of recruiting students to their institution?
Which brings us to our main point: the need to educate your front line staff. There are the basic customer service skills – everyone can use a refresher there from time to time. Truly essential when the competition for students is fierce.
And then there is the basic practice of ensuring you are capturing all the leads you can. Especially those leads who proactively contact you expressing an interest, and even a pressing need, to enter into a program.
At Intead, we work very hard for our clients to generate new leads and ensure there are engaging processes in place to nurture those leads and convert them to enrolled students. This work is costly. It is necessary because not enough students proactively contact you directly.
Turns out, more often than not, you have to proactively attract them and chase them. This is what keeps Intead in business because the recruitment process, especially for international students, is complicated. Digital marketing has many facets and when you consider those facets in multiple global regions...well, there is a lot time that goes into planning and implementation if you want to succeed. Given these realities, to lose an engaged lead is, well, mind-boggling.
If 5 out of 5 Boston area institutions failed our test, I wouldn't make any assumptions about others.
Are you sure your front line staff knows what to do and how to do it? You might want to check on that.