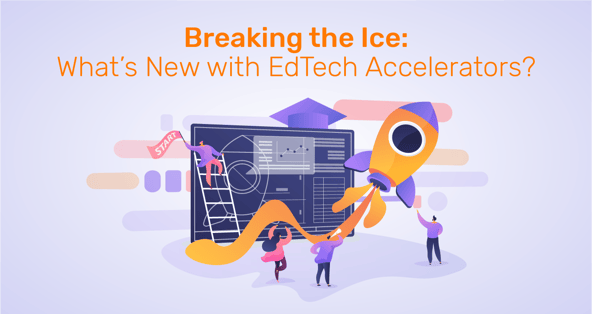 Our calendar is full of conferences and events where we're presenting on the latest education, recruitment, and EdTech trends. And if you're familiar with these conference circuits, that means you're also familiar with the mixing and mingling time. From coffee breaks to cocktail hours, and maybe even the line for the bathroom (hey, you never know where you'll cross paths with a potential new contact), the networking opportunities are everywhere.
If you'd like to schedule some time to chat with us at your next conference stop, let us know HERE, and don't hesitate to say hello if you spot one of us in line for the cheese and crackers.
And because you really shouldn't always lead your conversation starter with, "How about this weather we're having?", it's important to have a few relevant industry soundbites in your back pocket to break the ice.
So, what's a go-to hot topic right now that shows you are both worldly and in the know?
This just in from Singapore: there's a new model for EdTech accelerators.
Read on to find out what's happening in the EdTech acceleration space, how it is changing, and what might be coming soon to a cocktail hour conversation near you.
EduSpaze, Singapore's first EdTech accelerator, is just launching with their first cohort of EdTech startups. Supported by Enterprise Singapore and under the direction of Niko Lindholm (@NikoLindholm), former director of Finland's xEdu accelerator, EduSpaze is redefining how EdTech accelerators are structured.
A Quick Refresher on Accelerators
Launching a tech startup is no walk in the park. Sometimes, tech entrepreneurs need a push in right direction — and cash. Always with the cash!
Accelerators, application-based short-term programs for early-stage startups, provide businesses with funding, connections, and mentorship in exchange for future equity, often in the range of 3% to 8%.
EdTech Accelerators, So Last Year? Think Again.
About a year ago, EdTech veteran Bobbi Kurshan (@bkurshan), a Senior Fellow and Innovation Advisor at the University of Pennsylvania's Graduate School of Education, told EdSurge that EdTech incubators were on their way out — and that to survive, they needed to evolve towards a new model, "rooted in research about what we know about learning."
That's what EduSpaze is trying to change. Here's where it gets interesting from a marketing point of view.
While they are still providing all the typical benefits of pushing early-stage startups to market, including office space, workshops, mentorship, travel expenses, accommodation, networking, product clinics, and up to S$500,000 (~$380,000 USD) in investment, EduSpaze promises to be different than a typical accelerator in two major ways:
While most accelerators have a fixed program, EduSpaze's 100-day program is customizable, so that each company can focus on areas relevant to their individual needs, such as business development or fundraising, that match their current stage of maturity and objectives. Like the modern classroom, EduSpaze understands that there is no one size fits all when it comes to learning and development.
And most importantly, EduSpaze has a mission: ensuring "

that the ED is as important as the TECH." M

ost EdTech accelerators and incubators have on-hand marketing experts to help with financial viability. EduSpaze will have Educators-in-Residence, instead of Entrepreneurs-in-Residence. These mentors will provide entrepreneurs with educators' immediate perspectives and advise on how a product would benefit students and meet the pedagogical needs of an institution. It's the industry context and knowledge of the consumer that makes all the difference.
Not unlike Intead's work in the education space, having deep expertise in the industry in your advisers and the team you choose to execute the plan IS the secret sauce. Specialization matters. Alot.
What's Next?
EduSpaze's model is a valuable reminder to keep the needs of users, whether they be students, educators or administrators, at the forefront of any development process, tech or otherwise.
We'll stay tuned to see how this initial cohort of startups does at the completion of EduSpaze's first session, ending in May—as well as how other accelerators in the EdTech space may shift focus as a result.
We hope this helps not only keep you in the loop, but also gives you something interesting and cutting edge to talk about next time you're holding that plastic glass of wine and plate of cocktail shrimp.
Another great conversation starter: Did you know that the global economic impact of the education market is 3X the size of the global cheese industry? Use that one at the cheese and cracker display and watch them all move away from you as you reach for the cheddar. Details Here.
For more EdTech conference schmooze fodder, check out our previous post on China's EdTech surge and their own 22-story EdTech incubator.
Plenty to talk about, wherever you might be schmoozing next.