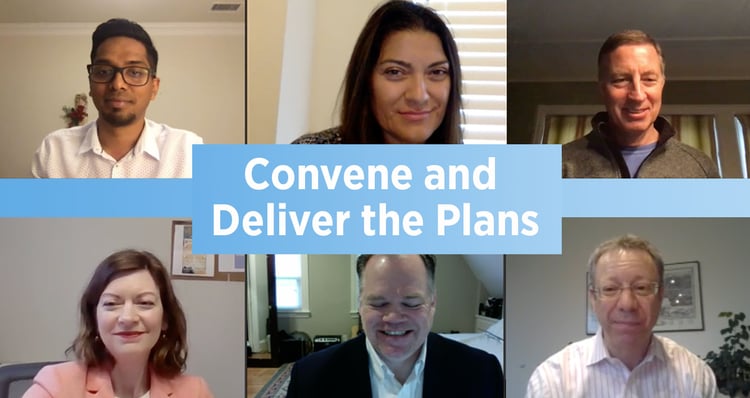 Hoping all of you are well and looking out at the horizon (physically and metaphorically).
Right now, there are so many angles to consider. From delivering on our education missions to providing safety to our student and our colleagues, there is just a lot to think about.
The participants at our first Town Hall last week asked for more. So we must deliver! A GREAT BIG SHOUT OUT to last week's amazing panelists – see photos above and list below.
And Now, "The New Abnormal" Town Hall #2: The Perish Economy
Let us help you demonstrate the survival and adaptation skills you are trying to instill in your students.
As of this month, we are living in a start now or perish economy.
Those institutions that move at their traditional pace will fall down, likely hard. Our next Town Hall will be this Thursday, March 26 from 10-11:30am Eastern Time.
We will present this Town Hall in 3 sessions and our panel of experts will take your questions in this Ask Us Anything event:
10-10:30am The Technology Platforms that matter and the features you need
10:30-11am Recruiting and Admissions Processes that will deliver despite social distancing
11-11:30am Digital Marketing Campaigns to attract and convert within a 25-mile radius or from 8,600 miles away.
All registrants will receive access to the full recording of Town Hall #1 held last week and all of the resources we shared with those who attended.
You know this about us: The Intead team has been evaluating edtech solutions and recruiting tools for the past 12 years. We've reported on student trend data (domestic and international) and provided free guidance on it all for the past decade, every week. We've launched recruitment campaigns targeting students around the corner and around the world.
We simply don't stop thinking about this stuff. Read on for what we can do to help you move forward.
The value of the Internet during this time, the ability to connect globally with audio and video, is going to be our saving grace. The mere visual of our loved ones, friends and colleagues on the screen brings a visceral comfort right now.
Don't know about you, but I light up when I see people on Go To Meeting. "There you are!" It brings a sense of normalcy at a time when we sorely need just that.
During our first Town Hall (last week), we talked about the ambiguity created when our situation changes dramatically every 3 days. We talked about helping colleagues and students make sense of the changes going on around them. And we talked about being leaders at a difficult time – bringing hope and delivering action plans. Plans that inevitably need to adjust to new information as it arrives.
And we talked about the new reality that people right now, your constituencies, are going to be more forgiving of your stated plans from last week being adjusted the following week. This is part of the new abnormal.
All of this points to the importance of convening. With ambiguity and distancing comes the overwhelming desire to gather (virtually) and share ideas, plans, pitfalls and success stories. And honestly, just to hear each other's voices.
With the right team on your end, what we offer now is a rapid assessment (10 days) and an agile launch (20+ days) to put your institution into the right combination of technology, recruitment and admission processes and digital marketing. Right now!
We've selected the expertise we value the most in each area of the student enrollment process. Come get your questions answered and develop a plan to move your institution forward quickly.
I was so honored to moderate last week's Town Hall group discussion led by:
Jessica Sandberg, Dean of International Enrollment Management, Duke Kunshan University
David Fleshler, Vice Provost for International Affairs, Center for International Affairs, Case Western Reserve University
Seamus Harreys, Vice President, Global Enrollment, CIEE
Angel Ahmed, CEO, GNET
Ashish Fernando, CEO, iSchoolConnect
Patricia Tozzi, Intead Director of Marketing Strategy
Alicia Depatsy, Intead Director of Brand Strategy
We found such a thirst for this shared experience and expertise. And we did not have time to take all the questions that were coming in.
This week's webinar, The Perish Economy, adds Michelle Kowalsky, Executive Director of Undergraduate Admissions from Western New England University to our panel of experts. (David and Seamus are focused on other priorities this week but may be able to attend).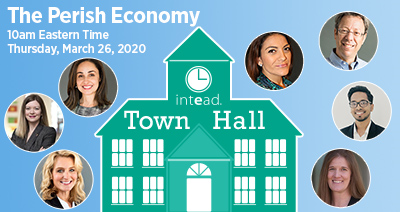 As you consider your communications needs, Intead's library of market research on reaching global student markets and non-traditional students, is available here: www.intead.com.
On a professional level, we are all considering the contingency plans – "What if this situation lasts through the end of August? Later…?" (We think later).
On the personal level, we are all making extra calls each day – "Just checking in on you…".
One thing I marvel at is all of the humor and love coming from various social channels and threads. A whole lot of people are putting their best selves out there bringing us music, humor, creative activities for kids. Shared talents that bring light into our days. Let's all keep that up.
We welcome you being in touch with any questions (info@intead.com). If we can find answers or resources, we will.