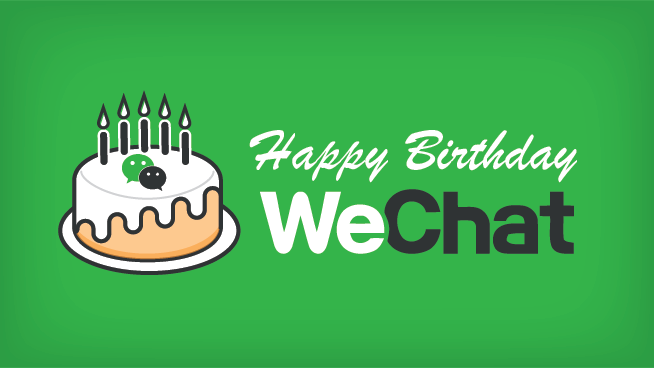 This year marked the 5th birthday of WeChat. Trust us, they had a lot to celebrate!
In April of 2015, it was reported that WeChat's monthly users were second only to WhatsApp and far ahead of similar apps like Viber, Line or SnapChat. We should also mention (in case you don't already know) that WeChat is almost exclusively used in China. Social media marketing staff take note!
If you look only to the usage rates of their Chinese users, WeChat beats other messaging apps by a wide margin. In 2015, WeChat was ahead of competitors by 25%. And most of their users? The young audiences, the prospective students, we are all trying to reach! If you haven't been on WeChat in the past, it is no longer something you can ignore.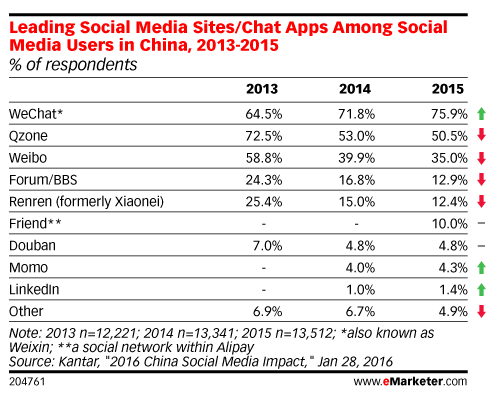 Just in case you haven't heard of it (because you've been living in Antarctica or something), and you'll want to hear about it if you want to recruit in China, WeChat is a messaging app. Back in 2014, we featured a two-part blog series on WeChat (Part 1 and Part 2). We hope you are using those resources. In June, eMarketer released a report on WeChat's Chinese user base and how these users engage with the app. So, today we have more.
Bottom Line: Get on WeChat. Chinese users make up nearly 93% (~700 million) of all WeChat users and its popularity surpasses any other similar Chinese messaging app. The app is becoming more and more integrated into daily life as WeChaters link their bank accounts to use the app for online shopping. Marketing on WeChat only promises to get more effective as time goes on. Pro tip: the stats in this post may help you justify increasing your international student recruiting budget if China is a primary target recruiting source for your institution.
Meet Us In Newport & Miami: Heading to the NAFSA Region XI conference in Newport, RI (Oct. 18-20)? We'll be presenting our latest recruiting insights. And in December we will be in Miami at the AIRC and ICEF conferences with digital marketing presentations and workshops. We'd love to meet you and discuss the challenges you face in your work. Please be in touch if you'll be at any of these events.
Back to WeChat; read on...
Let's dive deep into the eMarketer data released earlier this year. You won't be sorry you did. In March of 2016, WeChat boasted 762 million users. According to the report, 706.7 million of those users were in China. But it isn't just the number of users that stand out, it is the amount of usage that we should really take note of.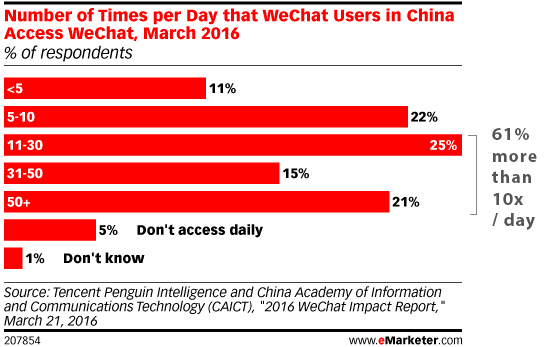 The chart above touches on how this dominant app not only pulls in users, it keeps them active and engaged. The majority of users in China report visiting the app between 11 and 30 times a day. Over half of the users mentioned in the report spent more than an hour on WeChat daily. Almost a fifth accessed the app for more than 4 hours a day.
These users are young. The vast majority (86%) of users were between the ages of 18 and 35 in 2015. (Read that line again!) WeChat is THE online tool to use if you are recruiting undergraduate or graduate students in China.
WeChat uses a sort of timeline similar to Facebook's trademark feature. And in between shared memories and messages are advertisements. The eMarketer report quotes R. Danielle Bailey, head of APAC Research, saying that WeChat is, "so much more than what other social platforms are; I call it the digital Swiss army knife. More importantly for brand marketers, it's a one-to-one communication device. It's a media platform with advertising capability. It's a commerce platform with in-app commerce as well as the ability to drive [customers] to your own commerce vehicles."
The WeChat timeline is made up of what they call moments, similar to Facebook posts, created by users to share with their network. Last year, Tencent, the parent company for WeChat, introduced advertisements for this feature making WeChat an even more attractive platform for recruiting. Advertising your university where students are already scrolling is a great way to get noticed--especially when they are translated into their native language. Check out our numerous past blog posts on best social media practices.
A new tool offered by JD.com is promising to help potential WeChat marketers show off their products. They plan to offer data about product purchases so marketers can tailor advertising to specific demographics.
Though there is some fear the added advertising will hurt WeChat, Tencent assures users that they are careful in their transition to advertising. One promise is that they will educate brands in making stylish ads that fit into the "moments" platform.
While advertising may not be the right move for your institution, it is important to see how WeChat's changing surface is allowing for a more spending-oriented platform. There is room to accept tuition payments or fees over WeChat, which may be highly attractive for WeChat users. Direct contact, using WeChat for its social function, may still be the most effective way to reach your audience. However, the growth potential of WeChat is high and it is worth noting its expansion as it moves into new terrain.
Another important aspect of WeChat: many channels or groups are formed by users. These are similar to Facebook and LinkedIn groups and are typically created around certain interests. One that we find most important and useful is a group hosted by GQ Education called Circle of Moms (WeChat ID: USAmamaquan).
As of August 2016, the group has 150,000 followers and on a daily basis receives 20,000-25,000 unique readers and nearly 35,000 pageviews. It is made up of mostly mothers (80%) of Chinese students from tier 1 cities. It is designed for families who want to send their children to the U.S. for better education opportunities, and covers topics like: test prep, education market research, student stories, U.S. school culture, summer camps, and more. (Read that paragraph again!)
Tapping into this group with advertisements for your institution, especially those targeted for a parent audience (think safety, campus life, academics), will be well-received and could even inspire them to seek out more information directly from you. You can direct them to a Chinese microsite with more information, capture their information, and set up an engaging email workflow. If that sounds complicated, send us a note and we'll explain the digital marketing plans that can help you succeed. Better yet, join us for our digital marketing workshop at the ICEF Miami conference on Monday, December 5.
Ultimately, WeChat is a powerful tool for recruiting in China. The Circle of Moms group is just one of many that you can use to reach prospective students and their families. Getting your university's name out there on an app where your target audience is already spending a majority of its time is a no-brainer.
Are you already on WeChat? We'd love to hear how you're using it in your international recruitment!