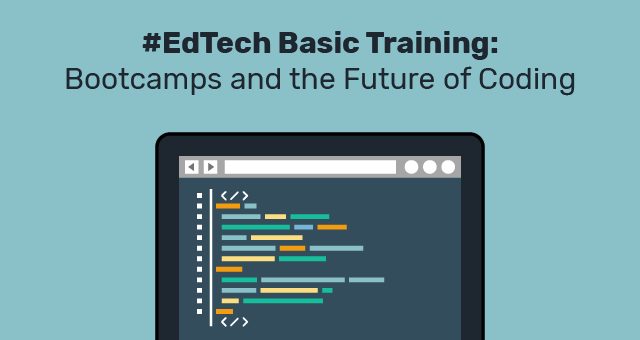 Students are settled into their dorm rooms, pumpkin spice is again a major topic of conversation, and the craziness of the drop/add period is wrapping up. Summer might already feel like a distant memory. But, way back in June—before all of the student orientations, barbecues and beach trips—we spoke about credentialing and badges. One of the non-credit suggestions we made was for universities to offer coding bootcamps in order to help credential their students or alumni.
There are so many ways to engage prospective students at all levels who want to advance their careers. Our Non-Traditional Student e-book Quality. Cost. Convenience. has 9 case studies from your peer institutions. It might be worth a look if you've not already downloaded it. The Extended version for Intead Plus members includes three bonus chapters on market segmentation and recruitment strategies.
Read on to take a look at some of the options already out there for these coding bootcamps, and see if they actually make a career difference for students and offer your team an enrollment edge.
What Exactly Is a Bootcamp?
Before you get excited imagining how many push-ups students must do in the midst of their coding, we are pretty sure academic bootcamps entail a lot less yelling and probably no boot polishing.
Instead, these digital or technical programs are full-time, intensive skills training sessions that typically last 9 to 12 weeks, though some are part-time.
Navitas Ventures lists one of the pioneering companies of the bootcamp industry as General Assembly, a Boston-based company that offers expert-led training in coding, data, design, product management, and digital marketing. After a $200,000 grant from New York City's Economic Development Corporation (NYCEDC), they opened their classes in 2011. While that might not seem like a long history as a founder of any type of industry, we've all learned that #EdTech moves quickly. A lot can change and grow or come in and out of fashion in a period as short—or as long—as eight years.
Along with General Assembly, other early bootcamps included Galvanize—a tech education leader with over 8,000 bootcamp graduates—or App Academy—the first coding school to base their students' tuition on their first year's salary after the course. Since these companies have been on the scene, the technical bootcamp marketplace has expanded to over 400 such companies.
Why a Bootcamp?
The short answer for your students: a job.
These bootcamps promise a quick and easy pathway to a job offer. They are shorter and cheaper than attending a traditional university. However, that doesn't stop many students from doing both—or graduates from using a bootcamp to brush up their skills.
We love the liberal arts education and the broader perspective of teaching others how to learn. We too were once English majors. Nevertheless, the allure of tech industry jobs and the pace at which tech is moving -- these are realities in our marketplace and not everyone is cut out for writing papers about Chaucer. (In fact, not many of us are ; -)
What is the size of the market?
According to Course Report and their sixth Coding Bootcamp Market Size 2019 Study, 23,043 students in the U.S. and Canada will graduate from coding bootcamps. There's also been a 171% increase in online bootcamp enrollment.
Course Report estimates continued strong growth in the North American coding bootcamp market, which is already a $309 million academic industry segment.
Is there room in that market?
With over 400 offerings already available to students, is there room in the market for new companies, or for universities to offer their own bootcamps?
We think so, but there's a catch.
As more and more bootcamps become available, it becomes harder to judge the quality of the program. There has been little in the way of defining standards for bootcamp providers or a clear rubric for judging them across the market, without solely relying on graduate reviews.
This is where universities have a leg up. Their names are already known and trusted, especially by their own students, alumni and surrounding communities. The level of trust, confidence, and convenience students get from their university bootcamps cannot be quantified or downplayed. While companies focus on bottom lines, those in education are dedicated to offering the best services to their students, both because it attracts new students, and because it is in those students' best interests. Satisfied graduates breed more student enrollments.
Still, this factor has led to the success of universities' own bootcamps, like that of Northwestern, which promises that you can become a web developer in 12 weeks. It has also given rise to companies like Trilogy Education, a "workforce accelerator" that partners with universities to create bootcamps for them, in an effort to minimize gaps between the knowledge students already possess and the skills employers seek.
Who are the current leaders?
We've talked about where these bootcamps began and where they could go with universities having their own, but what is happening now?
For the last four years, SwitchUp has been doing an annual ranking of the 50 best coding bootcamps worldwide. They base their findings on thousands of alumni reviews and data points, such as price, location, and importantly job outcomes.
Here are the current three leading the pack.
Program type: Full time
Length: 450 hours of coding in nine weeks
Subjects: CSS, HTML, JavaScript, Ruby, Ruby on Rails
Alumni: 5,320+
Locations: 35 campuses in places such as Montreal, Amsterdam, Bali, Barcelona, and Berlin
Claims to Fame: Three years as the #1 ranked bootcamp; 1,430 apps created
Program type: Full time
Length: 12-16 weeks
Subjects: CSS, HTML, Information Technology, JavaScript, React.js, Ruby on Rails
Alumni: 2,600+
Locations: Online, New York City, and San Francisco
Claims to Fame: Their deferred tuition plan doesn't charge students until they land a web development/software engineer job; median salary of graduates in San Francisco is $101,000 and in New York it is $90,000
Program type: Full time, Part time
Length: 9 weeks or 24 weeks
Subjects: CSS, Express.js, HTML, JavaScript, MongoDB, UX/UI, data analytics
Alumni: 2,500+
Locations: 9 campuses worldwide in cities like Berlin, Miami, Lisbon, and Paris
Claims to Fame: They have scholarships available for women and military vets who are interested in a tech career.
Are these bootcamps working, though?
We've read about the Big Three, are they and other bootcamps actually working, though? To some extent, the proof is in the pudding.
According to Course Report, the following measure of success is significant.
| | | | |
| --- | --- | --- | --- |
| | Length | Cost | Average Income |
| University Computer Science Program | 4 years | $163,140 | $59,124 |
| Coding Bootcamp | ~14 weeks | ~$12,000 | $70, 698 |
Furthermore, 80% of graduates they surveyed said they have been employed in a job that required their skills learned at bootcamp, and that they received an average salary increase of 51%. Those are pretty good numbers.
Of those bootcamp grads, 75% of them are employed full-time and took one to six months to get their first job.
What's the takeaway?
There is room in this growing market, especially if bootcamps are from trusted sources and offer real outcomes.
Still, students should be aware of what skills they project they'll need in a career, especially if they are considering a bootcamp in place of a university degree. There are job skills that come from a bootcamp that are beyond the range of a typical four-year degree, but there are also job skills that are not strictly coding and can only be learned in a collaborative and wider-reaching educational setting. Either way, students will have to put in the hard work, as we know that no program can truly promise them a job or a pay raise.
Bottom Line: As a program administrator or chief marketing officer thinking about enrollment growth options, we'd be looking into how developing a quality coding bootcamp with employer connections could become a promotional tool to get tech interested prospective students to look at all of our offerings.