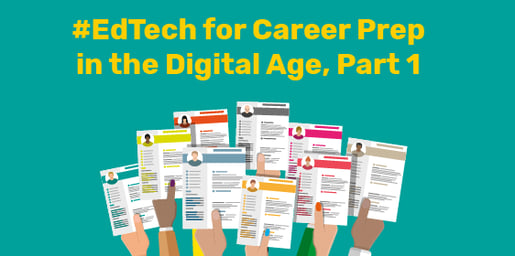 Going to College Question: Is it the journey or the destination?
Answer: It's both, but the destination must be worth it.
After years of classes and seminars, learning and discourse, pizza and so many late nights (SO many late nights), the goal of attending university is for a student to find a job.
A university able to give confidence about the future to their prospective students will be in a stronger position than their peer institutions. Career placement stats are found on most university websites. But how about something more concrete? How can you differentiate?
In a two-part series, we are going to talk about ways that your institution can help students arrive at that destination. There are some very cool career prep resources available.
This is about career mentoring and coaching and how your students find the professionals with employer insights and connections—either from within your faculty, administration, alumni pool or through emerging tech tools (#EdTech social platforms).
The destination of the university journey is of course a job (better yet, a career). Talking to domestic and international students regularly, their focus is, of course, on their future.
"What will I do with this degree? Will it have value to me?"
Connecting to your alumni is an essential part of all of this. And yet, universities are investing so little in their global alumni as a new student recruitment resource. If you've not already done so, download our Global Alumni Management: State of the Field research here.
And read on for our review of Career Prep tools and resources…
Last week in our Recruiting Intelligence Blog we spoke about Social Learning Platforms and mentioned Wisr and how it connects alumni to both current students and staff to facilitate one-on-one mentorship. This is a great resource, as not only does it serve your current students and their future needs, but it strengthens alumni relations and university networking. Alumni and other typical LinkedIn-like networks aren't your only option, though.
Several #EdTech sites offer general career advice, as well as industry-specific courses and prep material and even practical work experience.
Considering the Digital Options
Let's start small. Have 100 seconds? Sound-bite-sized advice can be found from 100 Mentors, a site that offers students personalized answers to their questions from over 4,000 experts from 300+ of the world's top universities and 500+ companies. The catchy part is that the answers are all in 100 second videos with an option for live sessions to turn "your lecture into a global conversation."
100 Mentors was originally developed as a K-12 EdTech tool, but the site promises that "higher ed institutions, companies, and admired learning institutions also make use of our platform and app in their classrooms, too."
At €350/month (roughly $400 USD) for unlimited users and topics, 100 Mentors is pretty affordable for an institution.
Another platform that harnesses video—but without the tight time constraints—is Big Interview, which combines expert video lessons with an interactive interview practice tool. They provide mock interviews tailored to a student's specific industry, job, and experience level. It is currently being used by more than 1 million users in 100 countries and by more than 200 universities, such as New York University, Notre Dame, and UC San Diego. Furthermore, Forbes named Big Interview one of the "top websites for your career."
These options lack the machine learning and artificial intelligence options that can make digital career prep options truly effective today. That's something we'll be talking about quite a bit in the coming months.
Modern Guild is another option that provides students one-on-one industry-specific advice to maximize their job placement success and develop their workforce readiness. Modern Guild pairs undergraduate students with an interest in consulting or finance with a mentor at a top consulting firm or bank, such as Barclays, Citi, Credit Suisse, Deloitte, Goldman Sachs, or J.P. Morgan Chase.
Students create a profile and nominate themselves for at least one industry before participating in networking and training opportunities. Afterward, they review their company and position matches and rank them in their order of appeal, which leads them to working one-on-one with a career coach to optimize their interview performance.
Finally, they interview with their top choices, and Modern Guild boasts that 86 percent of their program grads—from schools such as Boston College, Cornell University, Ohio State University, and Michigan University—accept an offer within three months of completing a coaching platform.
The digital platform is free to students and is primarily a powerful HR recruitment tool for the companies involved.
Continuing on the business career theme, there's a chance you've heard of our next EdTech resource: CareerLeader—a leading business career self-assessment program used by over 500,000 people in 200 countries, including 93 percent of the world's best business schools and 96 of the top 100 global MBA programs. CareerLeader analyzes students' interests, skills, and motivators, before matching them to specific career paths and cultures.
They have products at both the graduate and undergraduate level.
Online Alumni Networking
Just as Wisr connects your students to alumni, that benefit can be found with Alumnifire, but this platform does so much more than just advance your networking possibilities. Bonus, the basic networking service is free. Active students and alumni from many top-tier universities are engaged here such as, American University, Dickinson College, University of Denver, to name a few.
Alumnifire is a turn-key platform that requires no technical integration and offers both free and paid tools for university partners. Alumni sign up using their existing social media accounts and choose how and when they would like to be involved.
In addition to being a database of potential mentors for student and alumni, Alumnifire has job and internship postings that automatically highlight positions where a fellow grad is already working. Institutions and individuals can also post announcements, events, and discussions.
Real work applications
Once students have garnered some advice, how do they get some experience under the belt?
Internships have been a classic way, and maybe your university has an internship coordinator or even a whole office dedicated to matching students to opportunities. Those departments don't have to go it alone, though. There's EdTech out there for practical experience too.
Paragon One offers a similar product to those listed above. It is an online college career center that pairs students with professional mentors, industry insiders, and career coaches based on skills, hobbies and interests, strengths, backgrounds, and personality traits. As for how the matches are made, CEO Matt Wilkerson told Tech Crunch that, "Instead of the student picking who they want to talk to, we do it for them, so it's an automated counselor laid over this marketplace, instead of the typical mentor marketplace, where you don't know who is better or who is not good."
After their coaching, students are matched with interview opportunities. Paragon One also offers remote 8-week internship experiences and an innovative work experience simulation, which are live online bootcamps that guide students through projects personalized to their future career. These simulations are designed to take 10-15 hours over the course of four weeks.
InsideSherpa also offers online micro work experiences. These virtual skill building programs contain task modules from the different divisions of the company the student chooses, as well as video instructions from actual employees. By completing these tasks, students can point to these experiences on their resumes to demonstrate real-work skill development beyond their university projects.
The short chunks of work are generally 5-6 hours long and are built of skills that reflect what tasks would actually be needed in a position, such as doing research, making tables and charts, compiling presentations, leaving voicemails and client interactions, etc.
InsideSherpa is backed by Navitas Ventures out of Australia and is free to use.
What's Next?
Next week, we will have Part 2 in this series on Career Prep.
No matter how students find the answers to their questions, there's no doubt of the value of solid career advice, and when it comes to interview skills, practice makes perfect. These EdTech resources pair students with alumni and other industry experts chosen just for them and their situation, while relieving institutions of needing to find a pool of mentors and then making the matches themselves.
Furthermore, with more jobs offering their employees remote work, online internships and skill-building work experience has real relevance.
What's next is adding artificial intelligence to the mix to make career prep that much more relevant to each graduate's goals.
We're on it.