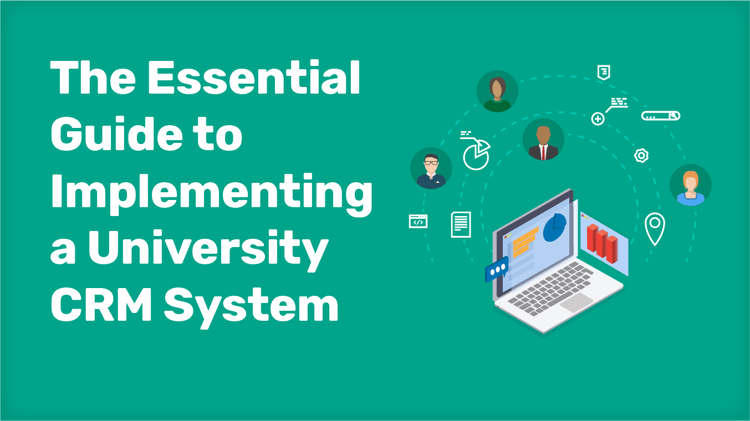 With so much in enrollment management being in flux right now, going back to the basics is important. Managers across the country are looking to their 2021 intake reports and trying to predict spring and fall 2022. Challenging under normal circumstances, right?
So where are those reports coming from and how much is what should be a simple process driving you up a wall?
The more important the task, the more frustrating it is to have a tool that isn't helping you succeed. For those among us still reviewing excel spreadsheets with enrollment data, we feel your pain.
It's no surprise that many universities, high schools, and language schools feel incredibly irritated by customer relationship management (CRM) systems that don't meet their needs. We know this is a topic worth discussing in part, because some of our most read blog posts over the past 2 years (Post 1, Post 2, Post 3) are about enrollment managers' user experience with Technolution's #Slate.
If any of this sounds familiar—and if you wish you had more guidance on how to set up a system that will actually help you anticipate what your future enrollment will be—keep on reading.
First off, let's be sure we all know the key terms. A CRM is a piece of software that helps you manage and analyze customer engagement throughout the customer lifecycle. A marketing automation platform (MAP) helps you manage the digital promotions you are launching and measure their success. This post will focus on CRMs, but these two tools are interrelated and both are really important to your work.
In student recruiting, CRMs are crucial to keeping your prospective students engaged. Knowing when and where they entered your system (by download, by email, via social, etc.) can inform what types of information they should continue to receive from you. And of course, you want to nurture your leads all the way through to enrollment. A good CRM, set up well, is going to help you stay connected beyond graduation. Tied to your Student Information System (SIS) the goal is a full customer journey experience that helps with recruitment, retention and then the all important alumni engagement.
At Intead, we use #HubSpot to manage our own marketing automation (including this blog) and our leads. For some academic programs (think high schools and language programs), this platform is great. For others (larger universities), a CRM tailored to the academic market is helpful (such as Slate, Salesforce, Jenzabar, Target X, Campus Management) sometimes tied to a MAP (like Marketo or Pardot). Some of these tools stand on their own (have their own built in MAP).
Whether you're setting up a CRM for the first time or trying to implement a new system that better meets your needs, the process can feel daunting. With so many different options out there how do you choose the right one for your institution? (Word to the wise, not Oracle). And what kind of Marketing Automation Platform will pair nicely with the CRM you are considering? Will Mailchimp suffice?
The selection of the tool is one thing. And your team will need to evaluate all those features, options, and price points. The Intead team has supported a number of institutions as they conducted these bake-offs. The RFP and evaluation logistics alone can overwhelm. The sales pitch from most platforms out there will get you believing that their system is 1) SO simple to install, 2) Integrates easily with your SIS, learning management system (LMS), etc., 3) Will take just 3 months (maybe 6) to get you fully up and running.
None of these statements are accurate and checking with a few of their current customers (not the ones they tell you to call) will give you great insight. Let us know if you need a hand in your selection process. Been there and done that.
We are also experienced at diving into both institutional CRMs and MAPs to set up lead scoring, email workflows, landing pages, and other recruitment-focused activities to help our clients make the most of these robust systems – another thing to keep in mind!
More Features Often Means Less User Adoption
Success with technology has less to do with features and much more to do with user adoption. Capturing, nurturing, and tracking all those leads is why you are making this investment of time and money. Keep your eye on that prize throughout the process. In the end, no matter which platform you choose, the real success comes from the internal roll out and staff adoption. And that means getting everyone on board.
Intead Plus members can access a handy guide, 7 Steps to a Successful CRM Implementation. Our guide goes into each of the seven steps to CRM success in detail—but let's go over the basics.
7 Steps to a Successful CRM Implementation
Define who leads and who implements: Who is in charge of your system set-up and maintenance? Who are your end users?
Define success: What problems are you hoping to solve? What outcomes are you shooting to achieve?
Define most useful analytics: What data are you collecting? How will you use it?
Define connections to systems: How will your CRM interlink with your MAP? Financial aid system? Student information system? LMS?
Define who has access to what: Who can set up templates? Enter data? Export data?
Clean the existing data: How will you enter existing data—and what data needs to be there? How will you ensure that data is usable?
Get users on board: Change is hard. Is your team ready for this new system, and motivated to make it work?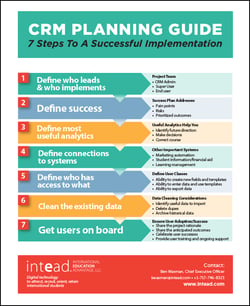 Need some more guidance? Intead Plus members can access our full CRM Implementation Guide. Or feel free to drop us a line— we often work with academic institutions to guide their choice of a CRM system and the implementation plan. It's just one of the ways we help clients reach their enrollment goals, and we're always here to support if you need us.
*This post was first published in November 2018 by Ben Waxman and Cathryn Andrews. It has been updated and republished for 2021.